The Seat of the Future: Top five airlines with the best seats in the air
Are you sitting comfortably? For many of us on flights these days, be they long haul or short, the answer is no. This can be due to anything from someone incessantly kicking the back of your chair to a loud snorer or an unhappy child.
However, it seems that aircraft furniture of the future is changing to address the need for more comfort, better support and more groovy hi tech gadgets and gizmos for those who love their in-flight entertainment. In fact, in a recent survey done by Devesh Agarwal, more people thought seat comfort was more important in making a ticket purchase decision, than punctuality or frequent flier benefits for long haul travel.
Airlines are changing the way we travel. International flight comparison site Skyscanner.net are here to prove it by looking at five of the most exciting new seat designs of the future, in this guest post.
Skycouch – Air New Zealand
Nicknamed 'Cuddle Class'; Air New Zealand's cosy new Economy Skycouches are set to take off from an airport in London. To be 'sky tested' in the B777-300 aircraft, the Skycouch features three seats that have been designed to create a flexible seating option. The seats lie completely flat, creating a space where kids can play and adults can relax or sleep. While over in Premium Economy, the Spaceseat has been developed to give passengers more privacy and flexibility. Seats angle out to seclude their occupier but can also be combined to enable couples to cosy up closer or even dine at the same table. Window seats angle towards the window not only offering complete privacy but a better view.
Air New Zealand has some nice extra little details too like pillows that slip over the headrest then don't budge and neat little beanbags for under your feet. You may not want to get off the plane!
Gaming Seats – Germany
Currently a prototype, the 'Not for Wimps' (NFW) Gaming Seat was only a reality at the Aircraft Interiors Expo in Hamburg in early April.
With a design idea that possibly came from the 'carrot dangling from a stick in front of a moving donkey' scenario, an extendable plastic arm reaches over a rather cosy bucket seat dangling in front of the passenger a state-of-the-art monitor and gaming and docking station. Technophiles will be in their element in this comfy seat with endless gaming options, oblivious to the many hours of a long haul flight as they whiz by. The lightweight design could even save the airlines money on fuel.
They're not available for order just yet but watch this space…
Entertainment Stations – Emirates A380
On the Emirates A380 aircraft, the future has definitely arrived. Extra space, private suites, showers in first class, and a thousand channels of entertainment are just the tip of the iceberg. (remember, we brought you the Live coverage from the inaugural A380 flight to JFK?)
Business Class passengers can now enjoy fully reclining massage beds complete with their own mini bar, privacy screen and widescreen TV. Economy Class passengers will also benefit from more space with seats that recline further, hopefully increasing the chances of getting some shut-eye on a long haul flight.
Emirates has so far placed the largest order of 58 new Airbus A380 superjumbo planes, that will incorporate these state of the art luxuries, giving lucky passengers on flights to Bangkok, flights to Dubai and flights to Auckland and Sydney a chance to try them out!
Lumbar Support – Virgin Atlantic
The new Virgin Atlantic Premium Economy seats are currently the biggest in their class and offer passengers advanced ergonomic design that delivers additional lumbar support, an adjustable headrest and a dual position footrest.
The seats will mean passengers can stretch out even further while enjoying all the lovely little luxuries that Virgin provide from bowls of fruit and chinaware to newspapers and an after dinner brandy!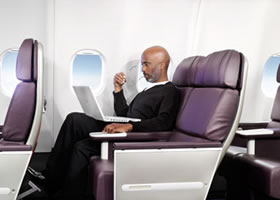 Ryanair Standing 'Seats'
The lure of cheap flights is strong but maybe not quite strong enough to get on board the latest brainwave from Ryanair's Chief Executive Michael O'Leary. The proposal is for an area at the back of the aircraft to be reserved for 'standing seats' that would mean passengers could pay as little as £4 for a flight. That said, travellers should remember to bring their loose change as plans to create coin-operated toilets could also be coming into effect.
The Civil Aviation Authority have raised their doubts over the vertical seats meeting necessary health and safety requirements so, with any luck, Ryanair will stick with tradition and opt for seating of the more comfortable horizontal variety.
About Skyscanner
Skyscanner is a travel search site providing online comparisons on flight prices for over 670,000 routes and on over 600 airlines, including flights to India as well car hire, deals and holidays. You can follow Skyscanner on Twitter and Facebook
(All images courtesy of the individual airlines)