[Case Study] Social Interest and Photo-sharing for Airports
Social media can be leveraged as more than just a conversation and broadcast tool, and the new(er) social photo-sharing platforms are making it even easier for airports to use social media to help drive the existing business goals of the airport and win the interest of the traveling public.
This segment of the Simpli-Airports Series takes a deeper look using social media to develop social interest through platforms such as Pinterest and Instagram.
This past summer we published an article on a 
presentation we gave at the ACI-NA Marketing Communications Conference
, where we shared a panel with the folks from the San Diego Airport and @3FoldComm.  The "pinteresting" part of the panel was that we explored where airports can go once they have already gotten the basics of social media down.  We spoke about how to explore the newer platforms and to use them to tap into the interests of the airport fans and passengers. Katie Jones from SAN also shared the story of how San Diego Airport is using 
Pinterest to drive visitors
. From travel tips to glamour shots of the terminal and cool SAN destinations, Katie and team have been using Pinterest to inspire travelers to "dream beyond the pin boards".
We urge you to go back and take a deeper look at the presentation given by Katie Jones from SAN, where she explores and shares the adventures and successes of the San Diego Airport on Pinterest.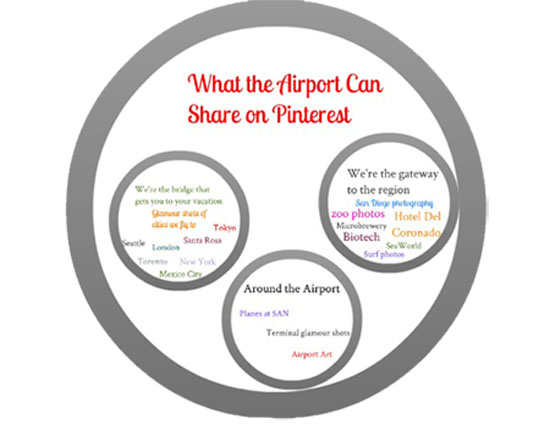 Value of Pinterest for Airports
A few tips that we took from Katie on how Pinterest has the potential to help other airports:
– Creates the ability to reach a new social media audience
– Chance for the airport to become a "source" for all things travel related
– Chance to bring (and keep) your city/metro area to the top of mind for potential travelers.
New on the Pinterest Horizon
This week's launch of Pinterest Business Pages is sure to change and enhance the ways in which airports are using Pinterest.  If you are currently using Pinterest for your airport, this link is a must to check out.  The platform now also offers an easy way to convert your existing airport page over to the new Business Page.  The new Pinterest business pages also offer tools to automatically help you add "Pin-it" features to your airport websites.
Top Instagram locations? Airports!
So what can an airport do with a mobile-based, photo sharing network like Instagram?  Well, according to Instagram's Official Blog, 4 of the top 15 places to take an Instagram photo are airports.
Airports amongst these top 15 places for Instagram photos include:
#3: Hong Kong International Airport (HKG)
#5: San Francisco International Airport (SFO)
#6: Los Angeles International Airport (LAX)
#9: Suvarnabhumi International Airport (BKK)
With airports ranking just below the likes of Disney World, and above places like Madison Square Park, it means it is probably time to take a look at the platform and how to engage this captive audience.
In May of this year Dirk Singer from The Rabbit Agency, the creative source behind BMI's presence on Instagram, wrote an article for SimpliFlying on how airlines around the world are using Instagram. While the ways in which airlines might use Instagram will differ slightly from airports, the tips that Dirk offers are still quite relative.
1. Make Instagram feeds dynamic rather than static.
2. Give your feed a name.  Ask yourself: What is your Instagram feed for?
3. Take and post quality images
4. Be consistent: Consider the creation of a content timetable and be consistent with your posts.
No time to create and manage an Instagram feed?  Take a another tip from the social media team at CAK, as outlined on slide 12 of the presentation we featured last week and consider posting "Instagram Fan-pics of the day" to your other social sites.  This can help encourage users to generate good airport content, and allow you to have an airport Instagram presence, without managing your own account.
In the remainder of this Simpli-Airports Series, we will continue to explore case studies around airports that are using social media to drive specific goals and also take a look at how they are allocating resources and budgets to these areas:
Week 3: Social Interest and Photo-Sharing
Week 4: Social Crowd Sourcing
We look forward to conversing with you on how you can improve your airport social media program in each of these focus areas. If you are looking for more insight into how to convert your existing Pinterest page over to the new business page need help deciphering how best to make Instagram work for your airport, email us at airports@simpliflying.com.
Join us next week for the fourth and final segment of this Simpli-Airports series when we take a deeper look using social media for social crowd sourcing.
Do you have an interesting airport case study that you would like us to share with our readers? Write us at: airports@simpliflying.com.

[
Featured image: 
Collage of Instagram photos found using #Airports – Users include @TerrellGordy, @_lissyloulou, and @dublinairport]