The December Edition of the Airline Marketing Benchmark Report is here: 15 fresh case-studies from Lufthansa, JetBlue, Delta Air Lines, JAL and more!
Everyone, not least of all airlines, is coming to terms with the fact that the world might not, happily enough, end this year. Indeed, as the holiday seasons draws closer and envelops everyone in its warmth, airlines are keener than ever to delight their customers. Attractive and innovative  campaigns are being launched to promote the brand as well as to gain new customers. However, as an airline or a creative agency, while you plan and execute what you think are innovative, holiday-flavoured, sure-hit campaigns, are you keeping an eye on competitors as well? In the ultimate analysis, it will be your edge versus your immediate competition that will win you more business and influence non-customers. [push h ="18″]
The Monthly Airline Marketing Benchmark Report helps in keeping abreast of the most innovative thing airlines across the world are doing to engage their customers as well as increase their customer base. Comprising 15 of the most innovative marketing and advertising campaigns by airlines across the world, this report is produced in partnership with our good friends at airlinetrends.com. The December report is the fourth in the series. (View past issues here.)
[push h="25″]
What's in the December Report?
The December issue features 15 great campaigns from airlines such as JAL, Cathay Pacific, Air New Zealand, Southwest Airlines, Lufthansa and more! There are five categories of campaigns in the report, which begins with the campaign of the month from JetBlue which used a game-show format to drive brand engagement and awareness. Other great initiatives are included such as Cathay Pacific's excellent use of LinkedIn to attract business customers and Lufthansa's mobile app that not just wakes you up from sleep, but makes it more compelling to fly to new destinations as well.
These case studies from around the aviation world focus on experiential marketing campaigns, social media campaigns and traditional marketing initiatives. From Southwest Airlines' Business Travel Challenge to Wideroe's efforts to cleverly grab Norwegian Air Shuttle's customers, each case-study will make you sit up and take note of how each was executed and how it helped drive business objectives.
If you're already excited, you should go ahead and grab the report right away!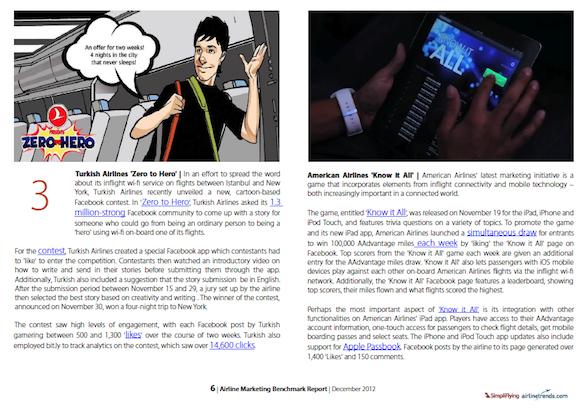 About the Report
Jointly produced by SimpliFlying, and industry and consumer trends research agency, airlinetrends.com, the Airline Marketing Benchmark Report analyses a wide range of airline marketing case studies each month.
The monthly report contains a selection of the 15 most innovative marketing and advertising campaigns launched by airlines around the world and assesses their impact. If you are a numbers person, you'd love our report too!
[push h="25″]
How will it help you?
This monthly report is indispensable for airline executives, specifically in marketing and communications, who wish to understand how their organizations are performing with respect to competitors and can perform better.
Creative agencies working with airlines (or looking to pitch to airlines) will also find this monthly report useful for staying on top of the latest trends and best practices in airline marketing.
[push h="25″]
Pricing and Sample Report
USD 4950 per year  | Annual subscription  – 12 issues, starting from the month of order.
USD 495 per month | Monthly subscription – Same as above, but charged monthly.
USD 550 per report | Single monthly issue  – For a one-time purchase
You can download a 
sample report
here
.
[push h="25″]
Questions?
Click here if you have any questions about the report.
You can also contact Shubhodeep Pal directly at shubhodeep@simpliflying.com for queries regarding the reports.