For energising Malaysia Airlines' social media efforts with MHBuddy, Mohd Hisham Saleh is the SimpliFlying Hero of February 2012
Malaysia Airlines, for quite some time now, has been a star on social media. They've received a fair bit of coverage on SimpliFlying in the past year or two for the excellent work they've done, and were, notably, one of the finalists in the SimpliFlying Social Media Awards 2011 for their MHBuddy initiative. Not surprisingly, when we chose them as one of the three big guns to vote for in the February round of SimpliFlying Heroes, Malaysia Airlines (MAS) trumped Finnair and Delta despite stiff competition from them. We reached out to Hisham, who is Head of Social Media and Innovation and the star behind MAS's social media efforts, and he was kind enough to oblige us with some juicy tidbits about the story of the airline's rise as a major social-media presence.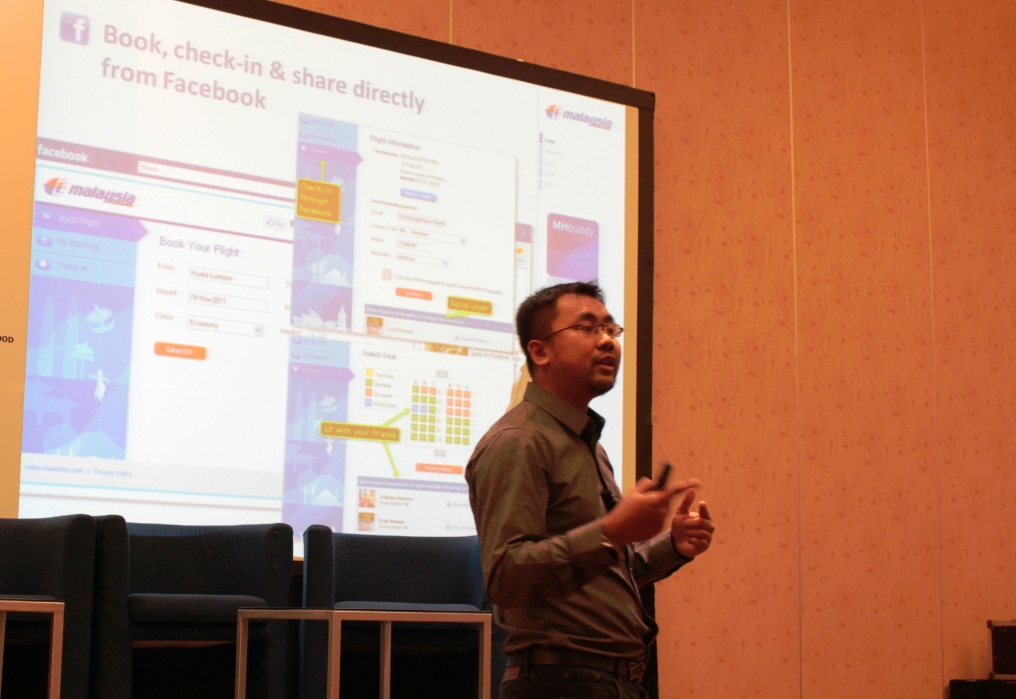 As Hisham says, it's hard to imagine not having a social media channel nowadays, but only a few years ago, when brands were still floundering on social media, Malaysia Airlines, after cosying up in social media, set some clear objectives: to stay in touch with their customers and to understand their preferences so that MAS could enhance their journey and experience, every time they interacted with the brand.
Growing Pains
Like all good brands, even MAS chose to under-promise and over-deliver, rather than the other way round. Within the team, there was a clear focus on not chasing everything but mastering a few things so that the brand would not be diluted by low performing initiatives.
When Hisham joined MAS in 2009, the MAS communication team had already established the airline's social media presence. However, initially, skepticism about the potential of social media had led MAS to adopt the safe, somewhat direction-less route of doing whatever other airlines were doing. Soon, however, the rudders on their social media boat slowly began functioning and MAS embarked on e-Marketing through Social Media and was rewarded with increased engagement from their customers.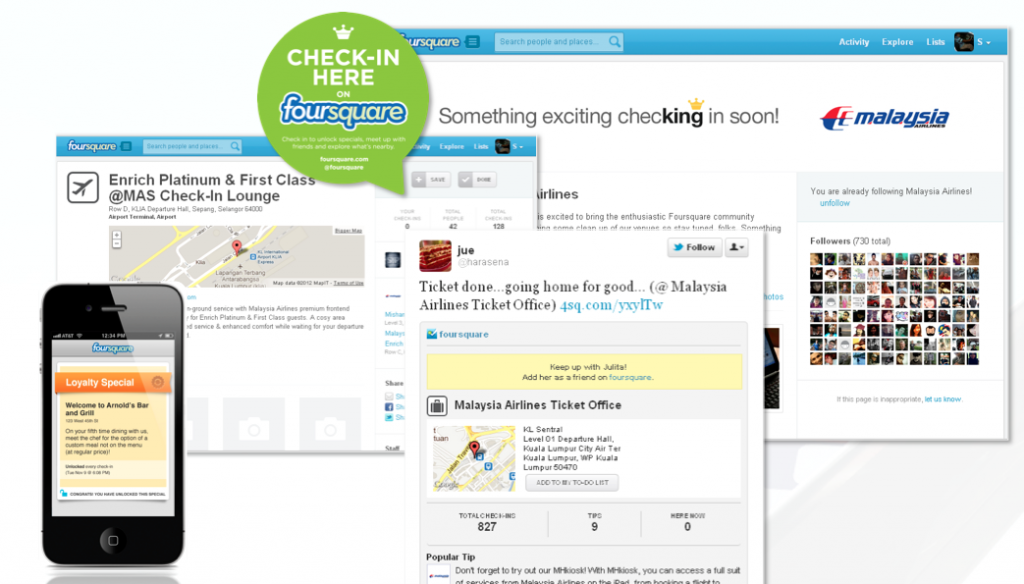 Initially, and perhaps presciently, they did not jump into the race to enter all social media channels since they realised that most of their social media fans could be found on the most popular channels. Recently, however, they have tried to identify their audience at various parts of the traveller life-cycle. Today, MAS has presences on Sina Weibo as well as Foursquare.
On the road to glory
The moment that helped push MAS's social media initiatives to the forefront was the closure of European airspace due to the Icelandic volcanic eruption in 2010. This saw a marked change in the social media landscape for the aviation industry.  Suddenly, social media was important, relevant and worthwhile. No longer was it just a channel for marketing; it was an important engagement and real-time information dissemination tool to customers.
In 2010, MAS launched their MHmobile mobile application. They partnered with with SITAlabs, and explored possible scenarios on how they could use the platform in different ways that were useful to the customer. Hisham reveals how during their brainstorming sessions he would keep returning to a scene in the movie "When Harry Met Sally", where Harry & Sally were on a plane, talking about planning their next trip.
Eventually, building on the thought, the team came up with the idea of adding a social layer to the platform, as they saw a need for a new Facebook Commerce app that offered greater convenience to their customers. That saw the birth of MHBuddy – MAS's then-revolutionary social-seating initiative that allows their customers on Facebook to choose seats alongside their Facebook friends if they are on the same flight. Response from customers has been heartening and Hisham firmly believes that it's the right way ahead.
While KLM may have kicked the ball that MAS got rolling further ahead with their recently launched Meet and Seat social-seating initiative, Hisham believes that more competition is good since it ensures faster development of ideas as airlines constantly try to push forward to gain an edge over competitors.
Managing, building and measuring
Along with social media, the team managing MAS's presence on it has evolved. Today, their social media team has 4 people including Hisham. However, other business units do have a say in what they present on social media, offering cross-functionality as well. To ensure participation, the social media team has weekly meetings – Jedi Council Meetings, as Hisham calls them – to develop and assess their social media strategy and ensure that it's in sync with the specific end-goals that they set.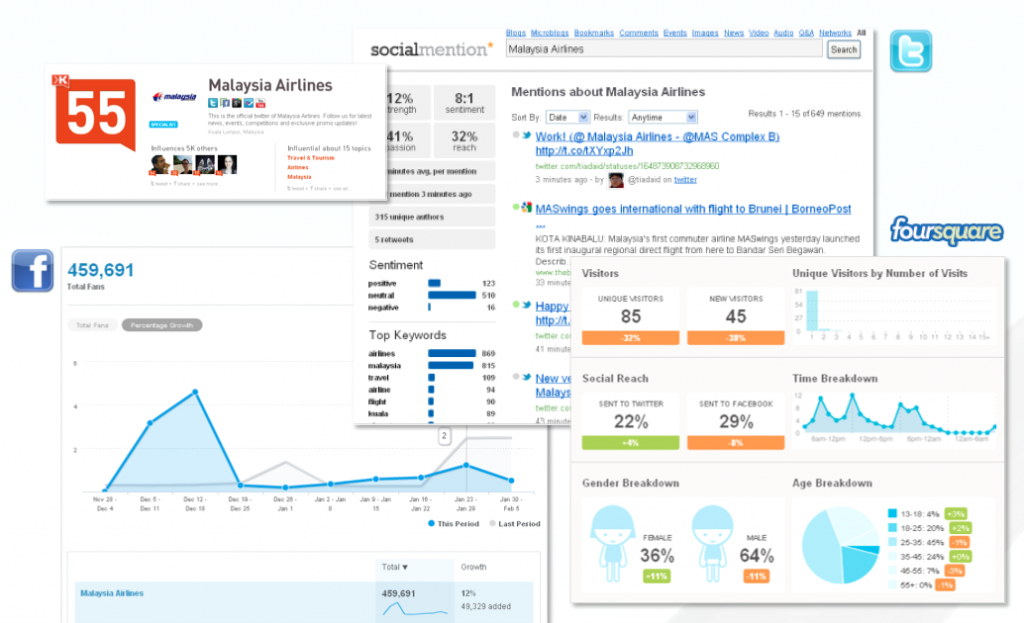 For MAS, sentiment and and traffic to the website are the two main criteria for measuring the success of their initiatives. They pay close attention to their social media presence and measure their online efforts via social sentiment analyses contained in daily (as well as monthly) listening reports which outline the main issues in the industry. Further, they also measure traffic driven to their website (web and mobile) through their social media channel through tools such as Omniture and Google Analytics. For social monitoring and engagement measurement, the MAS team uses off-the-shelf solutions but they're keen to emphasise that the tool matters less than the actual process of managing their social media presence.
The Road Ahead
We can safely say that 2012 will be a busy year for social media as it evolves beyond its adolescence and takes flight. For Hisham, this will be an important year for Malaysia Airlines as it seeks to explore the furthest boundaries of the social space. He tells us that MAS is gearing up to exploit their social media channels to the fullest in order to attract a global audience. In his words, "we will do so by planning our conversations so that they're customized for specific places, feature global content, and we seek to build loyalty as well as to continue building social relationships."
Hisham signs off with some essential advice for airlines wanting to build their social media presence. First, own your end goals and be ready to improvise from time to time because social media changes in a flash. Second,  be brave enough to try new things. Ordinary voices get lost in the crowd. You will be able to discover ROI on your efforts if you strategise upfront. Last, and perhaps most importantly, know your market's potential. Don't be a Jack of All Trades and Master of None.
Most excellent advice from a man who has been at the forefront of the initial airline wars on social media! Congratulations once again to Hisham and the Malaysia Airlines social-media team. We look forward eagerly to what you have in store for us this year!
Know someone who's worthy of being a SimpliFlying Hero?
Simpliflying Heroes are individuals recognized for outstanding social media use in the world of aviation. Do you know of somebody who uses social media effectively in their airline or airport to achieve specific business results? Or do you think you fit the bill?
Then go ahead and fill up the SimpliFlying Heroes nomination form. By filling out the nomination form, you bring them a step closer to being recognized by SimpliFlying for their efforts.