How airlines and airports can dramatically increase engagement on their Facebook Pages through one simple action
Editor's Note: After an excellent response to the previous post on How KLM is winning on social media in Europe, here's another guest post by Peter Claridge of Unmetric, an exclusive aviation partner of SimpliFlying. Unmetric is a social media benchmarking company that helps brands analyse how well they're doing on social media by including in-depth insights into numerous metrics as well as information on what kind of content "works" and how competitors are faring.
Airlines are in a unique and somewhat enviable sector when it comes to social media. They all fly to exotic destinations, are able to sponsor the biggest events, use amazing machinery, have huge amounts of glamour and produce reams of interesting facts. The sector is literally bursting with potential for engaging Facebook posts.
According to Unmetric's data (based on secret sauce technology and kept as confidential as Coca Cola's recipe), the average engagement score for the airlines sector is 33. Interestingly, European airlines tend to be well ahead of their American competitors when it comes to engaging their customers. However, if there is one unifying factor for all the airlines, it is that above everything else, photo posts are the driving force behind getting fans to "SimpliEngage" with a brand.
We have selected 10 worldwide airlines for this short article, but our research shows that the results are the same across the sector: if you want engagement, post photos. Below you will find a screenshot of the average engagement scores for the 10 airlines based on posts in the last 30 days.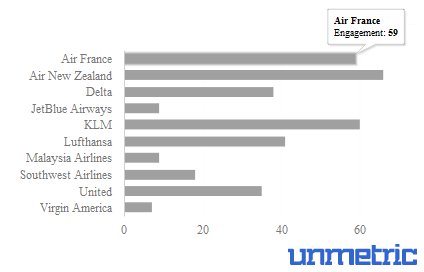 If we take a quick peek at Virgin America's Facebook page you'll notice a dearth of specific photo posts. Infact, even though Virgin America are the most prolific airline when it comes to posting with 79 admin posts in the last 30 days, only 9 were photos. Most tellingly, the photos they have posted result in engagement way above average.
Air New Zealand and Air France take a less is more approach to posting on Facebook with just 9 and 10 posts respectively in the last 30 days. However, in a clear case of quality over quantity they had amongst the highest engagement scores for the whole airline in the last 30 days. Air France has a very clear content strategy: 70% of their posts were photos and post equally between current events and brand related content.
The chart below illustrates just how stark the difference is between the average engagement score and the engagement score when the airline posts a photo. Airlines are seeing 500% or more increases in engagement scores when they post interesting photos.
Clearly, Virgin America and others should consider posting more photos if they want to drive up their engagement scores. Lufthansa is already posting plenty of photos but not all of them are striking a chord – something for their social media team to look at perhaps!
Find out more about how Unmetric can help your airline benchmark its social media prowess here. Or drop us a line directly at unmetric@simpliflying.com. Among Unmetric's list of illustrious clients are are Citibank, Nestle and AirTel. Look out for even more exciting stuff from our collaboration with Unmetric in the days to come.