A Statistical Analysis of How Airlines in the US Are Providing Customer Support on Facebook
Editor's Note: Here's another guest post by Peter Claridge of Unmetric, an exclusive aviation partner of SimpliFlying. Unmetric is a social media benchmarking company that helps brands analyse how well they're doing on social media by including in-depth insights into numerous metrics as well as information on what kind of content "works" and how competitors are faring. Among Unmetric's list of illustrious clients are Citibank, Subway, Campbell's and AirTel.
Back in May I took a look at the Average Response Times for various airlines on Twitter. The shortform social network is becoming a major customer support touchpoint for many big brands around the world. Many airlines have embraced Twitter to provide quick and timely information to travellers, responding to everything from flight routes to lost baggage.
Facebook is also turning into a customer support channel, albeit on a smaller scale than Twitter. I decided to revisit my earlier report on how the top US airlines are performing on Twitter, but this time by looking at the average response times on Facebook instead. I looked at the data between May and July 2012.
Which Airlines Are Actively Replying To Fan Posts
The first metric I looked at was how many posts fans were posting and how many times the page Admin was replying. Here we can see that Soutwest Airlines has the most vocal fans with over 7,300 posts in the three month time frame. However, the page Admin only replies to a fraction of those posts, with only United Airlines replying to a smaller percentage.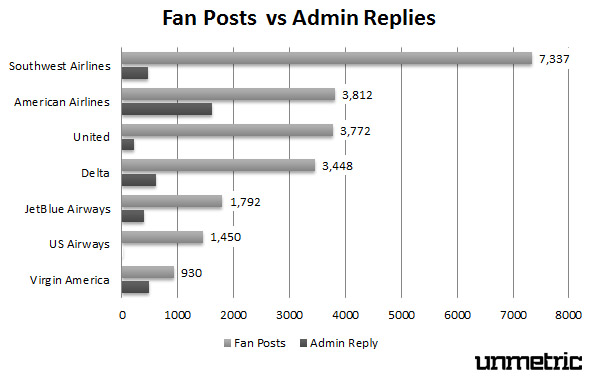 American Airlines is responding to 42% of fan posts, an indication that they are taking fan engagement very seriously on Facebook. Virgin America is replying to over half of all fan posts, but they do have the lowest volume of fan posts compared to the other airlines. US Airways appears to have a policy of not engaging with fans using the main Admin account because they didn't respond to a single fan post in the three month period I looked at. That said, there did appear to be some fans that had taken it upon themselves to answer questions, but it wasn't clear whether they were part of the airline or not which is something that might be of concern for the US Airways management.
Average Response Time For US Airlines on Facebook
The next metric I looked at was the Average Response Time (ART) for the US airlines to reply to fan posts. Posts on Facebook tend to be in a longer form than the quick questions asked on Twitter. But a fast response is still expected on social media. The chart below plots the ART for the US airlines on Facebook. US Airways has an ART of 0 minutes because they didn't reply to any fan posts using their official Admin account and it's not clear if they have an authorized person responding to questions on Facebook.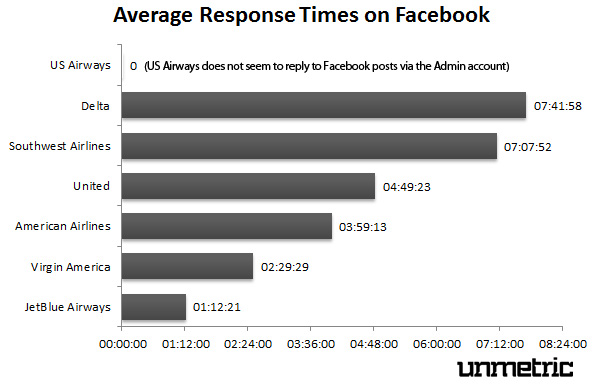 Delta has not been able to bring its "A-game" from Twitter to Facebook when it comes to quickly responding to fan posts. While Delta is one of the quickest at replying on Twitter out of all the US airlines, on Facebook they are among the slowest, taking over 7 hours to reply. JetBlue appears to be as serious about responding to fan posts on Facebook as they are on Twitter. They have an ART of 1 hour on Facebook and reply to 22% of their 1,800 fan posts.
Sentiment Analysis of Fan Posts on Facebook
Unmetric has a sentiment analysis tool that uses NLP and lexicology algorithms to determine whether fan posts are positive, negative or simply neutral. Taking a look at what the fans are posting can be very revealing. Overall, Virgin America has the most positive sentiment from fans, while US Airways has the most negative sentiment.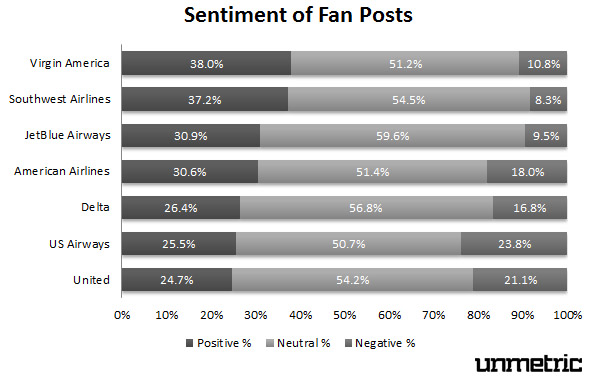 It seems that at the moment, airlines are more interested in developing Twitter as a customer support channel rather than Facebook. One issue faced by all airlines is that the fans can be more scathing and comprehensive in their negative experiences on Facebook rather than Twitter. It does appear that while Twitter is the platform of choice to get support immediately before or during the journey, Facebook is the place to air grievances once the journey is completed.