[Interview] How Japan Airlines revived its brand by launching 10 mobile apps and engaging heavily in social media
As most airlines struggle to figure out their mobile and social engagement strategies, there's one that is doing a stellar job at both! And an unlikely one at that. Japan Airlines, which declared bankruptcy 18 months ago seems like an unlikely candidate for an airline that engages travelers openly amid brand revival, throughout the traveler lifecycle. And that's exactly what they have done.
At the recent Aviation Outlook Summit Asia, in Singapore, I had a chance to catch up with Tomohira Nishihata, the VP for Web Sales and Marketing at Japan Airlines. In an interview with SimpliFlying, he shared that an astonishing 10 mobile applications (apps) have been launched just in this year alone! And while there are ten individual apps, they are all interconnected – so some features from one app can be accessed on another, and this would drive downloads of the related app as well.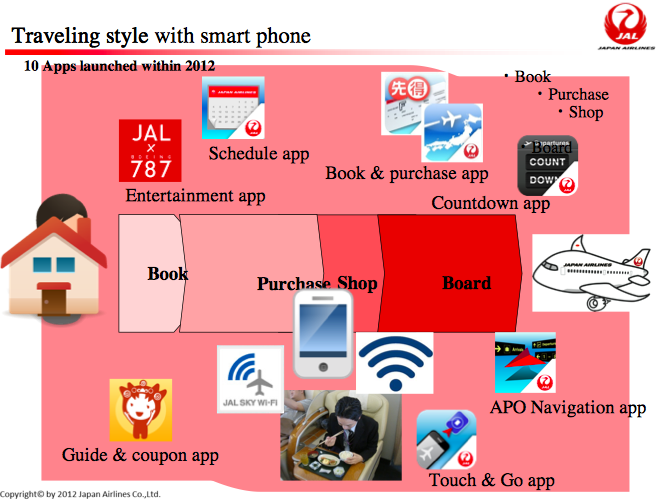 On social media, Japan Airlines has a team of ten dedicated staff driving brand engagement and customer service. They've added over 700,000 fans on Facebook alone in the last 18 months, and have recently been named the most engaged brand on Facebook in Japan!
Surely, such open communication with "the cult" during, before and after the journey is a critical feature of the brand revival for Japan Airlines. Tomohira-san shares more insights in his video interview below and here is a recap:
How Japan Airlines released the world's first mobile booking engine in 1999 [00:50]
Why Japan Airlines launched 10 new mobile apps in 2012, targeting the whole customer lifecyle [01:40]

Driving 10% look-to-book ration on the latest mobile booking app [02:10]
Mobile boarding pass and more [02:40]
How Augmented Reality apps help navigation at Haneda Airport [03:15]
Location based destination discount coupons app for Okinawa [03:40]
Managing flight schedules in sync with Google Calendar on your mobile [04:25]
Spot the 787 Dreamliner app [04:40]

Turning around brand sentiment using social media [05:55]
Getting to 700,000 fans on Facebook in Japan [06:40]
Achieving the highest Engagement ration in Japan on social media [07:20]
Brand re-building as the key goal to be achieved through social media [08:10]
So while most airline brands debate whether to launch an iPhone app or one for Android, or a mobile website, Japan Airlines has launched over 10! And while airlines debate the ROI of social media, the airline is engaging actively with 700,000 fans online. And that's the way forward with the connected traveler – try new things. Make small bets. Some will fail, but you'll gain trust and build a strong relationship with the customers.
Here's Tomohira-san sharing his insights. Enjoy the interview!
Photo Credit: Airlinereporter.com