London Gatwick Airport combines Literary Talent with Soundcloud to Engage Families and Reduce Boredom
Many airports have taken on the task of building infrastructure to cater to the traveler of the "distant" future: traveling children.  Play "ports" and children's play areas are becoming more and more common, often sponsored by local advertisers, to help kids (and help parents) run off a little energy before boarding a long flight or in between a layover.
Reducing boredom at the airport, one kid at a time
While this helps, what happens when the boredom sets in just before boarding a long international flight? What to do when you have already read through all of the books in your carry-on, and have nearly exhausted the appeal of the same old iPad games and movies? I can only guess that traveling parents must know this story all too well.
Frequent travelers know the attractiveness of being socially connected while traveling, but kid-friendly social channels are not prevalent. Hence, there are no major solutions to child boredom.  London Gatwick Airport recently became the first European airport to use the social network Soundcloud as a fun new way to tap into the family travel segment.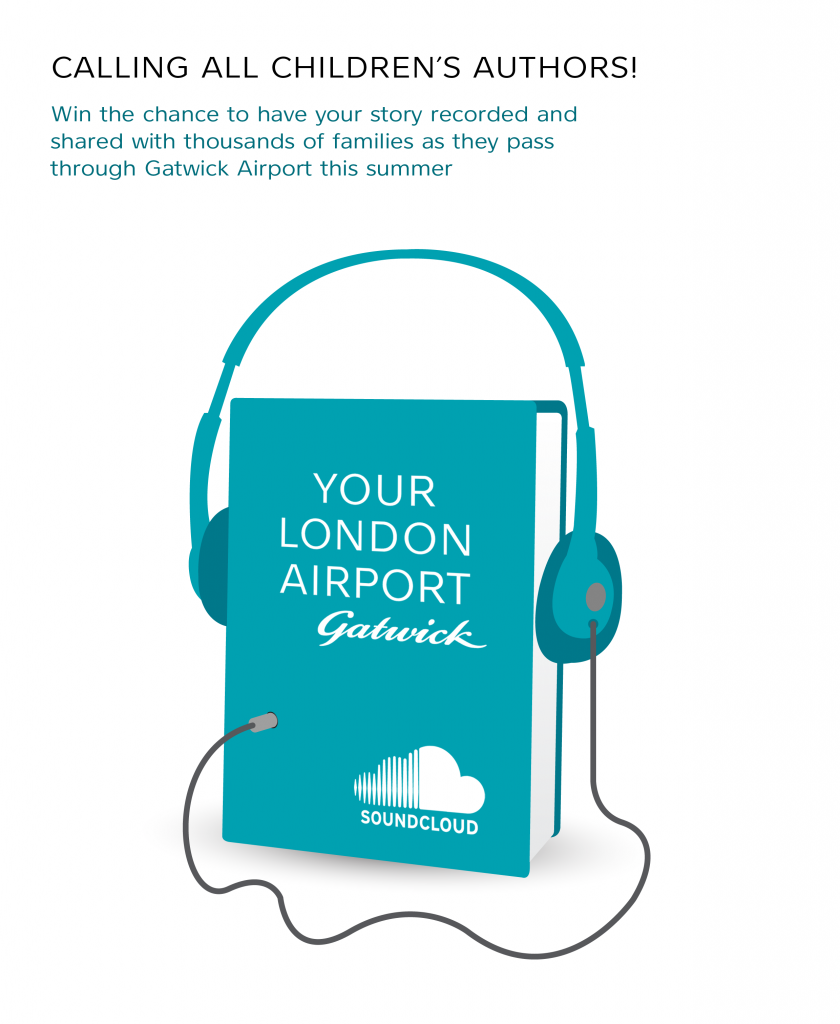 Engaging entire families
Gatwick Airport worked with Rabbit Agency to develop a presence on the social sound-sharing platform by releasing a series of children's stories, all in audio format to cater to traveling kids and their parents.
We had a chance to tap Zoe Baker, from the Rabbit agency for a bit more info on the cool new initiative where budding authors have been asked to submit short children's stories for the chance to be recorded and published through the initiative.  Ms. Baker shared with us that over 60 quality stories have already been submitted from all over the world.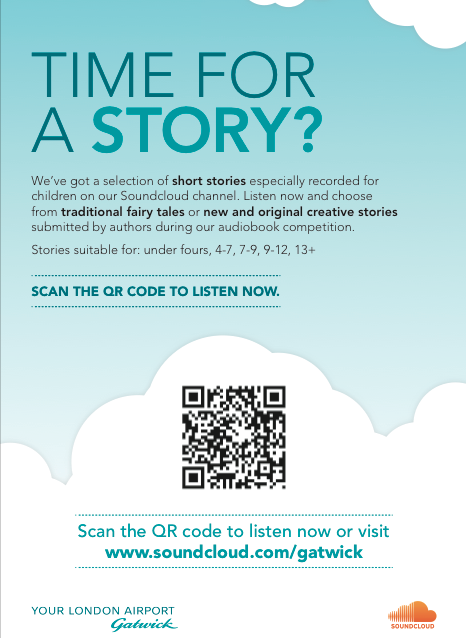 Each week, throughout the remainder of summer and into the end of school holiday season (with hopes to extend into the Christmas Holiday as well), a new story will be voted on and recorded. Four stories have been chosen and recorded at the time of writing this article.
While I am far from a children's literary critic, my favorite so far is The Dragon in the Cupboard by the fourth Gatwick Soundcloud winner: Vicki Spreadbury. (Creative types feel free to send in your story here).
Setting a precedent for the Airports of the Future
While Gatwick seems to have taken Soundcloud by storm in terms of passenger offerings, they are not the first airport to find a unique way to offer entertainment in the form of literature to their travelers.  Earlier this year, the Harrisburg International Airport (MDT) began offering free downloadable e-books.  This fun initiative offers passengers a chance to pick up a free classic novel before a flight by way of QR codes in the terminal and website links.
It is worth noting how Gatwick has neatly tapped into the SimpliTravel phase of the Connected Traveler Lifecycle to engage their customers: that too entire families at one go instead of relying on the usual one-person-a-time engagement model.
So what is next in terms of the use of social media to help traveling parents entertain children? iPad docks in the terminal with pre-loaded children's films? Airport apps that provide access to other short stories and/or clips? The possibilities are only expanding.
[Featured Image:
Andrew Scott
]