SimpliFlying launches fortnightly Marketing Strategy podcasts for airline and airport marketers
We promised we'd make the New Year exciting for you. And here we are – delivering on the promise we made! After creating quite a buzz with our revamped SimpliFlying Heroes initiative that saw almost 3000 votes pour in over just a week, we're back with something even more exciting. So sit back, relax and enjoy the show that we're bringing you today (and every fortnight hereon)!

Today, we're launching SimpliFlying Podcasts – a brand new product that should excite our readers, most of whom are travel marketers. Starting this Wednesday, SimpliFlying will be releasing Marketing Strategy podcasts for airline and airport marketers on the 1st and 3rd Wednesday of each month. Each podcast will have great insights on the latest in marketing from the best minds in aviation.
Why you should listen to the podcasts
Helmed by Shashank Nigam, the CEO of SimpliFlying, every fortnight we will interview a well-known face from the world of aviation (mostly CxO level). The in-depth interviews will be followed by a detailed discussion of insights into the latest in airline and airport marketing by SimpliFlying staff.
The podcasts will be available in two versions – a shorter, free version, lasting about 20 minutes, will have only the interview (you can listen to them below); the longer paid version, lasting about 40 minutes, will have the interview as well as the insights along with a detailed pdf transcript. Each premium podcast will be available at an introductory price of only $19 per podcast!

Listen to the first episode!
Our inaugural podcast has Tero Taskila, CEO of Estonian Air as the guest. Estonian Air, as you know, has been featured previously in our Top 10 case-packs for their innovative social media campaigns involving some rather interesting techniques to drive revenue such as reverse auctions on Facebook.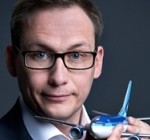 In recent months, the airline's major claim to fame has been that it has developed the world's first social media based loyalty program on Facebook. The app, Airscore, helps Estonian Air provide real-world rewards for virtual actions such as online brand advocacy. The social loyalty program has been path-breaking in terms of how it rewards loyalty and has won a number of awards as well. To learn more about Estonian Air and its great initiatives straight from their CEO, listen to the podcast below. You can subscribe to SimpliFlying Podcasts on iTunes as well!
Note: The HTML5 player above should work with most modern browsers including those in mobile devices such as the iPad and iPhone. However, if you're having trouble playing the file, please use the flash player at the bottom of this post.
Hope you enjoyed listening to our free podcast! Our premium version has 20 additional minutes of discussions on the hottest trends in the travel market with a focus on aviation. Burning issues such as social loyalty, measuring ROI on social media, opportunities for location-based services etc are discussed in detail by Shashank and Marco Serusi, our Community Engagement executive based out of Valencia, Spain. What's more, if you're not patient enough to listen, you'll have access to the complete transcript of the 40-minute podcast as well. We're offering all this, as we mentioned earlier, at a great introductory price of only $19!
This is just the beginning. Watch out over the next few weeks for a couple more exciting new products from SimpliFlying!
Full disclosure: SimpliFlying helped Estonian Air build their social loyalty program.
[Flash player for those having difficulty with the HTML5 player above.]