[Test Drive] Wi-fi and LiveTV onboard Turkish Airlines Business Class from Istanbul to Los Angeles
Connected, up in the air
Imagine flying for over 10,000kms over 14 hours and still be connected to the world – over the internet. It might sound like a dream come true for some of us, and I just happened to be one of the first in the world to experience it. On board my Turkish Airlines flight from Istanbul to Los Angeles, I experienced the future.
I was connected to the internet over two continents, an ocean and lots of mountains and snow. All thanks to Turkish Airlines' free in-flight wi-fi service that's being piloted right now. Powered by the new Panasonic's Avionics Global Communications Suite, Turkish Airlines is the first airline in the world to have equipped its Boeing 777-300ER aircraft with the Ku-band supported satellite service.
While I have experienced being connected up in the air, on Virgin America, that was on a domestic flight in the US. This time, it was on a long-haul, international flight. While it may not make a difference to the lay man, the technology is dramatically different. Wi-fi is powered via satellite, rather than through land-based towers. And the experience, even more fun.
Test-driving wi-fi and LiveTV
Despite the luxurious distractions of Turkish Airlines' plush Business Class (photos below), I popped out my iPad when we reached an altitude of 10,000ft and it was safe to turn on our electronic devices, after take off from Istanbul. The flight attendant announced that wi-fi was available on the flight for free. The "Turkish Airlines" wi-fi connection appeared on my iPad and I connected. After simple authentication, I was connected. The first thing I did was to send out a tweet, announcing I was indeed connected up in the air.
I then did a quick speed test for the wi-fi (see below) and while it wasn't comparable to broadband speeds on the ground, the speed was good enough to get most of my emails done, along with almost constant updates on Facebook and Twitter. I even managed to send a few large presentations over email to my team, while in-flight. The most re-assuring fact was that the service did not drop more than a couple of times throughout the 14 hour flight – once after we left Danish airspace and once when we were over Greenland.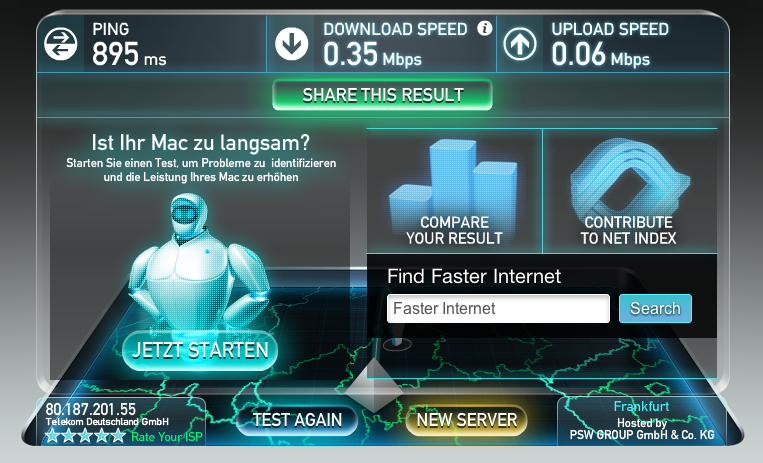 While Turkish Airlines has announced a wi-fi take-up rate of up to 30% on these flights, I only saw two other passengers in the Business Class logging on during the flight. Certainly, there must have been more people in Economy and Comfort Class logged on to the wi-fi. Which explains the speeds experienced.
Another feature of the Panasonic suite on Turkish Airlines is Live TV. Again, this has been common on domestic flights in North America on some airlines, but new to intercontinental flights. On the Planet IFE system, I managed to watch Live BBC news as well as Al Jazeera, for most of the flight.
Sharing the world class Turkish Airlines service, real-time
In an interview with SimpliFlying in 2009, Turkish Airlines CEO, Dr Temel Kotil shared how the airline is focusing on a passenger experience that stands apart. Over the last couple of years, the airline has bloomed into a butterfly everyone aspires to ride! I've previously shared my experience of the new Turkish Airlines premium lounge in Istanbul, which feels like one giant Apple store (see photos here). This time I am excited to share my experience of the new Business Class on-board the Boeing 777 aircraft. The best part was that I didn't have to wait till I landed!
Throughout the flight, I tweeted photos of the Turkish Airlines flying chef, uploaded photos of the dessert I was having and shared different mood-lighting modes in the plane. Instantly. In fact, toward the end of the flight, I was already showing the chef comments his photo had received on my Facebook account!
I've compiled many of the photos that I took in-flight in this article, for your viewing pleasure, along with a few of the many tweets. As you will see, Turkish Airlines has put together a compelling passenger experience, both on the ground and in-flight. In fact, despite the distraction from the multiple screens I had connected to the wi-fi (my iPad, my Macbook Air, and the IFE system), when food was being served by the flying chef, I only ate. I didn't watch a movie, didn't read a book. I just ate (ok, I tweeted a bit), but it was an experience I'll remember for a long time. And hopefully be back on a Turkish Airlines flight soon enough.
[push h="40″] [photomosaic]
[blackbirdpie url="https://twitter.com/simpliflying/status/245624972473692160″]
[blackbirdpie url="https://twitter.com/contrailcomm/status/245605656097349633″]
[blackbirdpie url="https://twitter.com/fedeih/status/245599986874728448″]
[blackbirdpie url="https://twitter.com/selinkpamir/status/245582148122320897″]
[blackbirdpie url="https://twitter.com/tmfassociates/status/245515524006621185″]
[blackbirdpie url="https://twitter.com/apexmary/status/245577144535769088″]