The Road Ahead for Airports and Social Media in 2013: real-time customer service, non-aeronautical revenues keys to success
2013 is just around the corner. Airport Management teams are now past the development stages and approvals of 2013 marketing plans and budgets.  Where will customer engagement strategy and social media fit in next year?
In September 2012, SimpliFlying surveyed 55 of the most "digital" airports across the globe to gain a better understanding of how they are positioning social media within overall airport marketing, communications, and organizational and how they are leveraging social media to meet other specific marketing and business objectives. In fact, among the top three goals airports are looking to drive are brand engagement, customer service, revenue – in that order.
We often talk about the age of the Connected Traveler, a concept that holds all too true amongst airports that are embracing the need to connect with passengers and market their services better.  Increasingly, we are seeing a new wave of airport marketing powered and enhanced by social media. Smart phones and tablets are now part of a the standard packing list for both business and leisure travelers; travelers today are more connected than ever before.
So what idea does that give us about 2013? We believe the following four trends will be tapped on by airports in the new year to engage the connected traveler better.
1. The increased use of social media to drive non-aeronautical revenues in Airports
Compared to Brand Engagement (94.5%) and Customer Service (92.7%), Revenue (36.4%) came out low in terms of being recognized by airports as a main business goal driven by social media in 2012. We see the increased use of social media to drive non-aeronautical revenues as being a potential in 2013.
As more airports are diving into social media and seeing it as more than just a marketing tool, these same airports are beginning to realize the potential in using social media to drive non- aeronautical revenues, through partnerships with concessionaires and airport vendors. The use of social media to target travelers for specials, and to push discounts can influence purchases and visits to the shopping and dining facilities at the airports.

2. Greater emphasis on social customer service in airports
Currently, corporate communications (51%) and marketing (43%) are the most common contributors to social media budget. Interestingly, while customer service is found as one of the top business goals airports are trying to achieve, the amount of budget contribution from customer service is much lower with only 7.3% of the airports currently doing so (view presentation).
Though, airports such as Portland International (PDX) are leading the way in this realm of real-time customers service through social media (view case study). PDX already has a social-media powered call center, where online customer service has been placed in the Twitter-trained hands of the call-center staff.
With the increasing prevalence of social media and the rise of the Connected Traveler, we recommend that more airports follow the lead of PDX and start to train customer service teams to function on social media. Training staff members who are already designated to answer customer calls will help to free up marketing and/or communications staff to work on other strategy items as well. Even London Heathrow airport has started providing good customer service online.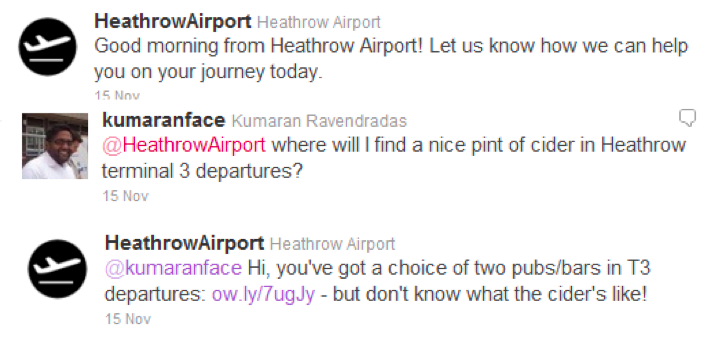 3. Airport Websites to become portals into airport social channels
Did you know that 77% of travelers in Europe already pass through a social-media enabled airport, according to research by ACI Europe? Increasingly, airport patrons will find the need to have social portals tied to traditional sites. By pulling social streams into the functioning format of a traditional airport website, the airport will be able to connect real-time with patrons.
By integrating content that is being posted on Facebook, Twitter, Pinterest, and other dynamic mediums, the airport will be able to have fresh and current content on its website.  Rather than being the repository of owned marketing content. A good example of an airport doing that right now is Harrisburg International Airport, in PA, USA.

4. Traditional marketing skills will be needed to succeed in social media
As airport executives begin to look for return on investment (ROI) and return on engagement (ROE) from social media efforts, traditional marketing skills would be in demand too. Airports and airlines alike are going to see a shift towards wanting to tap into the social data provided as a CRM tool and a portal to better understand passengers. In 2013, we are going to see both airports and airlines shifting into the use of traditional marketing disciplines for social media, and targeting customers in all campaigns and engagement efforts rather than just broadly broadcasting to all who might be listening.
Hence, in 2013, not only will the overall social media budgets for airports increase, airports will focus on driving revenues, providing better customer service, and learn a little more about travelers to cater their offerings better. Essentially, better customer engagement will lead to happier travelers, who wouldn't want to just get out of the airport the minute they land.