[Videos] Reliving the Best of Routes Americas 2012
Whether you attended Routes Americas 2012 in Nassau, Bahamas last week and are now wishing that you could return to the sunshine and relive the conference or you missed attending this year and are hoping for a recap, this post is just what you were looking for. Our comprehensive roundup will make you feel as though you never left.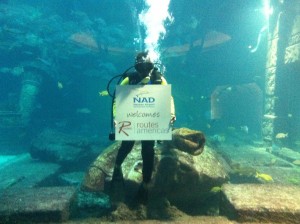 Two things that SimpliFlying loves to see are conference #hashtags and the use of social media to increase audience engagement. Both of these things were in full
effect at Routes Americas.
Leading up to the conference I quickly learned which of the socially tapped-in industry players would be attending, and was able to follow their arrivals and expectations through twitter and the #RoutesAmericas hashtag. Throughout the event many tweeters also seemed to be following along with the conference #hashtag from afar.
Sunshine and (Aviation) Matchmaking
When I arrived in Nassau, I learned that Routes also had the foresight to offer attendees a conference specific smartphone application – something that proved to be invaluable for keeping up with agendas and re-caps. Our sources at UBM Aviation Routes tell us that while the use of a Routes conference app debuted at the 2011 World Routes event,  this is the first time an app has been used for a Routes Regional event and that 207 unique visitors used the app.
It works on all of the major smartphone platforms (iPhone, Android and Blackberry) and provided users with a full list of delegates and online profiles, which is key for event followup. I found myself constantly checking the app to keep on top of the daily agenda and to use the map features to find my way through the expansive resort.  My favorite features were the HUB News section and the social media links, as they created an easy way to keep up with current conference updates.
Immediately following the conference this app turned into a survey mechanism, aimed at improving future Routes events.
What happens in the Bahamas…
From air-service focused "speed dating," to industry updates and predictions, the conference was filled with aviation enthusiasts all in attendance for similar reasons: to build enhance the air service picture for their respective airline/airport or build client relationships.
The conference opened with an Airline Strategy Summit, complete with a panel of esteemed speakers. Routes Online has shared some of the key quotes from the panel discussion; my favorite though, came from John Kirby of Southwest Airlines who made the analogy: the airline industry is quite similar to the supermarket industry. With a major difference being that a community supermarket can not "fly away" to serve another city if it is not making money.
The Delegates Speak
The word is that this turned out to be the largest Routes Americas event to date, with 73 airline delegates representing 59 airlines, paired up with 151 airport representatives from 385 airports.
42 countries were represented
50% of Caribbean countries were represented
37% increase in scheduled meetings over 2011.
Zach Sundquist (@ZSundquist) of the Chicago Rockford International Airport took some time to chat with me about his first time attending an air-service, "speed-dating" conference. He found the experience to be quite positive and is excited for 2014 when World Routes comes to Chicago-land.
"With so many airlines in one place it gave me a great opportunity to network with the decision makers and to give them current information on what we are doing at RFD. It was also a great opportunity to hear from the carriers about what they are planning, where their focus is, and opportunities that are mutually beneficial. It was a very full two days with many conversations continuing on into the future." – Zach Sundquist, RFD.
New to the Routes events (but not to air service conferences), Jamie Kogutek, of Sixel Consulting Group (formerly of AirTran Airways) had a few words to share about the conference and the benefits it offers to those in attendance.
Joe Cambron, Director of Air Service at the Detroit Metro Airport (DTW) veteran to Routes and other air service events, shared an audio bit with us on his Routes take-aways and why DTW attends year after year. Click here to listen.
Rene Seepersadsingh and Samuel Henry of the Tobago House of Assembly and the Twin Island Nation of Trinidad and Tobago also spoke with us about their meeting expectations and experiences.
Lastly, we caught up with Nigel Mayes Vice President & Commercial UBM Aviation Routes took the time to recap the event for us.
His thoughts: Success!
Other highlights of the event include the following, all documented by Routes Online and The HUB:
Routes Americas Marketing Award Winner: Dallas Fort-Worth International – DFW pulled away with the Americas marketing award for the second year in a row. Hear first hand from DFW Vice President, Luis Perez on what the award means to the DFW team.
Keith Hansen of Allegiant Air recaps the Live Airline Briefing Session and tells more about the markets Allegiant it looking to serve including their Hawaii initiative.
Robert Hill of American Airlines talks about upcoming plans and airline partnership agreements including LAN, JAL, and British Airways.
To wrap up the conference came my all time favorite part of the event, the end-of-conference marriage engagement of a dear friend of mine, and the Routes team may have said it best:
While I departed from NAS before the big night, what better a way to kick-off an engagement than to celebrate with dear aviation friends?  As David said in his tweet, we will leave it to the happy lady to share her full name and airport code, but congratulations Carol and Chris!