Vueling Wins over Critics and Customers with Enhanced Social Media Crisis Management Skills
In late August, the Spanish low-cost airline Vueling hit the headlines when the news of a possible hijacking spread like wildfire. Luckily, for both the airline and those on board, it was just a false alarm. However, their slow response on social media prompted us to write a detailed analysis of what happened and how the airline could have managed its response better.
The analysis, published by our friends at Tnooz, offered several suggestions on how the airline could have improved its response. Essentially, it centered mainly on the need to be responsive on Twitter to stop the news from spreading, and replying to various stakeholders, in multiple languages.
A bird strike? The Twitter bird to the rescue.
Today, we were impressed to see that the airline has considerably improved its response on social media during a crises. To the point that we could hardly believe it was the same airline.  This time the incident was a bird strike that forced one of their aircraft to land in Barcelona to perform the mandatory safety checks.

A Busy Weekend
The news broke on the 21st September but the bulk of Tweets were received on the 22nd and 23rd, a Saturday and a Sunday respectively.  Despite the weekend, the airline was able to send over 330 replies to users who talked about the issue, even when the tweets were not directly addressed to the airline.

Replying to key influencers and the public
Some of the replies were sent directly to bloggers and  the media who were reporting the incident. Moreover, they were sent in several languages.  The positive effect of this informative action quickly became evident as several users replied to the airline thanking it for the information it was providing.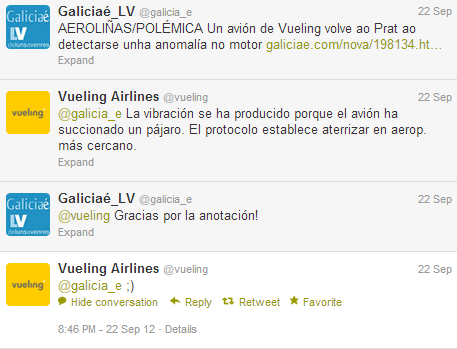 We'd like to congratulate Vueling on their effective handling of the situation – their response serves as both a testament and a case-study for airlines that wish to know how crises can (and should) be handled on social media. In short, transparency and speedy responses are of paramount importance.  And Vueling kept both at the top of their agenda. Kudos to them!
---
For more about best practices and case-studies, check out our Crisis Management Top 10 case-pack we published a few months ago.
Download the latest "SimpliFlying Airline Crisis Guide" – An overview of 6 types of airlines crises concerning social media, including real-world case studies from recent years.
Preview Crisis Communications Quarterly Report – An in-depth report of the 15 most important airline crises and disruptions from the latest quarter, assessing how they were handled, and how they could have been handled better.
---
Featured Image: Planespotters.net