A Statistical Analysis of How Airlines in South East Asia Perform on Social Media
Editor's Note: Here's a guest post by Vikas Bysani of Unmetric, an exclusive aviation partner of SimpliFlying. Unmetric is a social media benchmarking company that helps brands analyse how well they're doing on social media by including in-depth insights into numerous metrics as well as information on what kind of content "works" and how competitors are faring. Among Unmetric's list of illustrious clients are Toyota, Subway and Cisco. [push h="16″]
It's fair to say the airline industry has grown rapidly amongst South East Asia countries as the growing middle class has taken advantage of low cost seats and has found an appetite for travel. Major Airlines are launching subsidiaries, tying up with budget airlines mass ordering new aircraft and offering new routes with the intent of growing their market share.
Across the South East Asia region, airlines have placed orders for approximately USD 50 Billion worth of aircrafts. Budget carriers such as AirAsia, Cebu Air & Tigerair have close to 700 orders for new aircraft. Garuda Indonesia and Malaysia Airlines have also been reported to be interested in obtaining new aircraft to introduce consistency into their operations and to reduce costs.
With this explosive growth in mind, Unmetric took a look at the social media performance of the South East Asia airlines throughout June 2013 to see if it was a reflection of what's happening up in the air.
Average Sector Growth on Social Media
The first metric I looked at is how the industry has grown quarter on quarter on Facebook and Twitter. The chart below is surprising for two reasons. Firstly, I was expecting to see quarter on quarter growth and secondly I expected Facebook to have higher growth rates than Twitter.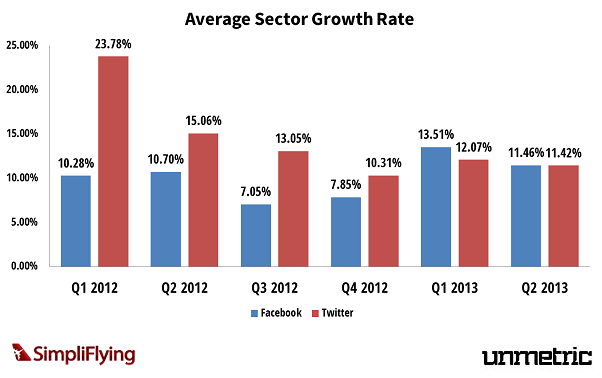 On Facebook, Q1 and Q2 of 2012 and 2013 do comparatively better than Q3 & Q4 of 2012. I'd love to revisit this chart at the end of 2013 to see if Q3 & Q4 consistently underperform in terms of growth. I'm wondering if the dip in Q3 & Q4 is due to the seasonality of airlines, are less people traveling in the second half of the year? So far it looks like the airlines have been able to ramp up their fan growth in 2013 as they become more comfortable with the platform and more people join Facebook.
On Twitter, growth has decreased quarter on quarter in 2012, and it looks like the same is happening in 2013, which is not something I thought I would see. Infact, the growth rate on Twitter now means that Facebook is the fastest growing social network for South East Asia airlines.
In earlier articles we've seen how airlines across the United States and the Middle East use social media for customer service and are working hard to engage the community on Facebook. Some airlines have really understood social media, while others are still playing catchup. The South East Asia airlines are located in countries which are consistently touted as having the most active social media communities, so in theory, they should be doing an awesome job. Let's have a look.
Facebook Analysis
Looking at Facebook first, the chart below shows the raw number of fans that each airline has. While not an important metric for most social media managers, it does give a sense of popularity of each brand in the social space.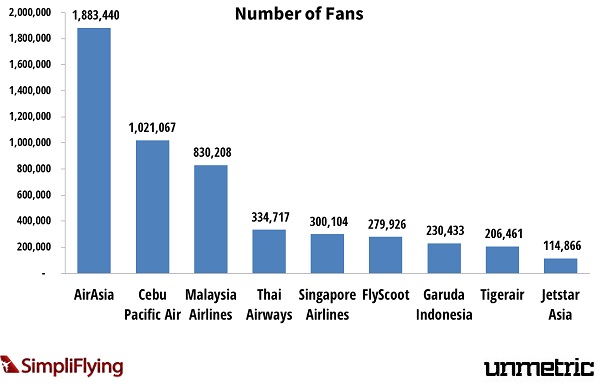 AirAsia stands on top of the table with nearly 1.9m fans as of June 2013. Further below we have Malaysia Airlines' global page with 830,000 fans. Taking a closer look into the demographic of Air Asia's fans, close to 65 % of their fans are from Malaysia, which is not very surprising as AirAsia is headquartered in Kuala Lumpur. Further below we have Cebu Pacific Air in second place with a fan base of just over 1m fans.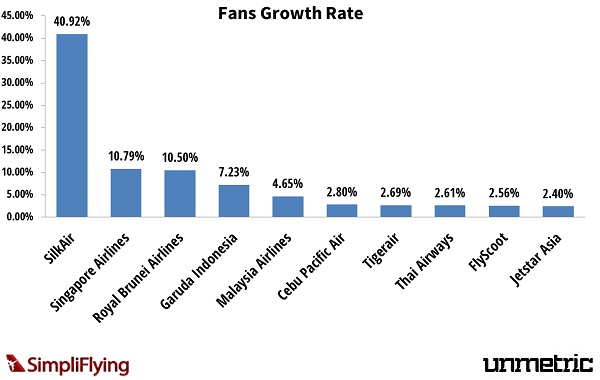 SilkAir has the highest growth rate amongst airlines in South East Asia for the period analyzed, although they do have the least amount of fans of all the airlines. Singapore Airlines has a fan growth rate of 10.79% of fans, which is quite commendable as they have a fan base of around 300,000. Interestingly, Tigerair's fan growth rate has been gradually decreasing since the beginning of the year. In January, they had a growth rate of 4.8%, in February 7.8% and saw a sudden drop to 4% in March.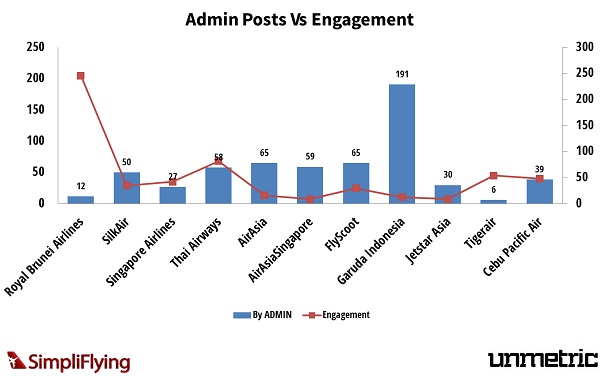 Royal Brunei Airlines receives the highest engagement for the month of June with an engagement score of 246 which is 3 times the closest airlines engagement score. Thai Airways comes in at second place with an average engagement score of 87. Royal Brunei Airlines only posted 12 times for the month of June and as mentioned earlier many times, "Quality over Quantity" is the motto to follow. Garuda Indonesia, despite posting frequently, failed to receive high amounts of engagement.
Note: The Engagement Score is calculated based on the number Likes, Comments, Shares and Estimated Impressions of each post.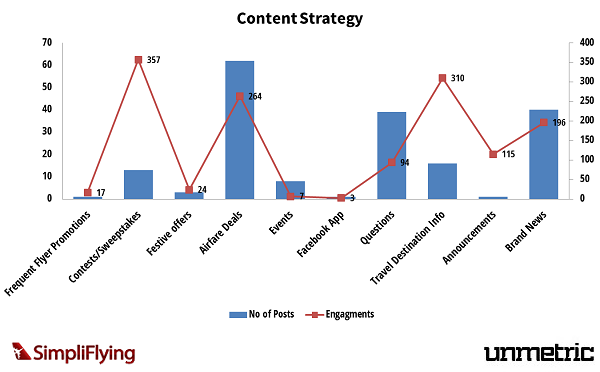 The graph posted shows us the overall content strategy of the top airlines in South East Asia. Posts under the category of "Contest/Sweepstakes" have received the highest amount of engagement as there is an incentive for the user to engage with the post. Posts under the category of "Travel Destination Info" come in second place with an average engagement score of 310.
We've seen a lot of the US and European airlines taking advantage of social media to provide customer service, but when I dug deeper on the South East Asia airlines, I found that Garuda Indonesia, Thai Airways, Malaysia Airlines, AirAsia, Tigerair don't allow fans to post on their respective pages. None of the airlines can be said to be providing exceptional service on Facebook! Royal Brunei Airlines allows fan posts on their page but replies intermittently. Its high engagement score arises from the content proactively posted.
Twitter Analysis
Twitter has proven to be a great tool for Airlines for customer service and for resolving customer queries, as seen in our previous article about US airlines. Let's take a look at how airlines from South East Asia are leveraging the Twitter platform to serve their customers better.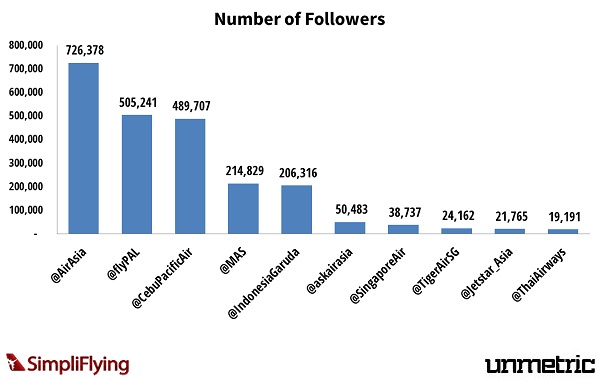 The rest of the world has recognized what many travelers in South East Asia already know about AirAsia: it's the world's best low cost airline and in turn has the highest number of followers on Twitter. AirAsia has different handles to serve different purposes. @askairasia serves as a channel for enquiries. Philippine Airlines comes in at second place and @CebuPacificAir comes in at third.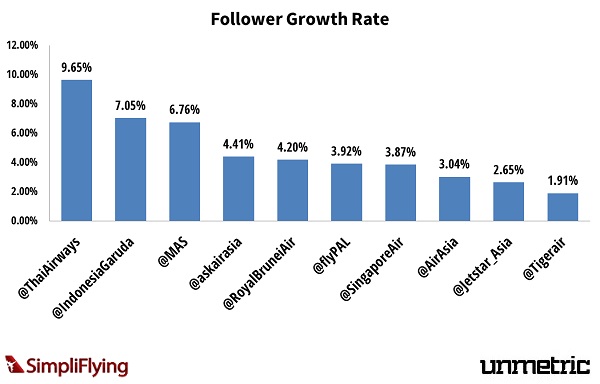 Thai Airways leads the South East Asia airlines when it comes to growth on Twitter with a growth rate of 9.65% followed by Garuda Indonesia which has a follower growth rate of 7.05%. However Thai Airways do have a comparatively smaller fan base and hence a high fan growth rate is expected from them.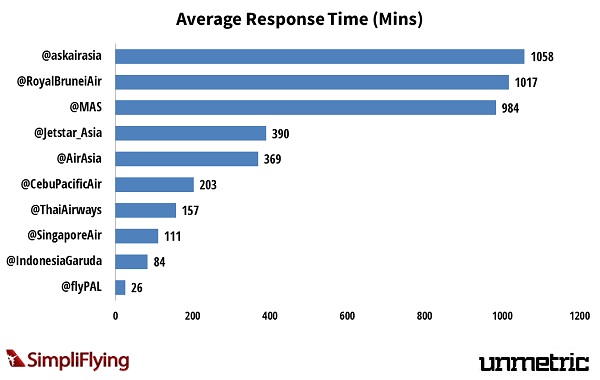 From the graph posted we can infer that Philippine Airlines (@flyPAL) take their customer queries seriously. Philippine Airlines replied to 279 tweets in the month of June in an average of just 26 minutes per tweet. The majority of these replies were requests to direct message the airline or requests to view a link.
Conclusion
For most South East Asia airlines, Facebook is primarily used as a platform for brand awareness and a place to advertise new services and offers. Not much action has been taken to turn it into a customer support platform.
Twitter on the other hand has once again proved to be a great platform for customer support. Airlines across the world are becoming more dependent on this platform thanks to its real-time nature and travelers because of the great, focused interactive micro-format. In part, I'm sure Twitter is the platform of choice for customer support because it limits customer queries to just 140 characters!
Methodology
All data has been compiled and analyzed from the Unmetric application which tracks dozens of metrics to enable brands to benchmark themselves against competitors and their industry sector. The time frame used was June 2013.
Find out more about how Unmetric can help your airline benchmark its social media prowess here. Or drop us a line directly at unmetric@simpliflying.com.
You can see previous posts by Unmetric here. 
Disclosure: Royal Brunei Airlines is currently a client of SimpliFlying.