A tweeting plane to celebrate Royal Brunei Airline's first 787 Dreamliner
This morning, Royal Brunei Airlines set forth on its first commercial Boeing 787 Dreamliner flight, flying in from Brunei into Singapore's Changi Airport. The national carrier of Brunei is the first airline in the Southeast Asia region to receive and fly its very own 787.
A timely milestone for Royal Brunei Airlines, you could say. Royal Brunei Airlines has started to rebrand itself earlier this year, first with launching a new logo and livery, and now new aircraft (not to mention, the most technologically advanced in the world) to bring across the new brand direction that the airline is heading towards.
The campaign name 'Betterfly' is a term coined from and inspired by the word 'butterfly' to reflect the airline's new goal of creating a flight experience akin to a stroll in the park – calm and relaxing.
Surprise and Delight – with a tweeting plane!
While Brunei may not be a big country in terms of land mass but being small does not stop its national airline from leaving its mark around the world. The key is taking small steps, one at a time. Royal Brunei Airline has dedicated a Twitter account specially for its first Dreamliner plane – @tweeting787. This account has taken on a fun personality, sharing first-hand updates and pictures. What is more impressive is that it has not only sparked conversations among aviation geeks, this celebrity tweeting plane has even got them to purchase tickets to fly it!
As Royal Brunei Airlines gradually leave its 787 footprints around the world, starting with 6 weeks around the region before expanding its service to fly to London starting 1 December and later on, to Melbourne next year, I'm sure we can all look forward to more exciting activities from the boutique airline of the beautiful country of Brunei Darussalam.
What a celebrity tweeting plane looks like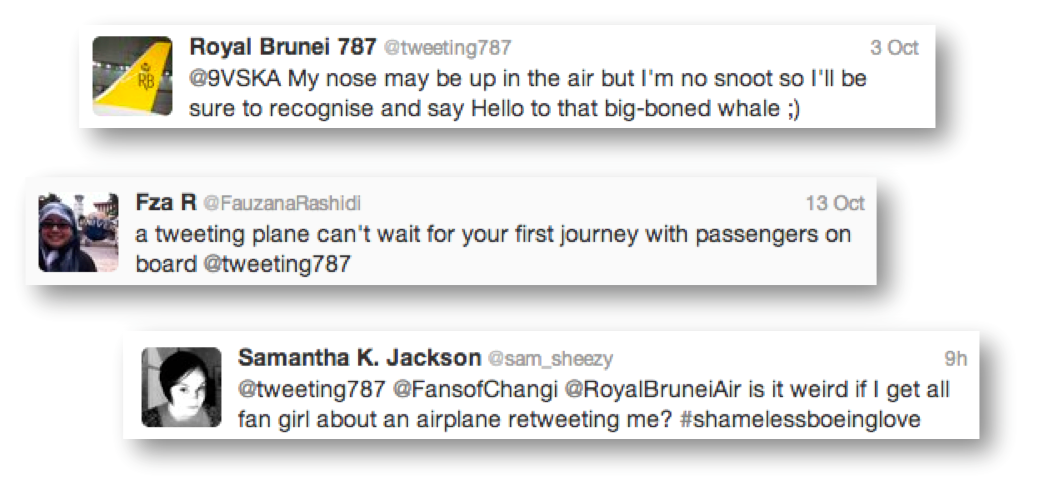 If people like you enough on Twitter, they will pay to fly you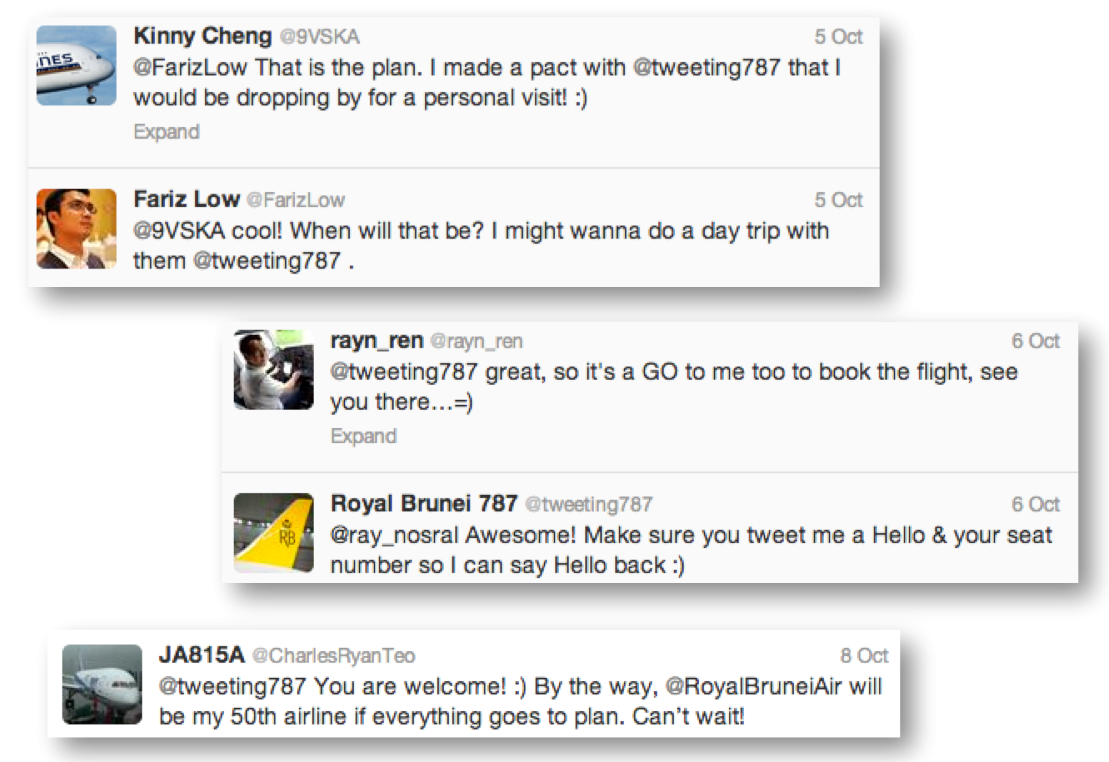 Last but not least, what's a celebrity plane if you don't show some quirks

*Disclaimer: Royal Brunei Airlines is a consulting client of SimpliFlying.