Airports on Social Media: An in-depth Analysis of Key Performance Metrics
Editor's Note: Here's a guest post by Vikas Bysani of Unmetric, an exclusive aviation partner of SimpliFlying. Unmetric is a social media benchmarking company that helps brands analyse how well they're doing on social media by including in-depth insights into numerous metrics as well as information on what kind of content "works" and how competitors are faring. Among Unmetric's list of illustrious clients are Toyota, Subway and Cisco. This post analyses the best performing airports on social media. [push h="16″]
Going through multiple security points, hoping your luggage stays in one piece, constantly checking your front pocket to make sure you still have your passport with you, facing an irritatingly enthusiastic TSA agent: these are just few of the problems travellers face as they are herded from check-in to security, and from duty-free areas to the boarding gate. And that's before you discover a delayed flight, a relocated gate, combat a security line that takes forever and try figuring out how to get from the airport to your hotel. Many airports have realised that their role extends far beyond getting the person as efficiently as possible from arrival to the duty free, and passengers expect up-to-the-minute information on flights, terminal information, disability access and a whole lot more.
Coming to the rescue of the beleaguered traveller and passenger friendly airport? Social Media. Let's see how airports on social media are performing when it comes to some key indicators of performance.
Starting things off with the Facebook Unmetric score, we can see in the graph below that Changi Airport is tied with Frankfurt Airport for the first place. Both the airports have been consistent in their scores since the beginning of the year. San Francisco International comes in second. The Unmetric Score is a useful way to get a snapshot on how brands are performing on a social network. It combines various metrics to create a single benchmarking score.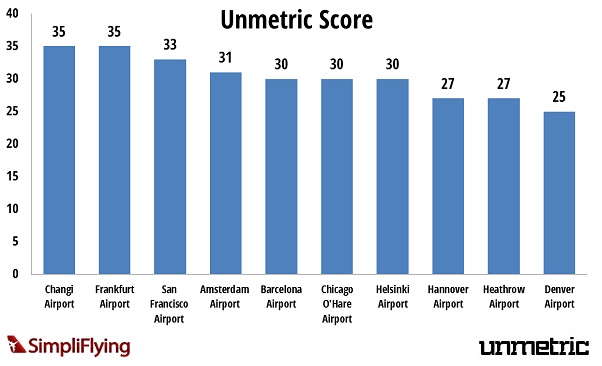 Facebook
While Amsterdam Schiphol is undoubtedly very popular on social, Changi Airport, which is the second most popular airport on Facebook, has received many awards which in turn have helped it grow to be an important transit stopover, thanks to its convenient location as a gateway to South East Asia.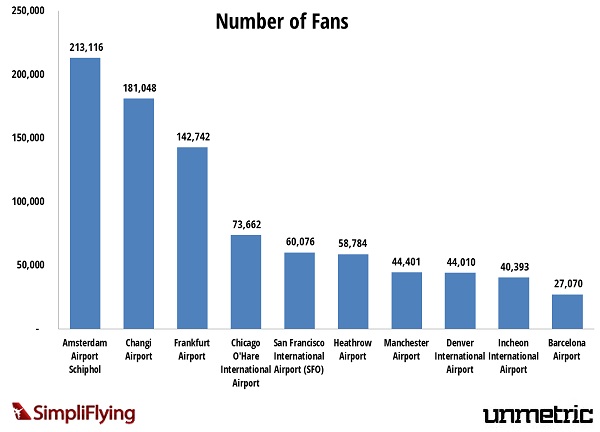 Chicago O'Hare International Airport has the highest fan growth rate of 16.4% compared to the average growth rate of 6.7%. O'Hare started the year off with around 48,000 fans and has recently crossed 73,000 fans — an admirable growth rate of around 50%. San Francisco also grew at nearly twice the sector average at 12.9%.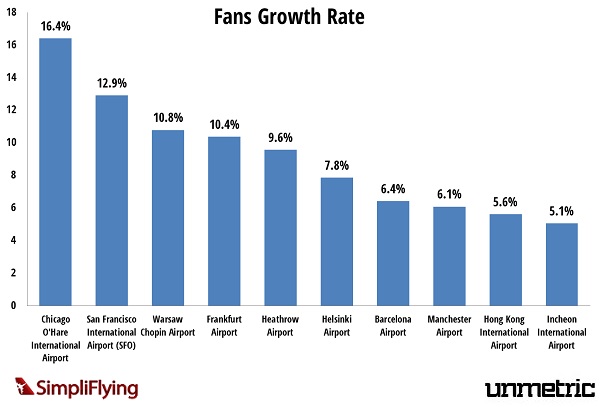 The Engagement Score used in the chart below helps us make quick comparisons on how well posts are resonating with fans. By taking into account the number of Likes, Comments, Shares and Estimated Impressions, you can compare across pages regardless of how many fans it has. In this analysis, the average Engagement Score across the airports was 86. While some airports are easily beating this Score, others have their work cut out to improve fan engagement.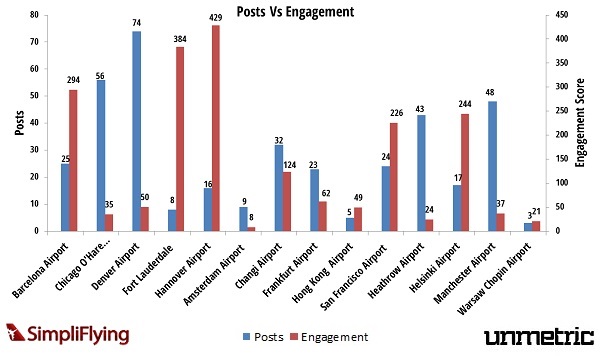 Hannover Airport has received the highest average engagement score of 429 despite it having posted only 16 times in the month – about once every two days. Its most engaging posts were generally fan stories which were people-centric. In second place we have Fort Lauderdale, with an average Engagement Score of 384 and Barcelona Airport follows with a score of 294. The most engaging post from Hannover Airports was about a contest held during June and received a huge Engagement Score of 2,526. An example of a highly engaging post from Fort Lauderdale would typically be pictures of the scenic coast of Florida.
Twitter
Heathrow Airport has been consistently achieving a high Unmetric Score on Twitter since the beginning of the year. We can see that Heathrow Airport has taken to Twitter for customer service and to create brand awareness. Just going through their Twitter page, one can see polite replies and consistent updates.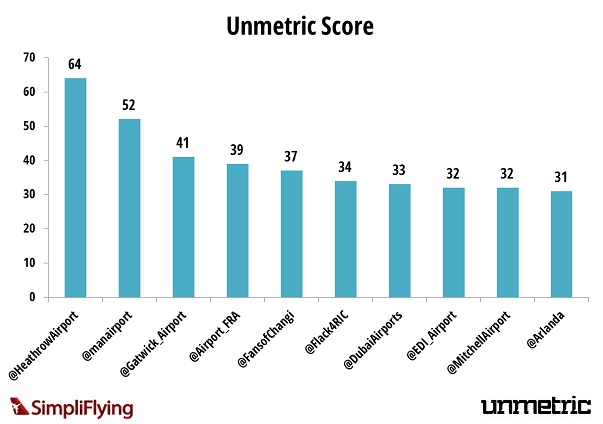 Heathrow Airport soars much higher than the other airports in number of followers as well. With consistent growth rates throughout the year, its follower base increased substantially. The closest airport in terms of followers is Gatwick Airport, which has only around half the number of followers Heathrow Airport has currently. Are the Brits more Twitter savvy than the rest of the world or is it evidence of what an important global hub London is for airlines?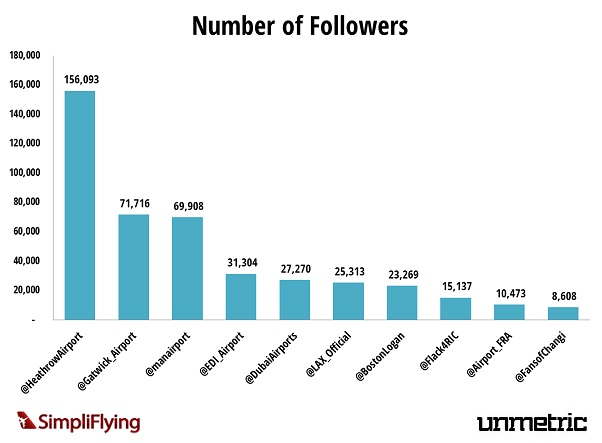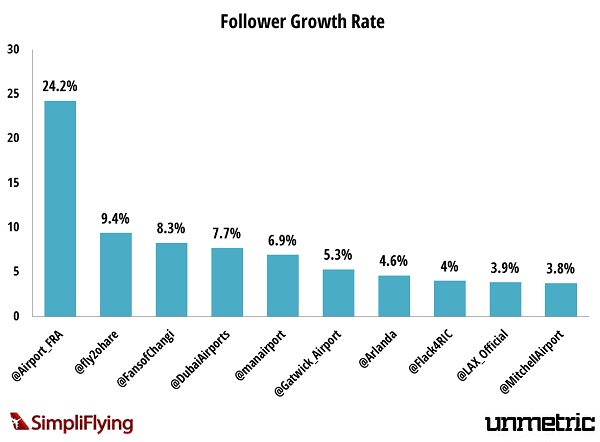 From the chart above we can say that Frankfurt Airport's Twitter handle '@Airport_FRA' has the highest growth rate, however this was unique to the month of June and the handle was previously only growing at a rate of 6%. However, this is much higher than the sector growth rate of 4.9%.  In the second place we have Chicago O'Hare's Twitter handle '@fly2ohare' with a growth rate of 9.4% and Changi rounds out the top three with a growth rate of 8.3%.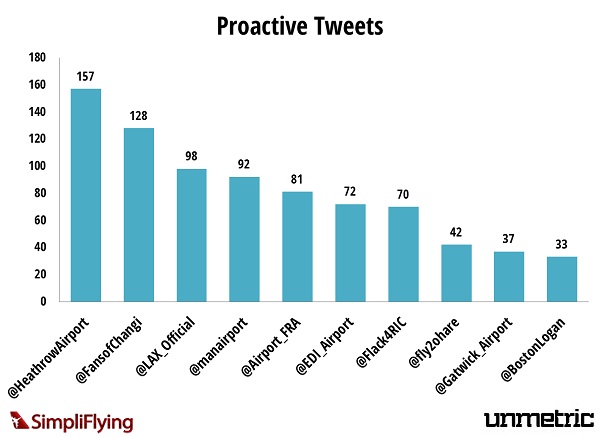 @HeathrowAirport averaged around 5 tweets a day. Even though they are one of the busiest airports in the world, it still makes it a point to put out a good morning tweet every day. I'm wondering if it's a scheduled tweet or whether someone's actually saying good morning every day!  A quick glance through its Twitter page shows that its style of tweeting and replying is warm and welcoming, just what you need after a nightmare journey to the airport or are in a rush because the check-in queue took forever.
Coming in at second place, we have @FansofChangi, the Twitter handle of the famous Singapore Changi Airport, which seems to be named after a fan club of the airport but is in fact its official title. Changi averaged around 4 tweets a day and most of their tweets address followers to inform them about the facilities at the airport – and there seems to be a lot that the airport wants to talk about!
@Arlanda airport has the fastest fingers on Twitter with an Average Reply Time of 55 minutes. However, considering they only replied to 22 tweets in the period analyzed, the ART is not as amazing as it could be. @HeathrowAirport replied to 127 tweets in 78 minutes, which gives more of a perspective to how seriously they take their customer service.
Many of the larger airports around the world have really taken to social media to reach out and communicate to travellers directly, informing them of potential problems with their journeys and generally providing a place for people to get quick answers without the need to seek out a member of the airport staff. In line with the aviation industry which has made social media a core part of its marketing and customer outreach activities, the efforts of airports on social media is only expected to increase, especially as free Wi-Fi is rolled out at terminals worldwide.
Methodology
All data has been compiled and analyzed from the Unmetric platform which tracks dozens of metrics to enable brands to benchmark themselves against competitors and their industry sectors. The period analyzed is June 2013 and the Airports were chosen based on the traffic of passengers that they receive and their presence on social media.
Find out more about how Unmetric can help your airline benchmark its social media prowess here. Or drop us a line directly at unmetric@simpliflying.com.
You can see previous posts by Unmetric here. 
Image Credit: airlinetrends.com