[Free Report] The State of Airline Marketing 2013: 8 Key Trends and Case Studies
Airline marketing is in its most exciting phase ever. It is being transformed, re-moulded and re-fashioned to suit the changing behaviour, habits, desires and needs of the modern, connected travellers. In addition, airline marketing today is also increasingly aware of modern technologies influenced primarily by the proliferation of the internet and smartphones — such as social networks and location-awareness — which are being leveraged creatively to engage consumers.

Besides dreaming up experiental marketing and creative – traditional media-based – initiatives, airlines around the world are equipping themselves with the tools and know-how to conquer the digital marketing revolution, experimenting with new social media platforms and launching mobile campaigns that link the online with the offline world.
Today's travellers are no longer contented with just accepting whatever good or ill the airline dishes out to them. They are extremely tuned in to the power of social media, as citizens of a virtually connected world. An airline brand can no longer be "controlled" by the management and corporate speak.
8 Key Trends Identified from over 100 case-studies
In response, airlines around the world are launching increasingly innovative campaigns to engage their customers and drive results from social media. More ostensibly, we are witnesses to an ever-more competitive arena where brand-conscious airlines are utlizing the power of digital media to build unique brands and develop strong online customer engagement initiatives. And even when the real initiative happens offline, airlines, more often than not, depend on their online audience to spread the buzz.
Over the last six months, SimpliFlying and airlinetrends.com have published a premium Airline Marketing Benchmark Report (more details below). Published monthly, the report contains a selection of 15 of the most innovative marketing and advertising campaigns launched by airlines around the world and assesses their impact.
Across the close to 100 innovative marketing initiatives that have been featured to date, we have identified eight trends range from experiental to location-based, co-creation and social loyalty initiatives and which reflect the current state of airline marketing. Initiatives range from Crowdsourcing to Social Care to Experiential Marketing. Each trend is accompanied by an illustrative case-study.
If you're already intrigued, just click below to download the report. We hope you enjoy it.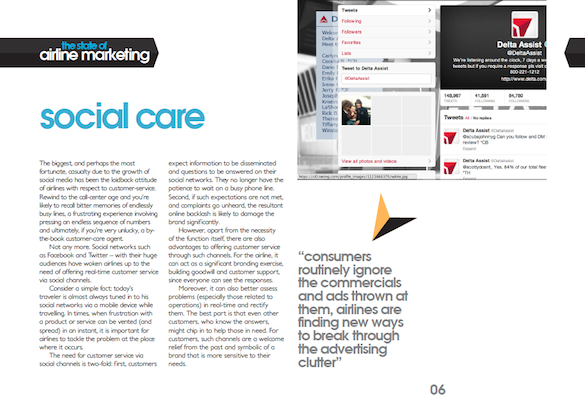 [push h="18″]
Airline Marketing Benchmark Report
In such a fast-moving environment, it is important not just to be creative and innovative yourself but to be more striking than your immediate competition as well. However, given the speed at which things move in digital media, it is no easy task to stay on top of the latest trends, fads and innovations. [push h="14″] Jointly produced by SimpliFlying and airlinetrends.com, the premium monthly airline marketing benchmark report is the answer to this challenge. Each report contains a selection of the 15 most innovative marketing and advertising campaigns launched by airlines around the world and assesses their impact.

"SimpliFlying's monthly benchmark reports are a great resource for Turkish Airline's marketing strategy. In today's world, where the flow of information is constant and overwhelming, these reports are designed to serve the most relevant and inspirational case-studies from the global airline sector. They fulfil our needs very well." – Neşet Dereli, Turkish Airlines Interactive Marketing Manager
Click here to download a sample report. You can email us directly to learn more as well.