The Inaugural Quarterly Airport Marketing Benchmark Report is here, featuring 15 case studies from London Heathrow, Singapore Changi, Amsterdam Schiphol & more!
The digital and mobile revolution has extraordinary implications for every airport as the new Connected Travellers expect airports to be accessible in their "pockets", whilst receiving excellent customer service and a tailored airport experience on the go.[push h="14″] In such a fast-moving environment, it is important not just to be creative and innovative yourself but to be more striking than your immediate competition as well. However, it is no easy task to stay on top of the latest trends, fads and innovations. If today's fragmented landscape makes you dizzy, welcome on board our Airport Marketing Benchmark Reports! [push h="14″]
Why airport marketers should get this report
SimpliFlying's new Quarterly Airport Marketing Benchmark Report is an opportunity to learn best-practice customer engagement strategies and tactics and their impact on your business. Discover the channels and media mixes that work best for airports and learn how to unite them into a seamless customer journey. You'll also see examples of great integrated campaigns and even hear from the people behind them.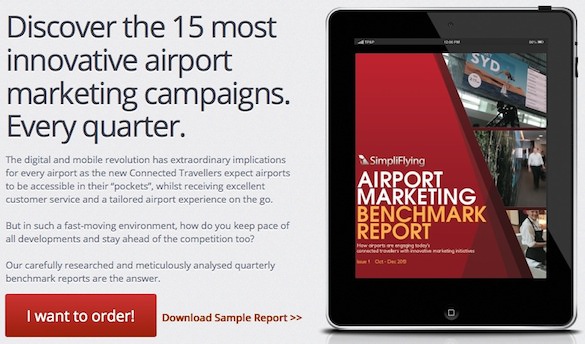 Carefully selected case studies with expert insights
In our first edition we take a closer look at some of the very best campaigns from Heathrow, LAX, Changi, Schiphol and Copenhagen. We also share our expert insights on each of their campaigns as well as those of others such as the great work of Gatwick, DFW and Brisbane to name just a few. Happy Reading!
How will it help you?
This is truly the age of the Connected Traveller and airports are driving business goals such as customer service, loyalty & revenue in new ways that you can't afford to ignore. This quarterly report is indispensable for airport executives, specifically in marketing and communications, who wish to understand how their organizations are performing with respect to competitors and can perform better. [push h="16″]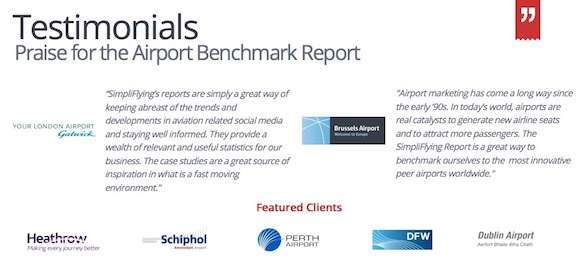 [push h="16″]Creative agencies working with airports (or looking to pitch to airports) will also find this monthly report useful for staying on top of the latest trends and best practices in airport marketing.
[push h="14″]
Questions and Sample Report
You can download a sample report here. You can also contact Shubhodeep Pal directly at shubhodeep@simpliflying.com for queries regarding the reports. [push h="16″]