[Infographic] How Airlines in India are Performing on Social Media
Editor's Note: This is a guest post by Vikas Bysani of Unmetric, an exclusive aviation partner of SimpliFlying. Unmetric is a social media benchmarking company that helps brands analyse how well they're doing on social media by including in-depth insights into numerous metrics as well as information on what kind of content "works" and how competitors are faring. Among Unmetric's list of illustrious clients are Toyota, Subway and Cisco.  [push h="16″]
Airlines in India, although a little bit late to the game, have started to adopt many of the best social media practices implemented by global airlines, particularly in the US. Unmetric took a look at the top Indian airlines on social media and analysed the social media performance and habits across Facebook and Twitter.
On Facebook, Jet Airways, SpiceJet and Lufthansa India lead the race in terms of fan numbers. Air Asia India, which recently started operations within India, has seen the highest growth rate at more than three times the sector average. Since at the time of the analysis the airline hadn't even launched yet, it looks like people were eagerly awaiting Air Asia's services to start.
Learning the Ropes
Lufthansa India posted the most frequently with 98 updates made within the period analyzed but it was Air India which saw the highest average engagement with a score of 261. Specifically, it was the Creative Wings contests held by Air India which resulted in plenty of interaction amongst its fans. Winners would receive free return tickets.
What was interesting and unexpected was that 9 out of 10 airlines use apps on Facebook. Apps are being leveraged for online booking, running contests, games and other seasonal and applications which calls for user input. To understand how successful these apps are, Unmetric looked at the average monthly active users, using a trailing 30 day average. For the aviation industry in India, it was found that the average monthly active users was 490, which might sound small compared to fan numbers, but it's not uncommon to see just 0.01% of fans being engaged by apps. Blazing a trail when it comes to apps usage is Lufthansa India which saw 12,173 people using its Lufthansa Network Challenge app on a monthly basis.
On Twitter, Jet Airways and SpiceJet lead the pack again with follower bases of 44,121 and 9,296 respectively, but it was KLM India which had the highest growth rate of 22.07%. By comparison, the airlines in India grew their follower base at an average of around 10% in the period analyzed.
Contests Reign Supreme
SpiceJet ran a Twitter contest asking followers a series of questions using the hashtag #sg5lcontest. The hashtag was used 32 times by SpiceJet and 2,024 times by followers. Winners would walk away with exclusive goodies or a free return ticket. Contest-related tweets saw the highest engagement in the period analysed, which is the general trend across sectors.
Says Unmetric CEO Lakshmanan Narayan:
"Compared to the fast fingers of airlines from the US on Twitter and the flashy content strategy of Middle Eastern Airlines on Facebook, Airlines from India have their work cut out for them. In this day and age, where travellers switch between airlines often, it's vital for airlines to be present on all platforms to connect with travellers and develop a loyal following".
Check out the infographic below to see how the airline sector in India is doing on Facebook.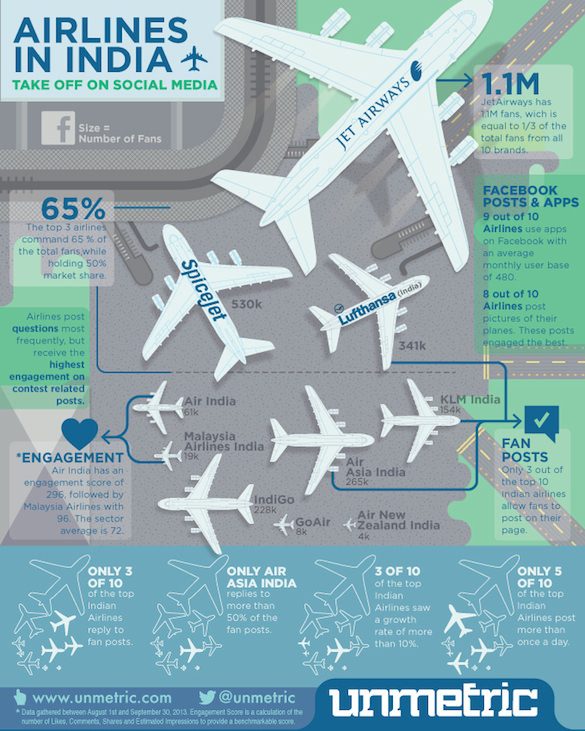 Click here for a larger image 
Methodology
Unmetric compiled its report by sourcing data from its social media benchmark platform. All statistics were gathered from August 1st, 2013 to September 30th, 2013. The Engagement Score is calculated based on the number of Likes, Comments, Shares and Estimated Impressions each post gets. It enables easy comparison regardless of fan numbers.