Kobe vs Messi selfie shootout advertisement by Turkish Airlines goes viral (and 6 ideas to improve it) #kobevsmessi
Imagine you're the VP of Marketing at Turkish Airlines, and you need to deal with Kobe and Messi. You've got a tough job.
First, you got to create a new advertisement that gets more than 100 million views on Youtube (because that how viral your last advertisement went). Then, you've got to come up with a new one to surprise and delight viewers, even though they know the two key stars of the advertisement will be Kobe Bryant and Lionel Messi. But of course, the real VP of Marketing at Turkish Airlines makes it look easy – this time with a Kobe vs Messi selfie shootout advertisement.
Kobe vs Messi, part two
Turkish Airlines took possibly the two most popular sports starts in the world and combined them with the two most popular digital trends of 2013 – the selfie and photobomb (you have to watch the advertisement to spot it). Check it out below:
The video had over 20 million views just 48 hours after being released. To put it in perspective, the recent Virgin America dance safety video has garnered seven million views in a month, and the Air New Zealand Betty White video has just over 2 million views in two months. The Turkish Airllines Kobe vs Messi ad has gone so viral on social media, at almost twice the rate of its predecessor, which reached the 20 million views mark after four days.
Marketing in the "Selfie age"
With YouTube and social channels now taking over from traditional television when it comes to advertising, its time for airlines to think differently about marketing and doing more than just putting a video out there and watch it go viral. While it's a great feeling to continuously refresh the view count, the CFO is probably asking, "What next?" And that's where the conversation changes.
In the age of the the connected traveller – let's just call it the "selfie age" – airline marketers can not only track who's watching their ads very specifically, but also interact with these people like never before. This is very different from advertising on television or radio, where you put out your message and that's it. Through social media, you can track the conversations, participate in them, and look to directly convert viewers into flyers! After all, Westjet managed to drive over a million dollars in sales, from a video that had only 600,000 views!
So, while the Kobe vs Messie selfie shootout is a fantastic effort, here are some innovative strategies Turkish Airlines could have applied to drive more bang for the buck.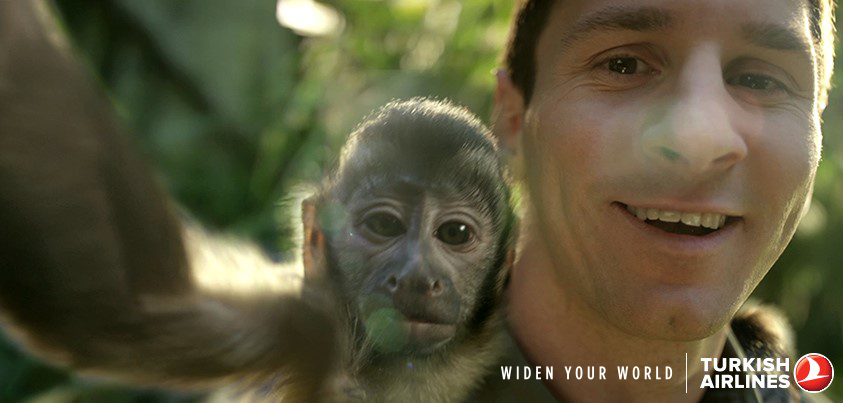 Conversion + Conversation
Airline marketers need to look at engaging in conversations with the viewers, and not just in YouTube content. They need to give the viewers a skin in the game, like Virgin America invited viewers to submit dance videos for a chance to appear in their next safety video! Here are some ideas on what Turkish Airline could have (and still can) do differently:
Post a "making-of" or behind-the-scenes video – people love it! We're sure it's coming in the next week or two.
Guess the destination contest – what if first 500 people to identify the destinations in the correct order, as they appear in the video, on the Turkish Airlines website could get a 10% off voucher on any flight, and 20% off any destination featured in the ad? Surely that would send people from Youtube and Facebook to the website at least!
Show your own selfie at any of the location featured in the ad, and win a ticket to any of the other destinations featured in the ad! This encourages people who have traveled to those places to share their experiences – on a Turkish Airlines platform like their Instagram page.
Show proof of booking to any of the Turkish Airlines destinations featured in the ad, and stand to win an upgrade on the upcoming flight! This would reward people for flying the airline.
Surprise the passengers who're flying to or from any of the destinations featured in the ad – perhaps by bringing an element from the advertisement on-board.
Take a selfie aboard any Turkish Airlines flight, with the airline logo visible, and get to meet Messi! Why not?
All of these ideas would lead to direct contact between Turkish Airlines and the viewers of the advertisement. They'd come to the website. They'd explore the destinations themselves. Some would even buy tickets! And all this, in addition to the fantastic brand exposure the video has already given the airline. So, why not?
What do you think of the ad? We'd love to hear your thoughts on how airlines can better leverage their viral marketing efforts, in the Comments and over on Twitter (@simpliflying).
Full disclosure: Turkish Airlines is a current SimpliFlying consulting client, though we did not work on this campaign with them.