A year with SimpliFlying, and here are my thoughts #SimpliBirthday
Making decisions to leave is never easy. Yet I know that for me, learning by only following alone will never be enough. The best way to learn is by following, and by leading.
Small but big
SimpliFlying may be a small team, but we dream big and we chase big — starting here, by thinking differently about aviation marketing.
Air travel is not the only thing that has changed in the new age. The way companies, especially startups, conduct their businesses today has changed drastically as a result of technology and globalisation; and I see that every day at SimpliFlying.
Shashank, David, Shubhodeep, Marco, and I — core-members of SimpliFlying, whose articles you would have read at different points on this blog — are based in different countries, different regions and live in different timezones. Yet, together, we have worked with over 30 airlines and airports globally. You may wonder, how does a small team of five people manage to get this far? In my view, it's the culture — a wide latitude for experiments and failure, and, most importantly, trust.
1. The league of extraordinary individuals 

When I came onboard SimpliFlying, I had a moment of identity crisis working with true "avgeeks"! But the calm arrived soon after the 'storm'. Where I lack experience in, I make up for it by extensive research and intensive learning and doing. While each of us does a portion of everything in SimpliFlying, we recognise the fortes of each other and seek to bring out the best through team effort.
That said, team play don't come easy, given that we all work remotely from different countries. In addition to a weekly team call, we make it a point to communicate as much as we can — email, Skype, Twitter, Whataspp. You name it, we're on it. What is most key amidst all the communication that goes on is the initiative taken proactively by team-members. No one waits for things to happen, we make things happen.
2. Work real hard, play real hard 
I had always been quite a staunch skeptic in the concept of combining work and play, until we managed an incredible feat at our annual retreat in Valencia this April. In only three days, we
Reviewed results from the past year
Conducted peer training courses in our respective areas of expertise
Set a corporate vision that each and all of us deeply believe in
Set goals for the year ahead
Filmed a corporate video (coming up soon!)
And all this was achieved on top of, and I'd say all thanks to, the fun we had — presents from the CEO, kite-flying, football, sightseeing. We even caught a soccer match between Valencia CF and Malaga CF live!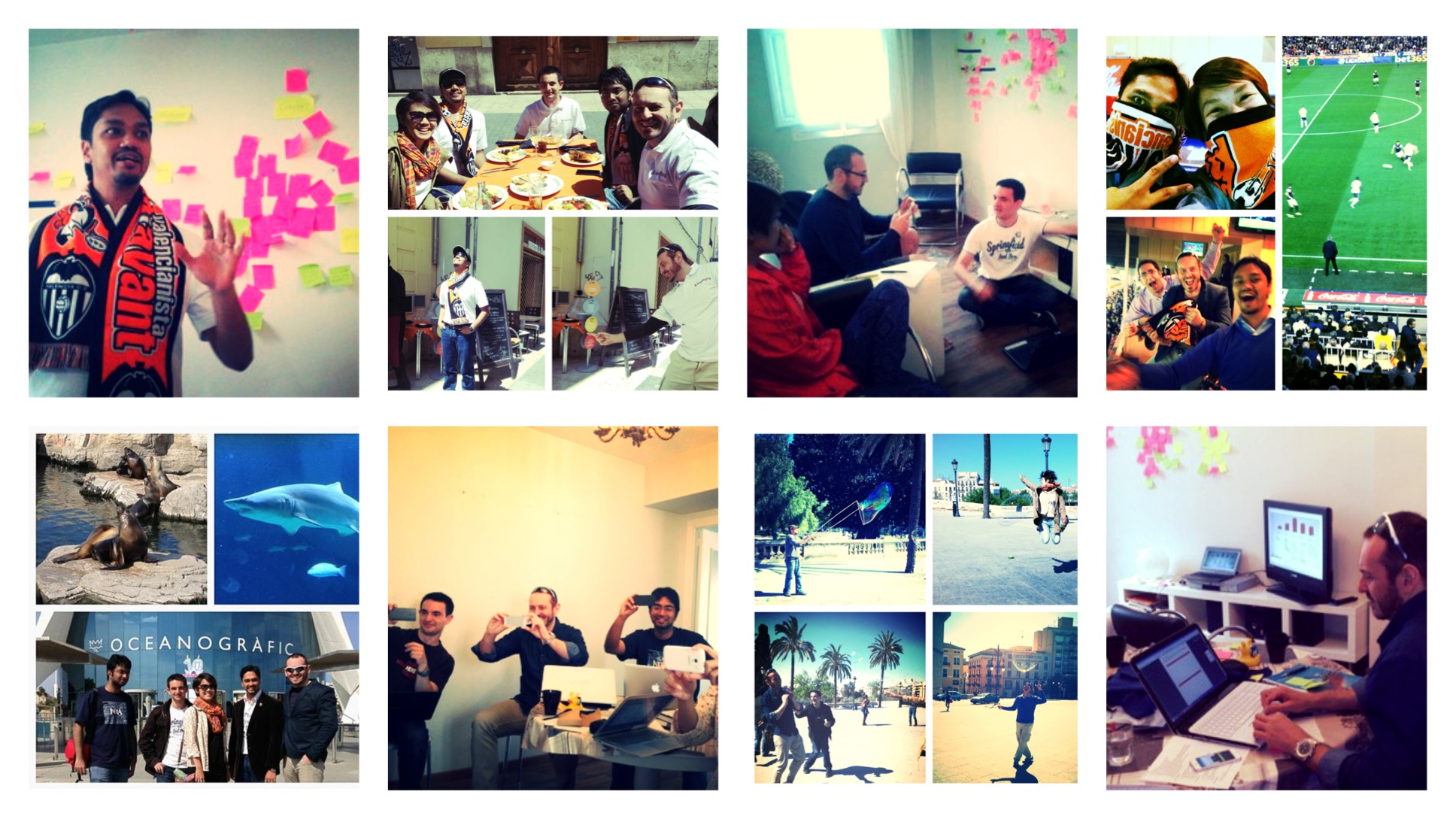 3. Ever worked hard like machines but relished the feeling? That's because we're all in it together.
As Marco said in his one-year anniversary post, surprises (or as we call it 'SimpliSurprises') are not uncommon. Very often, opportunities present themselves without prior notice and we have to gather resources quickly to grab hold of that opportunity, no matter how fleeting. The fact that everyone works in a different timezone allows us to pass the baton on to one another and function round the clock! The key to pulling off a feat like this over and over again is because we all identify strongly with the SimpliFlying vision. Since the day the whole team aligned on  the 'why' of the corporate mission, the 'how' just follows very naturally.
In everything we do, we believe in thinking differently about aviation marketing. We understand the intersection of aviation and marketing better than anything else. We have the most experience, most success and the most number of clients.
Cheers to a wonderful one-year anniversary at SimpliFlying, and here's looking forward to many more to come!