SimpliTrends: Airline Marketing focusing on Producing increasingly Innovative Experiential Campaigns
Editor's Note: SimpliTrends is a new series of articles that will elucidate, to our readers, the latest trends in airline and airport marketing. [push h="16″]
Humanising the Airline Brand
Faced with ever more experienced consumers, who routinely ignore the commercials and ads thrown at them, airlines are finding new ways to break through the advertising clutter and are turning to brand experiences in order to capture the imagination of today's consumer. In an age of social and digital media, here are four real-world tactics: [push h="14″]
Brand Spaces
Real-life interaction in a non-aviation setting is an effective way for airlines to let the public experience their products and services. For example, Delta has created 'Sky360 Lounges' at food festivals and at home venues of sports teams the airline sponsors, while Southwest has established outdoor café's NYC, Denver and Atlanta. On a similar note Air France and Austrian let food trucks tour Manhattan that handed out free food. [push h="14″]
On-board Events
A growing number of airlines organize surprise onboard events in order to add an extra dimension to the flight. And if the initiative really catches on, the news will spread fast via social media, and generate lots of relevant exposure. Examples include airBaltic's 'onboard magician', Southwest's 'Live at 30,000 Ft' concert series, Virgin America's 'Mile High Fashion Shows' and Finnair's 'Angry Bird'-themed flight. [push h="14″]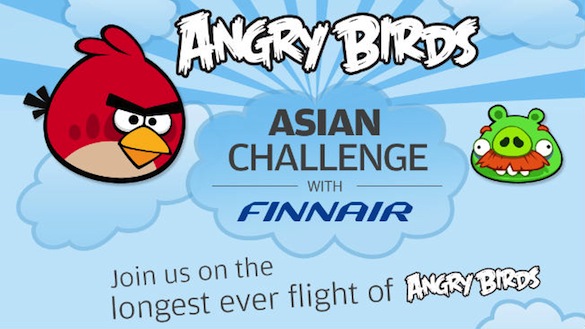 Flashmobs
With their surprise and creativity factor, flash mobs have been on the rise with airlines looking to draw customer  attention in an unconventional way. The viral nature of the videos of these flashmobs is huge, with Finnair's surprise onboard celebration of National India Day being viewed nearly 5 million times on YouTube and Turkish Airlines' 'onboard samba' generating 1 million views so far. [push h="14″]
Surprise Gifts
By infusing their marketing initiatives with an element of geberosity, airlines generate much needed sympathy in return. We have seen airlines such as Virgin America, Delta, Brussels Airlines, SAS, and airBaltic use the luggage belts in the baggage claim area to surprise passengers with free gifts to celebrate Christmas, Easter or Valentine's Day, while LAN has surprised patrons of restaurants in the US with a free ticket. [push h="14″]
More trends, more insights
Our State of Airline Marketing 2013 report, produced jointly with airlinetrends.com identifies the eight most important trends that define airline marketing today, and includes detailed case-studies with each trend that showcase how some of the best airlines in the world are adopting a new approach to marketing their airlines and engaging the Connected Traveller. You can download the report right away by clicking below.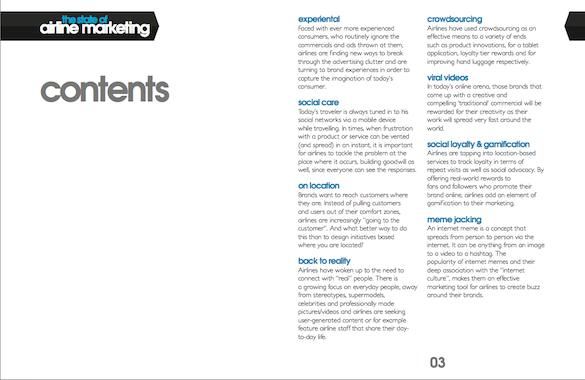 [push h="16″]
Airline Marketing Benchmark Reports
Jointly produced by SimpliFlying and airlinetrends.com, the monthly airline marketing benchmark report contains a selection of the 15 most innovative marketing and advertising campaigns launched by airlines around the world and assesses their impact.
In such a fast-moving environment, it is important not just to be creative and innovative yourself but to be more striking than your immediate competition as well. However, given the speed at which things move in digital media, it is no easy task to stay on top of the latest trends, fads and innovations. But with our Airline Marketing Benchmark Reports, help is finally at hand!
Here is what a happy client says about the reports:
"SimpliFlying's monthly benchmark reports are a great resource for Turkish Airline's marketing strategy. In today's world, where the flow of information is constant and overwhelming, these reports are designed to serve the most relevant and inspirational case-studies from the global airline sector. They fulfil our needs very well."

– Neset Dereli, Turkish Airlines Interactive Marketing Manager
For more information on the reports, click here or email Shubhodeep Pal at shubhodeep@simpliflying.com.