SimpliTrends: Why Brand Advocates are increasingly important for effective Airport Marketing
Editor's Note: SimpliTrends is a new series of articles that will elucidate, to our readers, the latest trends in airline and airport marketing. [push h="16″]
So what exactly is Advocacy?
The idea of getting people to tell people they know about your products is about as old as business itself. Advocacy, by those who have experienced a product or service, has always been the driving force behind gaining new customers. Recently, The Next Web, published an article that said, tellingly, "Brand advocates are the strongest salesforce you'll never have to hire". Moreover, according to Zuberance, 89% of brand advocates said that their friends buy or consider buying product and services recommended to them.
Connected Travellers make great Brand Advocates
Today's connected age provides even more potent tools for driving advocacy through social means. As a result, airports are investing in offering unique and memorable experiences for travellers, not only to keep them engaged while they are in the terminal, but to also differentiate themselves from other airports in the region (and the world).
Airports are also depending on today's connected travellers' eagerness to share their experiences with their social networks. The most important way in which advocacy is being driven is by bridging the virtual and real-world experience by offering real rewards for online advocacy.
To learn more about the ways in which advocacy is becoming increasingly important, and to also discover a great airport case-study on driving advocacy, you can download our free report below.
More trends, more insights
Our State of Airport Marketing 2013 report identifies the seven most important trends that define airport marketing today, and includes detailed case-studies with each trend that showcase how some of the best airports in the world are adopting a new approach to marketing their airports. You can download the report right away by clicking below. Also, read on for an exciting product announcement below. [push h="14″]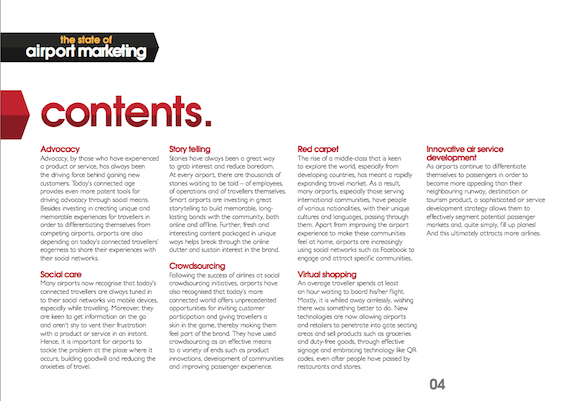 Airport Marketing Benchmark Report
In such a fast-moving environment, it is important not just to be creative and innovative yourself but to be more striking than your immediate competition as well. However, given the speed at which things move in digital media, it is no easy task to stay on top of the latest trends, fads and innovations. (If you're from an airline, we already offer monthly Airline Benchmark Reports.)[push h="14″]
Produced by SimpliFlying, the premium quarterly airport marketing benchmark reports are the answer to this challenge. Each report will contain a selection of the most innovative marketing and advertising campaigns launched by airports around the world and assesses their impact. [push h="14″]
Here's what an eager airport has to say about our upcoming report: [push h="14″]
"After successfully introducing the Airline Marketing Benchmarking reports, inspiring the aviation industry to move forward on engaging the connected traveler, now we are presented with the Airport Marketing Report. This couldn't have come on a better time, since airports around the world are accelerating on customer engagement, conversation strategies and smart use of social and mobile media. Airports will find these reports extremely valuable since through inspiration, the industry is guided, moving us all forward."

Eli Lejeune
Marketing Manager
Eindhoven Airport
For questions about the premium report and to subscribe to it, please click here or contact David McMullen at david@simpliflying.com.