The January 2013 Edition of the Airline Marketing Benchmark Report has 15 fresh case-studies from British Airways, KLM, American Airlines, Qatar Airways and more!
Time flies past so quickly that it's often hard to stay abreast of everything that's happening in the world around. This cannot be truer for airline marketing. Campaigns and initiatives come and go – some flash briefly, enveloping us in temporary awe. Others glow brighter with the passing of days, reminding us that well-planned, steadily evolving long-term strategies are still worth gunning for.  [push h ="18″]
The Monthly Airline Marketing Benchmark Report helps in keeping abreast of the most innovative thing airlines across the world are doing to engage their customers as well as increase their customer base. Comprising 15 of the most innovative marketing and advertising campaigns by airlines across the world, this report is produced in partnership with our good friends at airlinetrends.com. This January report is already the fifth in the series. (View past issues here.)
[push h="25″]
What's in the January Report?
The January issue features 15 great campaigns from airlines such as Lufthansa, Virgin Atlantic, United Airlines and more! There are five categories of campaigns in the report, which begins with Campaigns of the Month featuring special holiday season initiatives such as Southwest Airlines' 12 Days of Luv to Delta's Wanderland to surprise gifts, surprise flash mobs and surprise Christmas tours by various airlines including KLM, Brussels Airlines and Virgin Atlantic.  Other great initiatives are included such as British Airways' Gangnam Style route launch and KLM's Must-See Map which takes the concept of social travel a step further.

These case studies from around the aviation world focus on experiential marketing campaigns, social media campaigns and traditional marketing initiatives. From Virgin Atlantic's cheeky ad spot about "Flying in the Face of the Ordinary" to Air Malta's "MyMaltaStory", each case-study will make you sit up and take note of how each was executed and how it helped drive business objectives.
If you're already excited, you should go ahead and grab the report right away!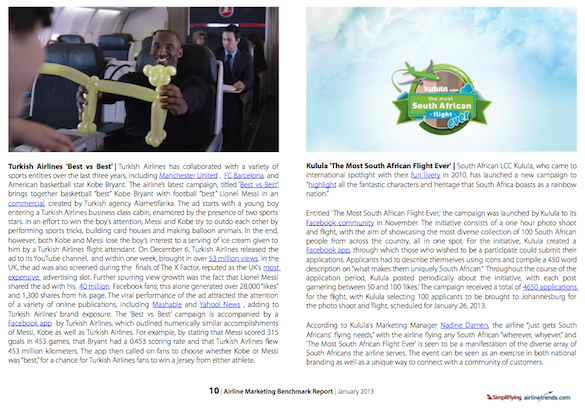 About the Report
Jointly produced by SimpliFlying, and industry and consumer trends research agency, airlinetrends.com, the Airline Marketing Benchmark Report analyses a wide range of airline marketing case studies each month.
The monthly report contains a selection of the 15 most innovative marketing and advertising campaigns launched by airlines around the world and assesses their impact. If you are a numbers person, you'd love our report too!
[push h="25″]
How will it help you?
This monthly report is indispensable for airline executives, specifically in marketing and communications, who wish to understand how their organizations are performing with respect to competitors and can perform better.
Creative agencies working with airlines (or looking to pitch to airlines) will also find this monthly report useful for staying on top of the latest trends and best practices in airline marketing.
[push h="25″]
Pricing and Sample Report
USD 4950 per year  | Annual subscription  – 12 issues, starting from the month of order.
USD 495 per month | Monthly subscription – Same as above, but charged monthly.
USD 550 per report | Single monthly issue  – For a one-time purchase
You can download a 
sample report
here
.
[push h="25″]
Questions?
Click here if you have any questions about the report.
You can also contact Shubhodeep Pal directly at shubhodeep@simpliflying.com for queries regarding the reports.
[push h="15″]