The Airline Marketer's Guide to Using Facebook Hashtags Effectively
Since Facebook hashtags were introduced a few months ago, brands have been slowly integrating them into their marketing campaigns with different levels of success. Unfortunately, many of these early attempts have failed to fully understand Facebook hashtags — indeed, it's quite rare to see a brand using Facebook hashtags effectively. [push h="14″]
Twitter-like campaigns
One of the most common ways in which they're being used by airlines is as an extension of existing Twitter-based initiatives. A good example of this is Air NewZealand's #NoLagToLondon initiative where the same tag was used for posting on both Facebook and Twitter.
The theoretical advantage in this case is that any Tweet shared on Facebook will become part of the same conversation, and any Facebook message shared on Twitter will also contribute to the one on Twitter.
reLAX we're on the case. Daily from @LAX_Official to London Heathrow. #NoLagtoLondon pic.twitter.com/vnEHSNkaSS

— Air New Zealand USA (@AIRNZUSA) April 5, 2013

The problem, however, is that despite the theoretical two-way benefit for both the Twitter and Facebook conversations, the main beneficiary tends to be Twitter. This is because only a small fraction of posts made on Facebook have a "public" privacy setting; the exact opposite is true on Twitter.
What this ultimately means is that when a Facebook message containing the #tag is shared on Twitter, it is very likely that it will be publicly visible and will contribute to the conversation, but when the opposite happens the chances of it contributing to the conversation are very low.
Facebook is not Twitter 
The speed at which activity takes place on these two networks is also very different. On Twitter, hashtags play an important role in keeping conversations together through a high-speed flow of content. On the other hand, things on Facebook are (relatively) slower and interactions more personal, with the majority of a user's contacts being people they know personally.
Twitter is more tuned to stranger-to-stranger conversations based on specific topics and common interests whereas Facebook is more community-centred and relationship-oriented, hence interactions are usually more personal.

So, should airlines and airports be using Facebook #tags?
Yes, but not the way they think!
As we mentioned before, we have seen a number of airlines using their Twitter tags or creating new branded tags for use on Facebook. While Twitter tags can be ok, we recommend not using a dedicated branded tag, especially if they sound anything like #QantasLuxury or have any other brand+attribute formula.
We would also advise caution against any company-generated tag, since on Facebook tags tend to be more successful if they are used to join an existing conversation. We have found that brand-related #tags simply don't have the traction to generate a conversation, especially if we consider the low number of users whose posts will be visible in the #tag search (i.e. only those with public posts).
In a recent example by Virgin Atlantic, we found that the only person to have posted publicly using the tag of the initiative was a person who used it sarcastically to complain about the airline.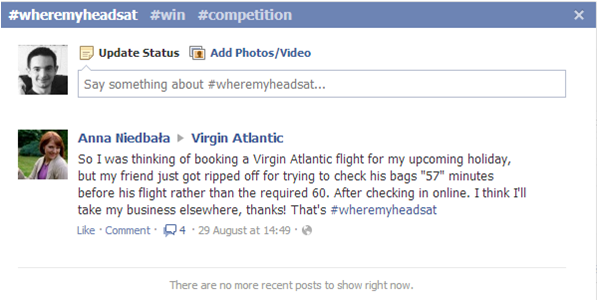 Using Facebook Hashtags Effectively
The potential of Facebook tags, however, should not be overlooked. They can be useful to position content regarding an airline's or airport's route network and for joining existing conversations and trends. Two particularly effective #tag use-cases we have seen on Facebook were the inclusion of destination based tags like #LAX or #Paris and joining existing "social media traditions" like #ThrowBackThursdays for vintage images.