[Whitepaper] Airline Loyalty in the Age of the Connected Traveller — Supercharged by Facebook Custom Audiences
Consider a hypothetical airline marketer called Emma. [push h="14″]
She is frustrated. As a star airline marketer – keenly tuned into the latest social technologies and trends – she is eager to find a way to drive engagement with existing customers. Instead of engaging everyone with an opinion about the airline on Facebook, she would like to engage specifically those who have flown before and unleash the potential of the data gleaned from Facebook's immense user-base.
The Missing Piece in Airline Marketing 2.0
While a reliable indicator of customer preferences has been every marketer's elixir since ages, what Emma would really love is to target specifically those people who she knows are potentially interested in the brand, mostly by virtue of them having flown the airline before.
Moreover, she is certain that loyal social advocates – people who speak positively about a brand and recommend it – on Facebook would be invaluable in raising the brand's profile. Personal recommendations, especially, from loyal flyers could realistically lead to a larger flyer base and increased revenue.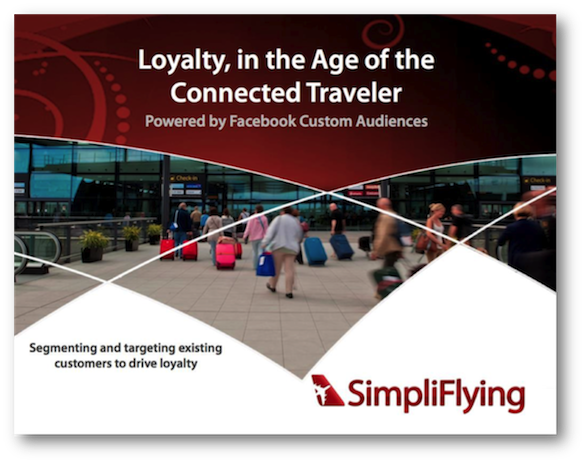 Further, it is not just customer retention as a driver of loyalty that Emma is interested in. Loyalty for airlines requires looking after your most valuable frequent flyers as well. And given how a number of airlines have, in recent times, irked frequent flyers by making it even more difficult to earn rewards, Emma opines that this might be another customer segment whose loyalty might be maintained with special personalization of social offers.
Custom Audiences lets you target the people who really matter
So the pressing question, on Emma's mind, of course, is: How to target the people you want to target? How do you get that family of four to stick with you each year? How do you reach them on Facebook since it's very likely they are there? How do you personalize an offer only for your most valuable loyalty program members on Facebook? How do you make a loyal customer out of someone who flies you occasionally? In the simplest of terms, how do segment and target your customers in exactly the ways that you wish to?
It is while she's wondering how to tackle this seemingly impossible task that she discovers Custom Audiences" – a Facebook tool that offers marketers the unprecedented ability to "match" their audience on Facebook with a pre-existing database of customers. For example, if Emma has a list of customers – with details such as email addresses or phone numbers – who have casually flown the airline at least once in the last 2 months, she can now find and target, provided they have matching Facebook profiles, them on Facebook too!
If you're already keen to know more about Facebook Custom Audiences and how it can help your airline target customers more effectively, then download the FREE WHITEPAPER right away by clicking below.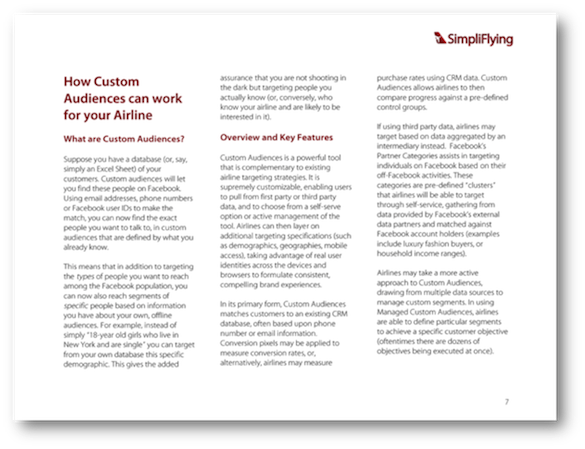 SimpliFlying has helped over 60 airlines and airports drive results by engaging the Connected Traveller. If you would like to know more about using Custom Audiences effectively or how your airline can profitably drive objectives such as social loyalty, ancillary revenues or engagement, please get in touch at shubhodeep@simpliflying.com.