Winners at 4th Annual SimpliFlying Awards 2013 – Airlines, Airports and Travel Solutions Providers
SimpliFlying Awards: the authoritative showcase of best social media practices of airlines and airports
Earlier today, the top finalists of 4th Annual SimpliFlying Awards shared the best of their social media milestones at the EyeforTravel Online Marketing, Mobile & Social Media in Travel Europe 2013 conference held in Amsterdam. These finalists had been shortlisted as the final top three from each category, a culmination of:
Over 50 nominations in 2 weeks

Over 37,000 votes in 3 weeks

Three stellar judges, renowned travel marketing experts, assessed the submissions
Amidst the fanfare on Twitter (even physically at a few airports), sterling presentations at the awards and a glittering awards ceremony, four deserving winners walked away with trophies that marked their triumph in their respective categories.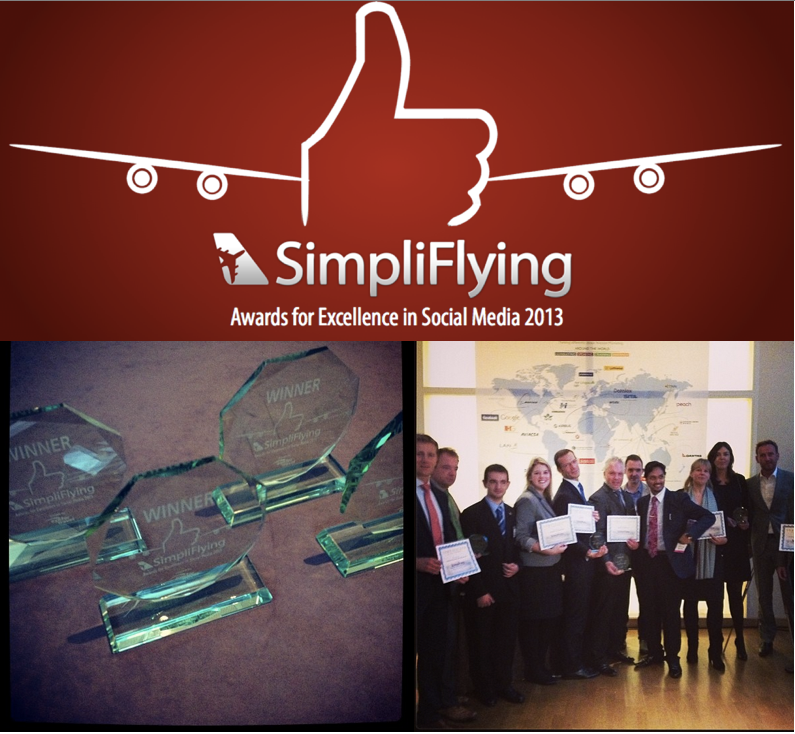 Without further ado, here are the winners:
Best Airline on Social Media
Winner: KLM Royal Dutch Airlines
Runners-up: AirAsia, American Airlines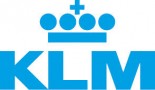 KLM is one of the top socially devoted companies in the world. They have clearly thought through their social media strategy and link performance back to business goals. What's extraordinary is the diverse range of initiatives they can deliver, many of which are ground-breaking, like the Must See Map. They are truly a 'social' business, having fully woven social elements into their business strategy better than anyone else in the airline business.
View the finalist presentations here
Best Airport on Social Media
Winner: Amsterdam Airport Schiphol
Runners-up: London Heathrow, London Gatwick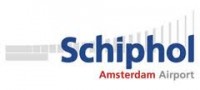 While most airports are slow to catch on with social media, Schiphol has clearly demonstrated leadership in this space. Through unique emotionally engaging initiatives, they understand that building brand preference requires a long- term relationship with travellers. It has been a steady journey for the airport to become the best in the world on social media in 2013.
View the finalist presentations here
Best Emerging Airline / Airport on Social Media
Winner: Qatar Airways
Runners-up: Emirates, Aer Lingus, Miami International Airport

Qatar Airways is quickly establishing a stellar reputation when it comes to social media. They have built a huge following on social media in the last couple of years with engaging campaigns like Tweet-a-meet and partnerships like those with Barcelona FC and premium hotels in exotic locales. Their social media campaigns are well thought out and seek to achieve multiple benefits for the airline each time.
View the finalist presentations here
Best Service Provider for Travel Solutions

Satisfly is reshaping the travel experience for airlines. Its innovative 'social' travel solutions, such as intelligent seating enable a better and more personalised relationship between the passengers and the airline.
Special Recognition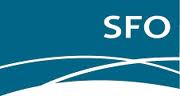 Among the 50+ nominations received, we would like to give special credit to San Francisco International Airport for their proactive efforts on social media after the Asiana Airlines crash, ensureing clear dissemination of information at timely intervals and in reducing panic among passengers and their families.
Once again, a huge round of applause to the winners of 4th Annual SimpliFlying Awards for Excellence in Social Media.
"The SimpliFlying Awards winners exemplify the spirit of innovation and demonstrate a deep understanding of their customers – being able to link their social media efforts to key business goals like customer service and loyalty. It is an exciting time ahead for travel brands."

— Shashank Nigam, CEO of SimpliFlying
We are all winners
The SimpliFlying Awards are committed to raising the standard of aviation marketing by promoting the exchange of knowledge in the sphere of social media.
We would like to thank and congratulate all the Top 3 award finalists for each category, especially those who had graced the awards event in Amsterdam today to present and share their successes with the rest of the world. They are highly commended for their excellent work on social media and aviation marketing and are all heroes in their own right. Just look at the amount of buzz and interaction on Twitter feed for the awards #SFAwards13 and conference #smeruope!
Special thanks to our distinguished judges
Three thought leaders in the travel marketing space have played a paramount role in our 4th Annual SimpliFlying Awards. We would like to extend our gratitude to Raymond Kollau, CEO of Airlinetrends.com; Robert Patterson, Vice President of Content and Social Strategy at MMGY Global and Rosie Akenhead, Business Manager at Yelp.com, for sharing their insights and feedback with the awards finalists and with us.

Last but not least, thank you EyeforTravel
Special thanks go out to EyeforTravel, especially Gina Baille, who has been so wonderful in coordinating the planning and logistics to help make this a successful awards yet again!
The journey for SimpliFlying Awards 2013 has been truly memorable for us all. We look forward to coming back with a bigger and grander event next year at the 5th Annual SimpliFlying Awards for Excellence in Social Media 2014. Stay tuned!
Event Photos
[photomosaic]
For photos on SimpliFlying Awards 2013, please check out our Facebook Album here! The hi-res images will be coming soon.
###
About SimpliFlying Awards for Excellence in Social Media
The SimpliFlying Awards for Excellence in Social Media, established in 2010, are the only annual awards dedicated to recognising the best social media campaigns and practices in the aviation industry. Committed to raising the standard of airlines and airports on social media, the SimpliFlying Awards promote the exchange of knowledge in the sphere of social media by recognising the best airlines, airports and travel providers on social media and inviting award winners to present and share their successes with the rest of the world. Each year, SimpliFlying Awards picks the best through a rigorous process of public voting, followed by a round of expert evaluation by a distinguished panel. Past award winners include KLM, Lufthansa, Malaysia Airlines and Helsinki Airport.