Air Canada baggage toss video requires deeper thinking about passenger experience #paxEx
Darren Van Slyke is an Air Canada million miler, and a fan of the airline. On April 17, 2014, he was traveling from Toronto to Vancouver, on the airline's brand new Boeing 777. Seated next to him was Dwayne Stewart. Both of them were in Premium Economy. As they waited for boarding to be completed, they witnessed something bizarre from the airplane window.
Baggage handlers were throwing last minute, gate-checked bags, almost 20 feet through the air, to load them into the cargo hold of the aircraft! Not surprisingly, this incident was captured by Dwayne on his iPhone, and posted on Youtube, Facebook and Twitter even before the flight took off. Within a day, the video had gone viral, garnering over a million online and featured on most major Canadian news channels. You may view it below.
This is not just another video going viral. It requires deeper thinking about social customer service, improving airline processes, and ultimately passenger experience.
More baggage toss videos will go viral
Passenger experience today is shared in real time. 
The good. The bad. And the ugly.
Gate-to-gate device usage is now permitted in the US, and very soon across the globe. A significant percentage of aircraft will be equipped with wi-fi connectivity by the end of this year globally. And most passengers carry multiple devices, allowing them to share anything that happens instantly. The Air Canada bag toss video was shot while the aircraft was on the ground, and uploaded even before the plane took off!
Darren, being a frequent flier, happens to be an active member of the community forum FlyerTalk. He has posted a detailed, transparent account about what exactly happened in the aftermath of the situation.
To Air Canada's credit, the airline responded on Twitter within three minutes of the original tweet being sent out. That is because they have a professional social media customer service team set up. The team comprises staff who have have previously handled customer service issues offline as well, and are on the job even on weekends.
Though, despite the airline's immediate attention to the matter, it seems the brand damage is done, with lots of negative comments online.
What about airlines that are not actively responding on social media? What about those that are not even listening online? They might not even know this incident has taken place, until the newspapers have columns about it the next morning!
While a United Breaks Guitars might have been an isolated incident a few years ago, more airlines will face situations like Air Canada baggage toss incident, and need to be ready to deal with them. Here is a quote from Darren's FlyerTalk post.
For my part, I have been taught a valuable lesson regarding how powerful social media is and how all employees reflect the image of a company.
The need to re-think passenger experience
Air Canada has tried to rescue the situation by stating publicly that it will fire the employees involved in the incident after investigating it further. But before reaching quick conclusions, we need to analyze the context in which this happened.
The incident took place on board Air Canada's brand new Boeing 777-300ER, which have a high-density seat configuration. According to Seatguru, these aircraft have 398 Economy seats, which are 17" wide, down from the 18.5" wide 302 seats they had previously (see seat maps below). The higher number of seats leads to lots of passengers having to check-in bags at the gate, since the overhead space is full. I quote Darren again, from FlyerTalk:
These "high-density" seating configurations are an abomination, which I have previously denounced on this site. They are a direct cause of so many carry-on bags having to be checked and a direct result leading to the ill-conceived actions of the baggage handlers.
According to Angela Mah, Air Canada's spokesperson, the baggage handling procedures require gate-checked bags to be carried by hand to the ramp. That seems fine in a normal scenario, where there might be 5-10 bags that can't fit in the overhead bins. But the new seat configurations mean that up to 90 bags may need to be checked gate-side for each flight. Is it practical then to expect the handlers to walk up and down the stairs carrying one bag at a time? Perhaps not.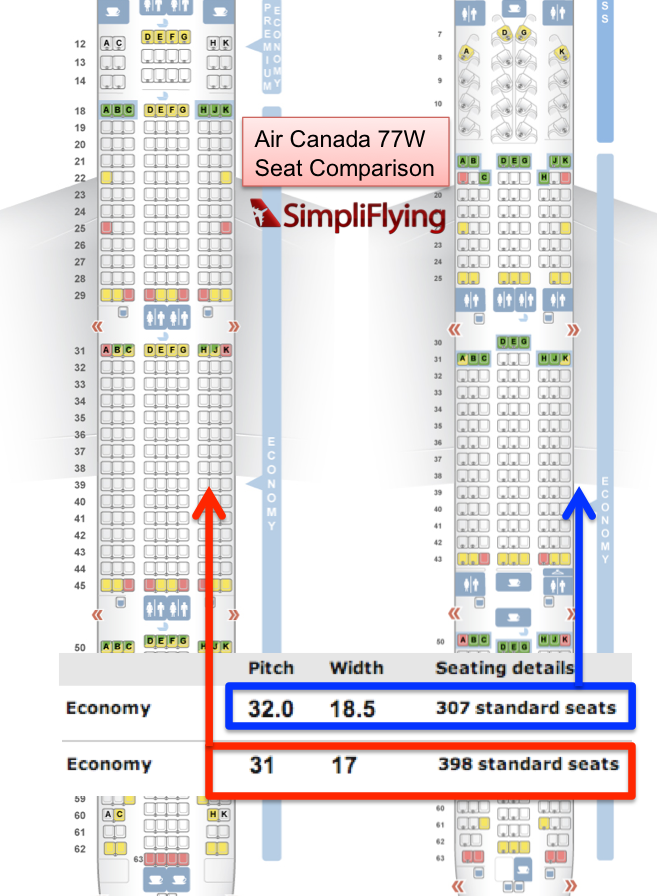 This incident requires deeper thinking about passenger experience, and the impact of high-density seating configurations that are increasingly more popular. There are a few key questions for airline executives to think about:
Should the check-in process differ when the airplane is full, and there is bound to be a lack of overhead space? Perhaps passengers can be allowed to check-in an additional bag at the counter for free for that flight. This would reduce boarding delays.

Should automated belts be mandated at gates, where such planes are parked? So that the bag handlers need not walk up and down the stairs to load the bags.
How can the airline be better prepared for a future where passengers share in-flight experiences online first, then with the flight attendants? Is there a team "listening" to every tweet coming from an airplane? And not just the guy sitting on the couch in a basement?
It is the age of the connected traveler. And these travelers instantly share with the world what they experience. Airlines today need to be prepared to provide real-time customer service – an aspect Air Canada did well in. And then be ready to improve the processes very quickly, as the world looks on.