Which were the best airline marketing campaigns in January 2014? Find out in our Airline Marketing Benchmark Report
Jointly produced by SimpliFlying, and industry and consumer trends research agency, airlinetrends.com, the highly-acclaimed Airline Marketing Benchmark Report analyses a wide range of airline marketing case studies each month. [push h="14″]
The monthly report contains a selection of the 15 most innovative marketing and advertising campaigns launched by airlines around the world and assesses their impact. If you are a numbers person, you'd love our report too!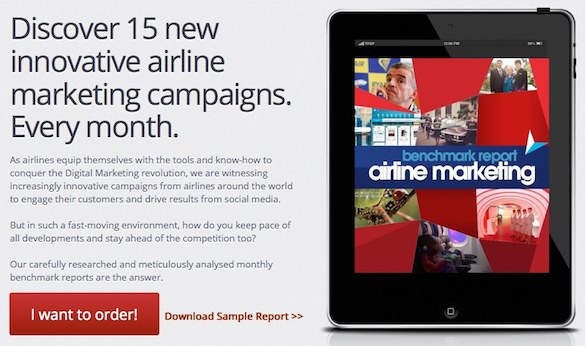 What's in this month's report?
As always, a wide range of case studies chosen across 4 categories — Experiential, Social, Digital and Traditional — are on offer this month too. Excerpts from the report follow:
British Airways #manvsplane (Experiential)
…The purpose of this video clip was to highlight the carrier's plan to launch the A380 superjumbo on the London-Johannesburg route, which will commence on February 12th 2014. Amassing just short of 2 million YouTube hits since it was broadcast, BA has further developed the successful campaign to celebrate its first A380 flight to the African continent….
Etihad #eyfollowyou (Social)
…In its latest social media campaign Etihad has mimicked a global Instagram phenomenon that originally has been started in 2011 by now famous Russian photographer and filmmaker Murad Osmann who has amassed a following of 750,000 on the instant-photo sharing site….
Turkish Airlines "Selfshot" (Digital)
…THY's 'Selfshot' campaign mirrors previous airline campaigns that tap into the popular selfie trend, such as Malaysia Airlines' 'Snap Selfie, Take Bestie ' and Virgin America's 'Summer of Selfies '….
Read the complete case studies and many more in the complete report.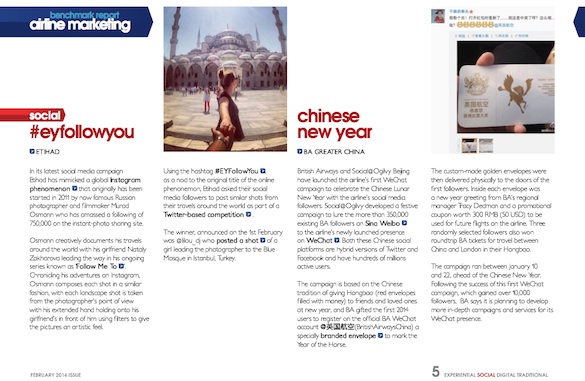 How will it help you?
This monthly report is indispensable for airline executives, specifically in marketing and communications, who wish to understand how their organizations are performing with respect to competitors and can perform better.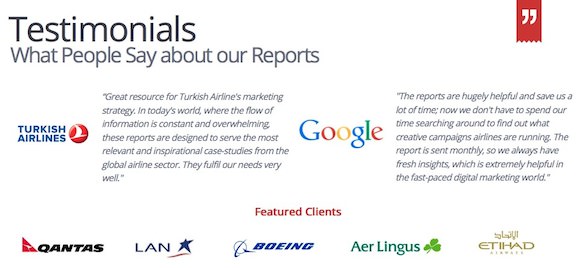 Creative agencies working with airlines (or looking to pitch to airlines) will also find this monthly report useful for staying on top of the latest trends and best practices in airline marketing.
[push h="14″]
Questions and Sample Report

You can download a sample report here.
You can also contact Shubhodeep Pal directly at shubhodeep@simpliflying.com for queries regarding the reports.