Which were the best airline marketing campaigns in April 2014? Find out in our Airline Marketing Benchmark Report
Jointly produced by SimpliFlying, and industry and consumer trends research agency, airlinetrends.com, the highly-acclaimed Airline Marketing Benchmark Report analyses a wide range of airline marketing case studies each month. [push h="14″]
Disover 15 new innovative airline marketing campaigns. Every month.
The monthly report contains a selection of the 15 most innovative marketing and advertising campaigns launched by airlines around the world and assesses their impact. If you are a numbers person, you'd love our report too!
What's in this month's report?
A wide range of case studies were chosen across 4 categories — Experiential, Social, Digital and Traditional. Excerpts from the report follow:
Delta Air Lines: "Social Soul" (Experiential)
…Those entering the Social Soul structure found themselves surrounded by a 360-degree display of monitors, mirrors and sound, and experience a captivating stream of the imagery, text, video, and audio made from their own Twitter feed and those they follow. Upon exiting, visitors and their matched 'Soul Mate' received a tweet encouraging offline connection and further conversation….
airberlin: "Air Force One" (Social)
…The first competition run by airberlin asks the public to take a photo of its Fan Force One A320 and upload it to one of the airline's social media channels – Twitter , Instagram or Facebook – accompanied by the hashtag #fanforceone. To help plane spotters follow the aircraft around its network, airberlin has published the flight schedule of the Fan Force One online….
Tigerair Australia "Infrequent Flyers Program" (Digital)
…The campaign consists of an integrated marketing platform including YouTube videos , out of home and radio advertising, social media, airport advertising and on-plane activation in order to drive traffic to the stand-alone website and encourage membership uptake. The first 5,000 members were treated to a AU$100 voucher towards future flights bookings….
Read the complete case studies and many more in the complete report.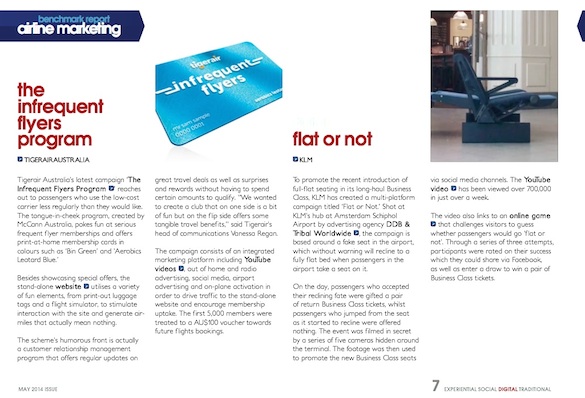 How will it help you?
This monthly report is indispensable for airline executives, specifically in marketing and communications, who wish to understand how their organizations are performing with respect to competitors and can perform better.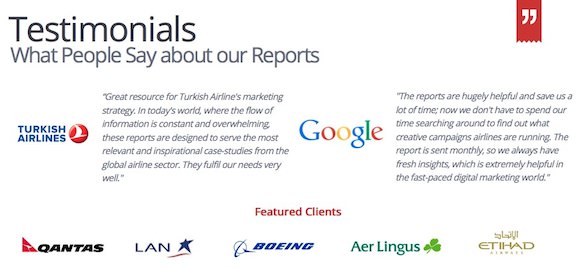 Creative agencies working with airlines (or looking to pitch to airlines) will also find this monthly report useful for staying on top of the latest trends and best practices in airline marketing.
[push h="14″]
Questions and Sample Report

You can download a sample report here.
You can also contact Shubhodeep Pal directly at shubhodeep@simpliflying.com for queries regarding the reports.