Airlines need to embrace real time customer service through social media – Case Study
A few weeks back, Jennifer Bourdeau was getting ready for her holiday to Lisbon, when she was not allowed to board her flight on TAP Portugal since it was over-booked. She reached Lisbon 12 hours after she was supposed to arrive. On the way back to France, she was off-loaded again due to other reasons, and the flight delayed five hours. This took two days out of her vacation – not an ideal situation.
And like most connected travelers today, Jennifer took a selfie on-board the delayed plane, and complained about her holiday being disrupted, even using hashtags.She tells me that she hasn't heard from TAP Portugal till date.
Ironically, TAP Portugal was running a marketing contest on reaching 11,000 Instagram followers, just around the same time.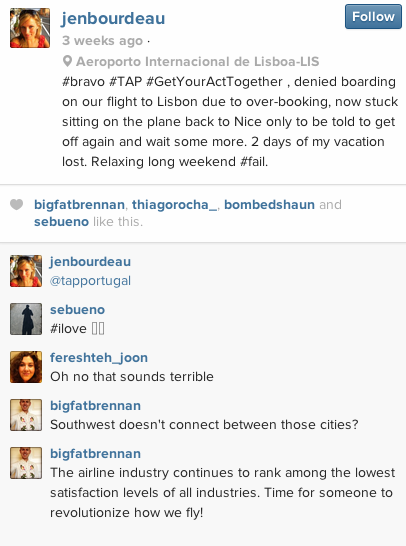 Real time customer service through social media – a priority
I've stated multiple times in our keynote presentations that airline need to focus on their customers, not just random people chatting with them on social media channels. KLM has over 30,000 social media interactions each week. Out of those, just over 2000 are with actual passengers. Moreover, the airline has 2 staff dedicated to only monitoring and replying to passengers on the day of travel.
If you want to be an airline that is as good as KLM, don't aim to reply to 30,000 messages per week. Start by learning how you can engage with your actual customers, not the teenager trolling you from his basement, for a route you didn't start!
TAP Portugal certainly wasn't doing that, and in the process, possibly lost Jennifer's business for good. May be a few others too. And this could have been entirely avoided, by real-time customer service recovery. One of the airlines that already has such a system in place to that is American Airlines. SimpliFlying is currently helping Saudia implement a similar real-time customer service strategy. For now, perhaps TAP Portugal can take a leaf out of Turkish Airlines' book.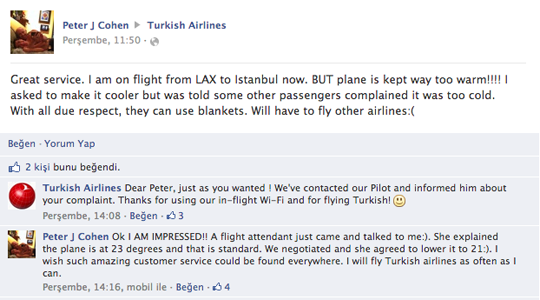 What do you think? Which airline do you think is doing a good job with real-time customer service? Let's discuss on Twitter (@simpliFlying) or in the comments below.