Which were the best airport marketing campaigns from the third quarter of 2014? Find out in our Airport Marketing Benchmark Report
In a world of short attention spans and increasing options, advertising is undergoing an unprecedented change. Our latest airport marketing benchmark report highlights the airport brands that are developing strategies that will resonate with 21st-century travellers. Online content helps people express emotion and connect with each other around shared passions. Users want to interact through sharing, commenting and joining a conversation. Airport brands can leverage these passions and conversations to forge deeper bonds with their passengers. [push h="14″]
Discover the 15 most innovative airport marketing campaigns. Every quarter.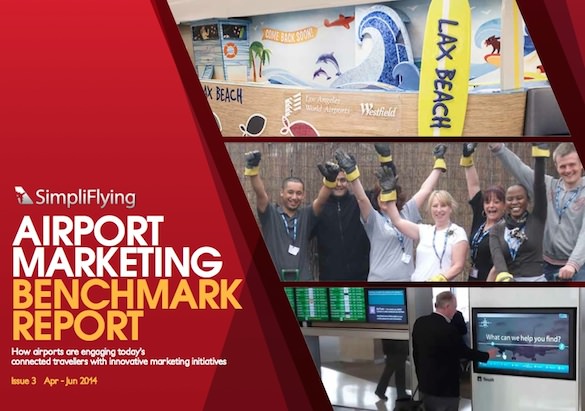 They also depend on today's connected travellers' eagerness to share their experiences with their social networks. [push h="14″] In such a fast-moving environment, it is important not just to be creative and innovative yourself but to be more striking than your immediate competition as well.
Passengers expect brands to inform, entertain and provide utility to them – and they expect this when, where and how they want it. They expect amazing social care and content to be there 24 hours a day, 7 days a week.
However, it is no easy task to stay on top of the latest trends, fads and innovations. If today's fragmented landscape makes you dizzy, welcome on board our Airport Marketing Benchmark Reports! [push h="14″]
[Editor's Note: If you would like your airport's current or forthcoming marketing campaigns to be featured in our report, please write to us: shubhodeep@simpliflying.com.]
Campaigns across five categories
The airport report features campaigns across five categories: Experiential, Passenger Experience, Social, Digital/Mobile and Traditional. 
Here are some excerpts from our report:
Helsinki Airport: Travel Lab (Experiential)
Finavia's new initiative called TravelLab, together with the Quality Hunters crowdsourcing initiative, tried a few prototypes of new services for passengers at Helsinki Airport, which the passengers were later asked to give feedback for. Based on this, a multidisciplinary team of experts were to decide whether they should become established services…
San Francisco Airport: #Converge@flySFO (Social)
…#Converge@flySFO is located in a very premium post-security section at the International Terminal. It is a 850-square- foot space, free and equipped with tables, lounge-style chairs, power outlets, free Wi- Fi and a giant erasable white board with markers to help groups brainstorm ideas.

Social media pages can be used by travellers to share their topic of interest, date and time using the hashtag #Converge and tagging @flySFO where possible. SFO will then help spread the message by reposting on its own social media channels…
DFW Airport: Voice Concierge (Digital/Mobile)
Dallas/Fort Worth International Airport (DFW) launched an updated version of their app featuring an innovative new 'Voice Concierge' service. This new feature serves better than an actual concierge's desk because it's portable and can help travellers even before and during their airport experience. For example, users can search airport parking availability and costs via the app, and also access a real-time flight tracker and weather forecasts for their destination…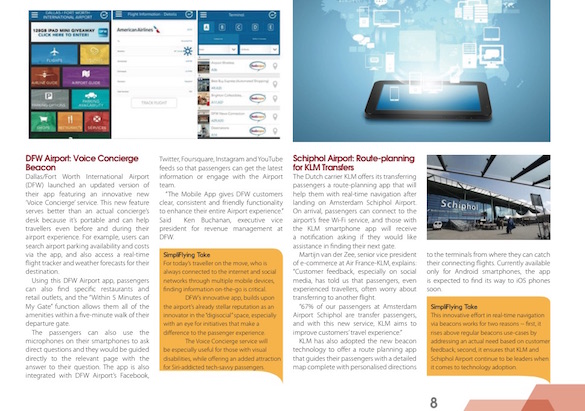 [push h="16″]Creative agencies working with airports (or looking to pitch to airports) will also find this monthly report useful for staying on top of the latest trends and best practices in airport marketing.
[push h="14″]
Questions, Sample Report & Previous Issues
You can download a sample report here. You can also contact Shubhodeep Pal directly at shubhodeep@simpliflying.com for queries regarding the reports or to buy a single issue. [push h="16″]