Which were the best airport marketing campaigns from the last quarter of 2013? Find out in our Airport Marketing Benchmark Report
In 2014, competition between airports will be fierce. Airports are investing in offering unique and memorable experiences for travellers, not only to keep them engaged while they are in the terminal, but to also differentiate themselves from other airports in the region (and the world). They also depend on today's connected travellers' eagerness to share their experiences with their social networks. [push h="14″] In such a fast-moving environment, it is important not just to be creative and innovative yourself but to be more striking than your immediate competition as well.
At the heart of the new world is an old truth. In an increasingly virtualised world, people still crave an emotional connection when making a decision to travel.
However, it is no easy task to stay on top of the latest trends, fads and innovations. If today's fragmented landscape makes you dizzy, welcome on board our Airport Marketing Benchmark Reports! [push h="14″]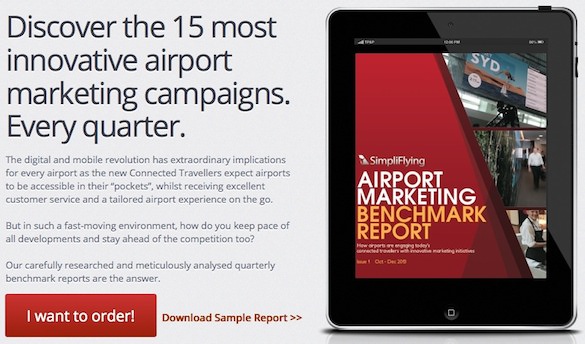 [Editor's Note: If you would like your airport's current or forthcoming marketing campaigns to be featured in our report, please write to us: shubhodeep@simpliflying.com.]
Keep an eye on the best airport marketing campaigns
Whilst the pace and scale of the marketing change is catching many airports out, there was no shortage of excellent airport marketing during the final quarter of 2013. Our January report shares first rate case studies from the likes of Heathrow, Frankfurt, Munich & Milan, plus many more.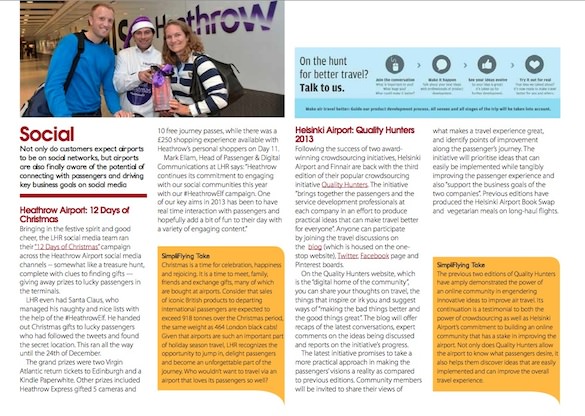 Airport Social Media Outlook 2013-14
Exclusively within the first report of the New Year, we are delighted to include our annual Airport Social Media Outlook 2013/2014 Report. SimpliFlying surveyed nearly 50 of the best airports on social media to gain the latest insights into internal priorities, business goals, and, not least of all, budgeting for 2014. Gather your marketing & communications team members today and review the findings of the report. Happy reading and on behalf of the SimpliFlying team, we'd like to wish you all a very successful 2014!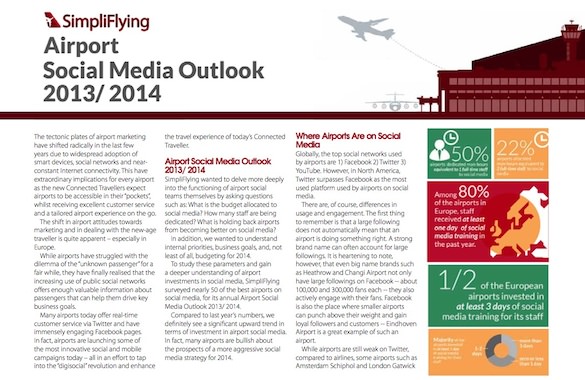 How will it help you?
This is truly the age of the Connected Traveller and airports are driving business goals such as customer service, loyalty & revenue in new ways that you can't afford to ignore. This quarterly report is indispensable for airport executives, specifically in marketing and communications, who wish to understand how their organizations are performing with respect to competitors and can perform better. [push h="16″]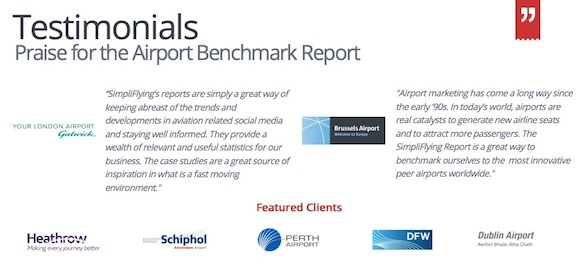 [push h="16″]Creative agencies working with airports (or looking to pitch to airports) will also find this monthly report useful for staying on top of the latest trends and best practices in airport marketing.
[push h="14″]
Questions, Sample Report & Previous Issues
You can download a sample report here. You can also contact Shubhodeep Pal directly at shubhodeep@simpliflying.com for queries regarding the reports or to buy a single issue. [push h="16″]