What's Common Between Social Media Content Strategy and TV? Featuring: A Spanish Airline that Really Knows its Stuff
Social media platforms are starting to look a lot like TV channels. And, no, we are not talking about videos. [push h="14″]
TV channels make most of their money from advertising, yet most of their efforts are focused on content that costs them money. The reason for this apparent paradox is very simple: users are free to change channels and watch whatever they please. They are not there to watch advertisements. A small dose of advertising is the price they are willing to accept in exchange for content.
Social media, as far as brands are concerned, work in the exact same way. Users are happy to follow or like a page if it provides content they want to see, but they are free to "change channel" if they don't find the content interesting. TV channels, radio stations and other traditional media have long known this. However, it seems that the addition of the word social has made marketers forget about it.
Why are we talking about this?
As part of SimpliFlying's consulting work, I spend a lot of time analysing changes in social media. And as our most ardent readers will know, I seldom write an article here unless I come across something that deserves special attention. Vueling's content strategy is one of these cases.
Most of the airlines we look at have a disproportionate amount of overly commercial material. In the vast majority of cases, they dedicate over 60% of their messages to talk about their offers or about themselves.
My question to these airlines is simple: would you listen to people who spend 60% of their time talking about how good they are while trying to sell you something?  Or, in a media context, would you choose to watch a TV channel where 60% of the airtime was dedicated to adverts?
Vueling's content strategy
The marketing team of Spanish low-cost airline Vueling seems to have been one of the few to realise the new course of social media. They have asked themselves the right questions. I imagine their thought process to have been something like this:
Q –  What kind of people are more likely to travel with us?
A – People who love travelling and want to go on holiday/escape the daily routine
Q – What do these people want to see?
A – Beautiful images of places where they can travel to
Q – Why should they follow us and not someone else?
A – Because our images are more interesting. We will find a new angle and avoid using clichéd travel images.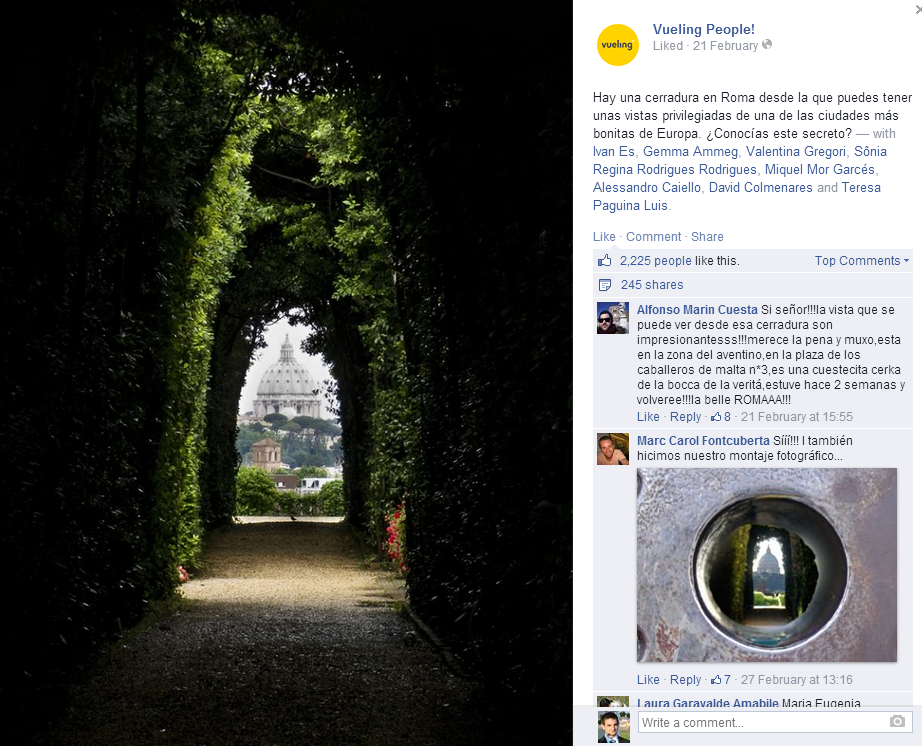 Where's the money?
A key aspect of Vueling's strategy is that its content is feeding the initial stage of the Connected Traveller Lifecycle. In the case of TV channels, the content they produce is linked to revenue by its ability to keep users on the channel. Airlines like Vueling however are able to use their content to not only keep people interested and receptive to commercial content, but also to get them interested in travelling to destinations they serve.
Furthermore, part of their content leads to a page called "MyVuelingCity" where users can not only find out more about the event/place shown in the picture, but also book a flight.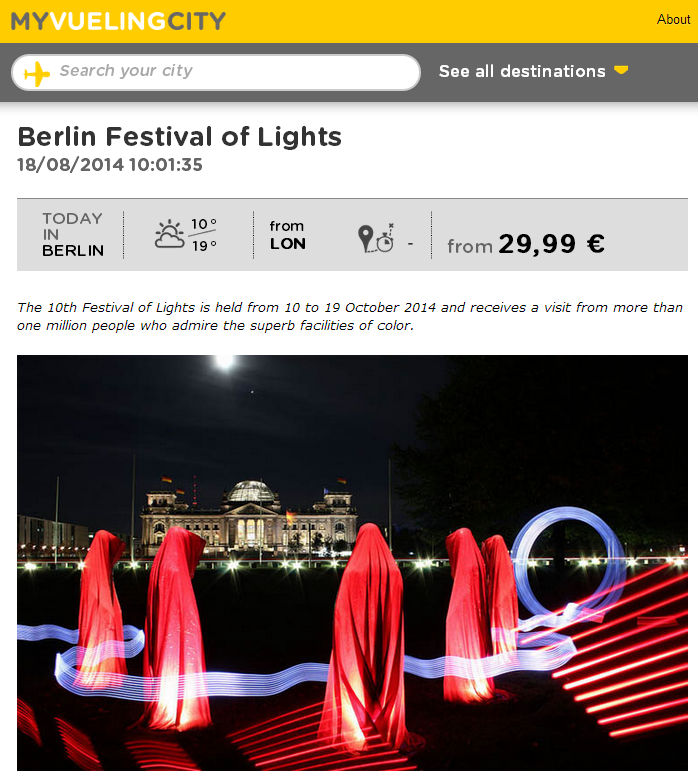 Is there more?
Yes, Vueling was chosen as an example because inside their content strategy there are a number of very smart choices and small details that make a big difference. Of course, deconstructing these details for the general public would not be fair to the airline given the amount of work they seem to have put in their strategy.
If you are a SimpliFlying customer, please do contact your project manager to get more details. If you are not working with us yet, you can e-mail us at engage@simpliflying.com and arrange for an assessment of your content strategy.