Inspiration: 15 Best Airline Marketing Initiatives from 2015
A good way for airlines to find inspiration on how they can make 2016 a great year – is by looking at what the best airline marketing initiatives in 2015 have been like.
In the past year, we at SimpliFlying have seen a tremendous amount of disruption in the airline marketing space. Aside from the obvious enablers (i.e. platform and mobile technologies), airlines are paying more to attention to how travellers are evolving in ways they consume content, develop interest and affinity for brands and make purchase decisions.
We have gone through all of our internal research and published reports to shortlist 15 airline marketing initiatives that we found most inspiring, sensible, entertaining and on-trend from 2015.
15 Best Airline Marketing Initiatives from 2015
Most Sensible
Common sense is underrated, especially in this information age bombarded with selfies and advertisements. Many of us often forget what it is to be human but not these airlines.
1. Cathay Pacific's #onedayoffline campaign asked for people to declare what they would do if they were to completely unplug for one day. This was a simple idea that resonated with a large following and reinforced Cathay Pacific's tagline of "life well travelled". (Featured in Oct 2015 issue of Benchmark Report.)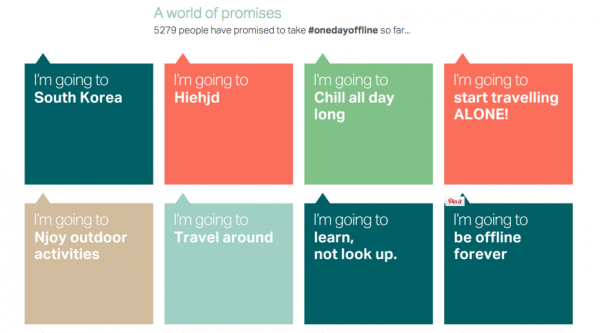 2. Vueling named planes after unsung heroes, by inviting stories of people who pay it forward. Vueling is clearly going beyond the typical CSR tactics employed by major brands to build a brand with a heart. Read more>>
3. KLM Flight Funding demonstrated the brilliant use of KLM's own social media fans to raise funds for a Dutch lady to fly to Canada to visit her grandkids. Not only was the idea simple and remarkable, so was the implementation when it all played live on YouTube. Read more>>
Most Inspiring
4. Icelandair's Hekla Aurora is a specially themed airplane with cabin mood lighting that resembles the Northern Lights. Every day the airplane is deployed on various routes as Icelandair's living mascot, bringing the Northern Lights across the Atlantic. (Featured in February 2015 issue of Benchmark Report.)
5. S7's "Imagine" was a beautifully executed 2-min film that revealed that many of childen's imaginary locations are reminiscent of real destinations that the airline flies to across the globe. (Featured in April 2015 issue of Benchmark Report).

6. Emirates #HelloJetMan was a great marketing stunt that occurred right before the Dubai Air Show and had stolen all the pre-airshow news headlines. A breath-taking initiative that contributed towards building Emirate's image as a world-class airline brand to fly with. Read more>>
Most Entertaining (but with relevance)
7. Virgin Atlantic's #bestrequest branched from yet another simple idea – asking customers to tweet their own #BestRequest for a chance to receive a free cabin upgrade. This not only showed Virgin's unconventional fun side and built further brand affinity, it also uncovered a treasure trove of ideas and content for future use. (Featured in Oct 2015 issue of Benchmark Report)
8. Turkish Airlines San Francisco launch demonstrated a wonderfully holistic effort that tapped on a specially designed livery, Buzzfeed, video content and experiential marketing. Read more>>
9. Air New Zealand's superb guerilla marketing in 'Welcome to #AirNZFanClub', in which they signed up the CEO of Qantas as their FFP and then ran full page ads about it in Sydney press. Read more>>

10. Air France's Cloud Slicer is an extremely well-thought out gaming initiative to engage and pit passengers at the waiting areas against one another. Although it was first launched in late 2014, the fact that it was extended on a regional level in 2015 showed the success and potential of this simple yet effective idea. (Featured in February 2015 issue of Benchmark Report.)
11. Boeing's 'Choose Your View' at Paris Air Show re-energised B2B marketing by not only wowing everyone with an almost-vertical take-off of the 787, they gave the common man access to the videos before anyone at the air show had seen the plane take off. Read more>>
Most On-Trend
12. LAN Airlines' Facebook Reaction poll showed how quick the airline was in embracing the new feature. It found a clever way to turn the frown upside down by using the various emoticons as voting buttons for a new promotion on its Spanish page. (Featured in November 2015 issue of Benchmark Report.)
13. Vueling's Game of Thrones booking engine jumped on the bandwagon in a timely and innovative fashion like nothing seen before in the industry, and went on to win more hearts with its fun corporate culture. Read more>>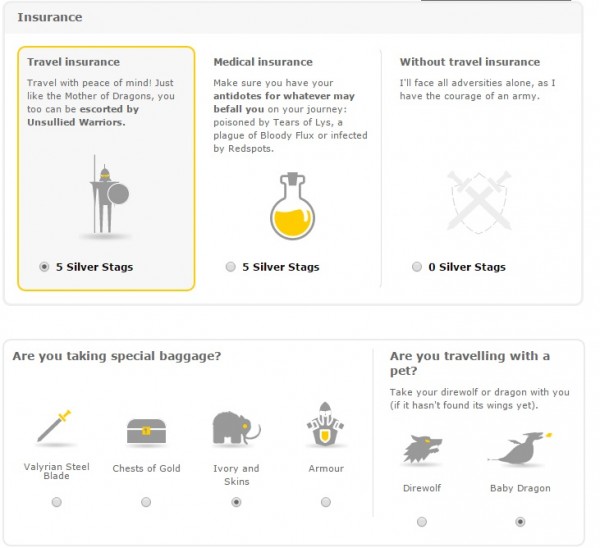 14. TAM Ownboard magazine brought personalised cover and articles to its passengers. While the scalability of this is limited, there should be little doubt about the ingenuity of this idea or the creative ploy behind. Read more>>  
15. Wow Air's Tinder+Snapchat showed that they truly understood the millienial market by inviting them to "seduce" the airline with the best pick-up lines, with the chance to win a pair of tickets to Iceland. Read more>>
Airline Marketing Benchmark Report
Airlinetrends.com and SimpliFlying jointly produce the premium monthly Airline Marketing Benchmark Report, which features the most innovative marketing campaigns recently launched by airlines around the world. Each month's report contains 15 new case-studies that inform and inspire airline marketers and creative agencies how other airlines are making a difference with their marketing-communication campaigns. So far, we have published 38 editions, reporting on over 570 airline case studies. Have a look at this sample report to learn more.
Clients that have subscribed to the monthly benchmark report include Turkish Airlines, Aer Lingus, LAN, Qantas, Air New Zealand, Boeing and Airbus. Learn more »