Air India and the Art of Losing Customers
If only Air India could have a couple of million dollars for every negative incident they've been involved in over the past few years, they'd easily be the most profitable airline in the world.
Okay, let's forget the last few years, and stick to the past month or so which has seen Air India's "negative PR" soar to blinding heights. Here's a quick recap of recent headlines — none of these are made up! — about Air India:
Air India runs out cricket fans on way to Adelaide Feb 15, 2015
The Cricket World Cup is upon a cricket-crazy nation and fans are super excited to attend the opening clash against arch rivals Pakistan. What does Air India do? Delay a flight by 10 hours so that the fans miss the match, of course.
Air India plane's tail scraped ground during landing Feb 17, 2015
An Air India flight from Mangalore with almost 200 people on board suffered a tailstrike upon landing at Mumbai Airport, leading to the de-rostering of both pilots.
Air India pilot assaults engineer in cockpit, DGCA seeks report Jan 18, 2015
The fracas that occurred early in the morning delayed the Chennai-Delhi-Paris flight AI 143 by nearly five hours. The flight, however, took off with a new crew around noon after the delay.

The incident triggered a protest from the flight engineers and ground staff who rallied against the pilot. The engineer has reportedly filed an FIR against the pilot.

According to reports, the engineer started bleeding from the nose after the assault and was taken to a hospital. After the incident, the pilot allegedly locked himself up in the cockpit.
Air India crew member caught smuggling 3 kgs gold worth 78 lakhs Feb 11, 2015 
Self-explanatory. (78 lakhs = approximately USD 126,000)
Air India Dreamliner grounded at Birmingham for 10 days Feb 16, 2015
No need to go into details, really. You know things are bad for you when your newest planes are grounded.
Of course, if you go a bit further back you'll be able to dig up news stories that say Air India faces the most customer complaints. And then there are even more colourful stories — such as that of a pilot getting stuck in a lavatory, or that of a pilot who delayed a flight because she wanted to pick up her favourite snack. (Of course, I did not even mention the potentially disastrous planned makeover of the iconic Air India Maharajah that we wrote about last month.)
The Social Ignoramuses
But of course, nothing says a company doesn't care about its passengers than staff that treats them poorly. In the years gone past, the state-owned carrier might have carried on caring two hoots about those it serves — but not in the age of constant connectivity, of smartphones that are flipped out in an instant, of videos that are shared even more quickly on Facebook, where, inevitably, they tend to go viral if a company is seen mistreating its customers.
As of the writing of this article, the Air India viral video below had been viewed over 1.3 million times, had received 31,000 shares and 28,000 likes.
I'll leave you to gain more context from the video itself, where a girl crying profusely is given the official line — but I'd like to move on to a larger point. But first, Air India's response to the video: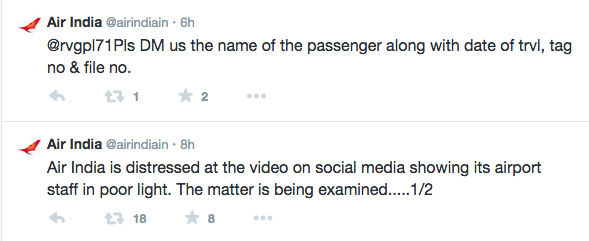 I've included a screenshot here for three reasons: first, note the tone of victimhood. Air India should be appalled, not distressed. If they're distressed they should be so because their customers are ill-treated, not because the staff is shown in poor light. Second, they write "…1/2" at the end of the tweet and never write a second tweet. Whoever's handling the Twitter account — whether it's an intern or the CMO — deserves to be fired. Third and not least, because the earlier tweet is not even a proper mention, it shows up as a tweet in the timeline. Seriously, Air India, you're clearly not even trying.

Strategy-less and Clueless
Here's an unpleasant newsflash for Air India: this is only the beginning. Customers are angry with you. Customers do not feel like flying you. You're not giving them a reason to fly you. Here are six things you need to know:
Respect today's communication paradigm: Customers today are no longer helpless and voiceless. Social media gives special importance to genuine grievances by those trod upon by companies. The more you mistreat your customers, the more likely they are to lash out at you.
Social media works by amplification: A single person can bring an entire army to your doorstep. That's how social media works. The numbers above prove that a negative message will carry far and wide, and hurt your brand severely.
Brand recovery needs to be genuine: What can I say? Note the tweets above. Air India's not even trying to tweet properly, leave alone attempt a brand recovery.
Don't botch your Moment of Truth: Staff and crew are the most crucial interface between an airline and customers. More often than not, their behaviour, their confidence, their politeness and their nervousness determines whether passengers feel like flying the same airline again. Air India really needs to up their game in staff conduct and training.
Have a plan: We understand things can go wrong. They often do. All airlines respect this fact. But most airlines have plans in place to handle tight situations. And more often than not, they actively try and prevent future incidents. In this case, your plan must not only have a brand recovery component, but needs to begin at the very beginning: by understanding how today's customers communicate, the tools and technologies at their disposal, and crucially, how these very elements can be used to build trust and understanding with customers.
Good management flows down: To be fair, staff is only as motivated as it can be based on the attitude of senior management. In this case, it seems the top folks at Air India are happy to let things float as long as they can. I hope this latest video wakes them up to the danger of letting the brand self-destruct on social media by being absolutely ignorant of how to tackle such situations.
I'm going to go out on a limb and say this. If anyone at Air India is listening — especially folks in the Marketing and Communications departments — I will offer you a free consultation on how to plan and set things right, and avoid irreparable brand damage. It hurts to see Air India wilfully hurtling down this path to brand destruction. Email me at shubhodeep@simpliflying.com.
Featured Image: The Caravan Magazine