What Airlines Need to Know About Facebook's Vision for Social Customer Service
Editor's Note: This is the second of a two-part series on the future of Social Customer Service for airlines, and how Facebook is leading the way. Part 1 explored the reasons why Twitter has been a disappointment and has failed to capitalise on its head-start in Customer Service on social media. 
Let's begin with some numbers. Facebook Messenger currently has over 700 million active users. Of these, over 100 million were added between March and June 2015. For context, that's one-third of the entire user base Twitter has built till now. In three months. Let that sink in for a while.
It's no surprise then that Facebook is now focusing on giving businesses the tools to reach out and communicate better with their customers — many more of whom are obviously using Facebook than Twitter. And hence, the huge focus on building Facebook Messenger into an independent platform in itself. It's quite clear that Facebook is doing its best to ensure that Facebook Customer Service is the future.
Let's look at a few airline-specific social customer service scenarios:
Response Times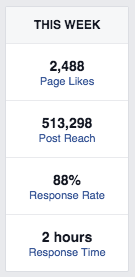 How many times have you gone through tweets and replies on Twitter or Facebook comments to fathom how soon you might get a response to a question you ask? To solve this problem, KLM unveiled a smart solution about two years ago, when it started updating its Twitter and Facebook cover photographs to indicate current expected response times. They still do it — see it in action here.
A few days ago, Facebook started rolling out a new feature on its Pages that will automatically display Response Times and Response Rates of businesses.
Also, when a Page has a high response rate, this information is displayed publicly to visitors alongside a green messages icon right below the Cover photo on the left-hand side of the screen.
Scaling Responses
Often, a large number of queries received by airlines revolve around similar questions — or questions that can be answered similarly. For instance, "My baggage hasn't arrived. What should I do?"; "My payment went through but I haven't received my ticket" etc. It would be much simpler to respond to such messages with a saved template — which is an option that expensive third-party software provide.
Facebook is currently testing Saved Replies, a tool that lets businesses offer quick responses to common questions, conversation starters etc. One of the best things about this new tool is that — just like email campaigns — saved replies can have auto-populating placeholders to enhance personalisation, while you create a new message and save it in your vault.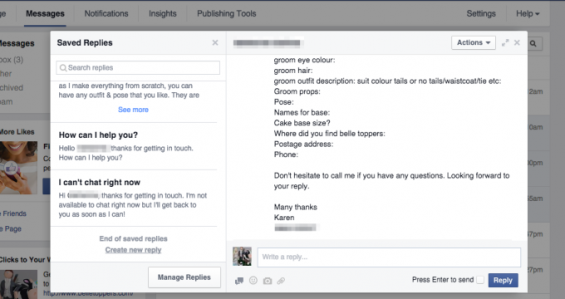 Context-Rich Messages and Payments
Earlier this year, Facebook also invited businesses to trial its new Messenger for Business platform. Forget the age of DMs on Twitter. Take just a few cases:
First, forget the age of live-chat on websites — those pop-up windows that are slow, irritating and temporary. Facebook Messenger will allow businesses to directly integrate Messenger with their websites for those who have queries. Customers can get notified directly on their phones via Push Notifications.
Second, Facebook Messenger will offer a whole new level of contextualisation and rich content. Special offers, tickets etc can all be sent personally to customers who will know at a glance what they're being offered.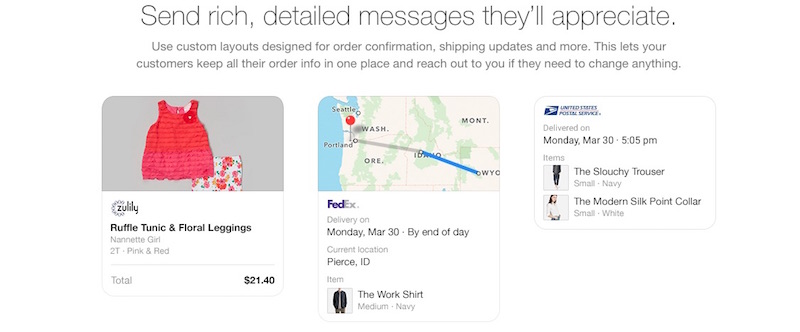 Third, it is also not a far cry to suggest that, in the future, Facebook Payments will allow airlines to very conveniently sell tickets and re-book passengers without ever having to leave Facebook.
It's really not hard to see why Twitter appears badly outdated in comparison to Facebook's features and conveniences.
The Future?
While Facebook's rapid innovations are certainly showing the right way to do social customer service, the W word lingers at the back of the mind of most marketers. Will WhatsApp — with is treasure trove of 800 million active users — ever become a viable customer service option? When WhatsApp for the web was launched a few months ago, it seemed that finally this vision would come to fruition, but that has not happened yet. Challenges remain — scalability; spam; and conversation tracking are all issues that cannot be ably handled by WhatsApp right now. Developers have been waiting for ages for WhatsApp to finally open up some APIs, but that looks unlikely. Our guess is that Facebook Messenger will become the de facto customer service platform, and WhatsApp will stay away from this space.
Do you share our vision of the future of social customer service? Do you have a different vision? Tell us in the comments below or tweet us @simpliflying.