[REPORT] For Middle Eastern Airlines, Inflexible Team Structure is The Biggest Concern Regarding Social Media
Middle Eastern airlines are grappling with challenges brought about by their rapid expansion, with inflexible team structure rising as the biggest concern when it comes to social media planning.
There are ample differences in the way people use social media across the world. In some parts of the world contacting individuals over social media might be against the culture. In others, being too formal during communication might give the impression of being opaque.
These cultural differences and different user social media usage patterns have a major impact on the goals airlines in different regions drive using social media.
Inflexible team structure emerges as biggest concern
In end 2015, SimpliFlying conducted a survey with 166 executives from 78 airlines around the world. As it turned out, inflexibility of team structures is a challenge faced by 75% of the Middle Eastern airlines when it comes to conducting social media. This is 20% higher than any other region.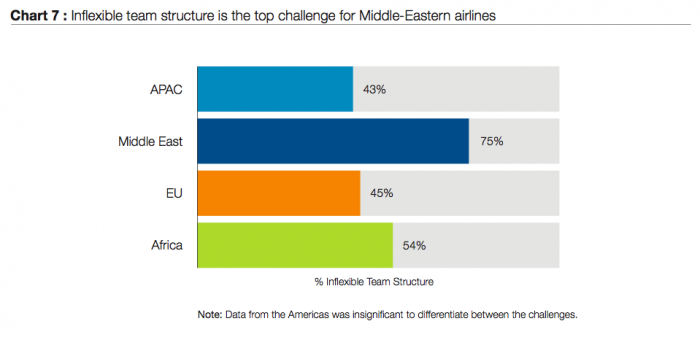 Deciding on which team structure suits you the best
Our research showed that there is a disconnect between what structure works best for airlines and what they have in place. Much of this is often because of interdepartmental differences.
Different departments might want to influence the social media function differently. This leads to fragmented and ineffective distributed teams.
It would be useful for managers at Middle Eastern airlines to have a look at Section 3.3 of our report, which offers suggestions on how airline executives can choose the most optimal team structure for conducting social media – be it Distributed Team, Dedicated Team or External Team/ Agency.
For each structure, there are unique advantages and disadvantages that an airline organisation should take into account when doing social media planning. The Airline Social Media Outlook 2016 report further delves into the respective advantages and disadvantages.
Note: This above article is taken from a section in the Airline Social Media Outlook 2016 report. Further findings from the survey about Middle Eastern airlines including how driving loyalty is the top social media priority are available in the report. To download, click here.
In one of the upcoming articles, we will look into how the European airlines seem to be on a much more organic social media growth trajectory, focusing most on driving revenues using social media in 2015-2016.
---
Exclusive Webinar for Airline Managers on Jan 20 & Feb 3, 2016
Coming up in January and February 2015, SimpliFlying will be conducting a series of webinars where we share key findings from Airline Social Media Outlook 2016 and other research, covering the topics:
Business goals and optimal team structures for airline social media
Key differences among airlines in different regions
How to benchmark and map social media performance to airline business goals (e.g. route development)
Webinar Sessions:
Jan 20, 2016 – 10am (GMT)
Feb 3, 2016 – 7pm (GMT)
To register your interest, please click on the sign-up button below or email Guen at guen@simpliflying.com. Kindly note this webinar is only for executives currently working at airline organisations.

---
Download Full Report: Airline Social Media Outlook 2016
This article is taken from a section in the Airline Social Media Outlook 2016 report. To download the report, click here.