Vueling's Game of Thrones Internet Booking Engine Is Another Reason to Fly the Airline
In an effort to increase their visibility and cultural relevance, airlines often partner with Hollywood's studios and create some exciting campaigns. The most famous examples are Air New Zealand with its Hobbit/Lord of the Rings videos and now ANA with its Star Wars 787. Though, there are not as many airlines that ride on popular television series, such as Game of Thrones on HBO. Bring in Spanish low cost airline, Vueling.
Smart and Timely
Earlier this month, the Spanish low-cost airline Vueling added Game of Thrones destinations to its internet booking engine. The timing was perfect and coincided with the new season of the hit TV show. Visitors had to find the destinations and clues hidden across the website.
The initiative allows passengers to "book" tickets to places such as Winterfell or any of the nine free cities – from over 600 origin cities, in two languages . The length to which the airline's staff went to create this simulation is something to be admired and is indicative of Vueling's corporate culture, and adds to the airline's funky brand image.
Samuel Lacarta, Vueling's Director of IT shared with SimpliFlying,

"To be honest, it got me by surprise that it had that much impact on social media. We have received a lot of visits on this fake booking process, which was not the objective. You may have seen that we don't even ask users for an email address. Only objective was to have fun, declare our love for epic stories and be able to tell our friends "I was part of it". And we got all that done."
The Genius Lies in the Detailing
Would-be passengers are offered the choice of three classes of service: Villager, Lord and King that mimic the airline's Basic, Optima and Excellent fares. A warning also informs passengers that winter is coming and the airline is working to restore flights beyond the wall.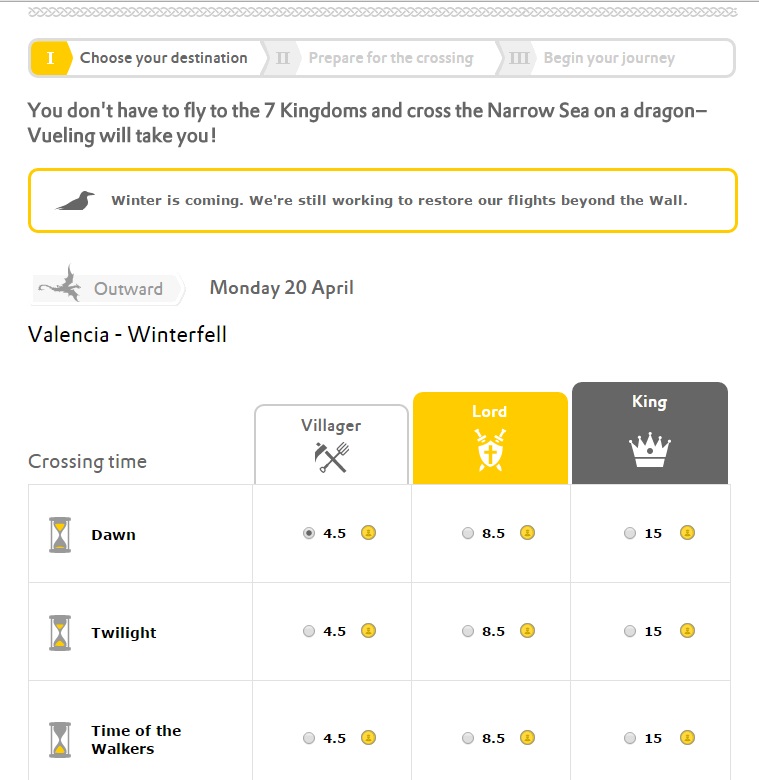 In preparation for the crossing, one must choose a family and the appropriate banner is shown: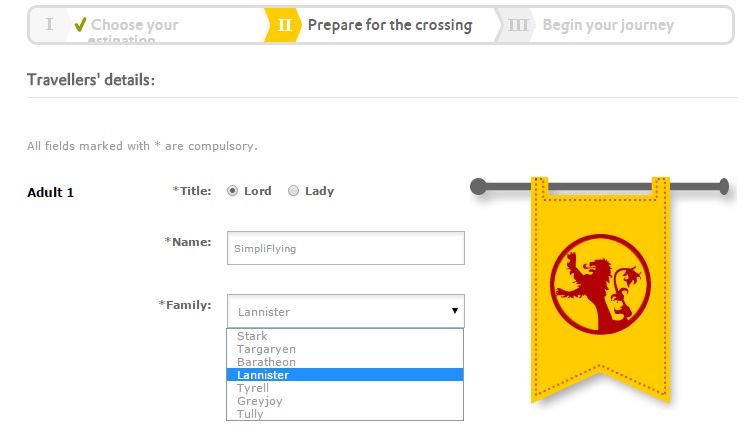 Being a low cost carrier, ancillaries are also a key element and a choice of both throne and insurance is offered.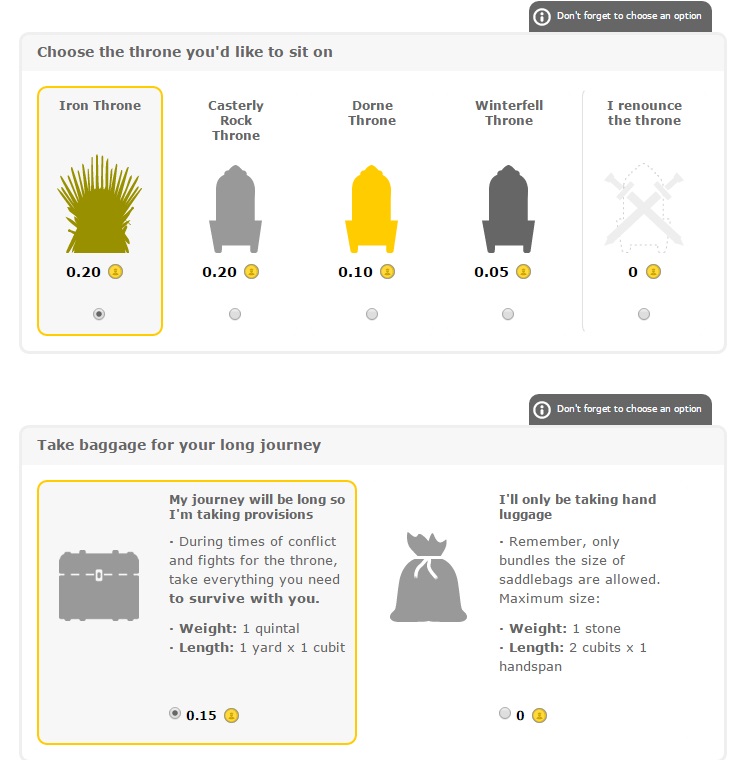 In the insurance and luggage section, it is possible to choose from a number of options based on the trip being undertaken, and if necessary, a baby dragon is allowed as luggage.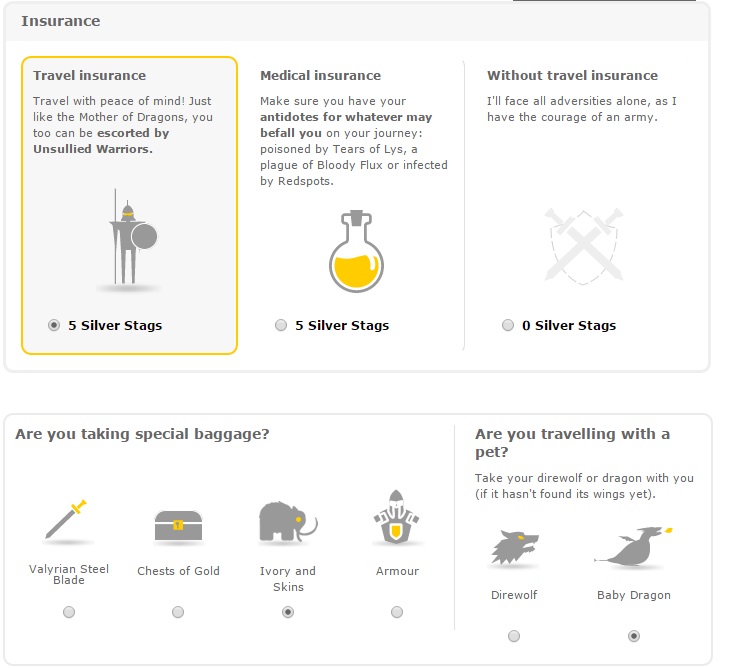 The airline kindly offers a choice of currencies for payment:
Upon successful completion of the booking we are advised that "A crow (a real one, not a Man of the Watch) is flying your way with confirmation of your booking." We're still waiting….
In the meantime, however, we chose to rent a horse from the ads at the bottom of the page and we're currently trying to figure out how to make it stand still.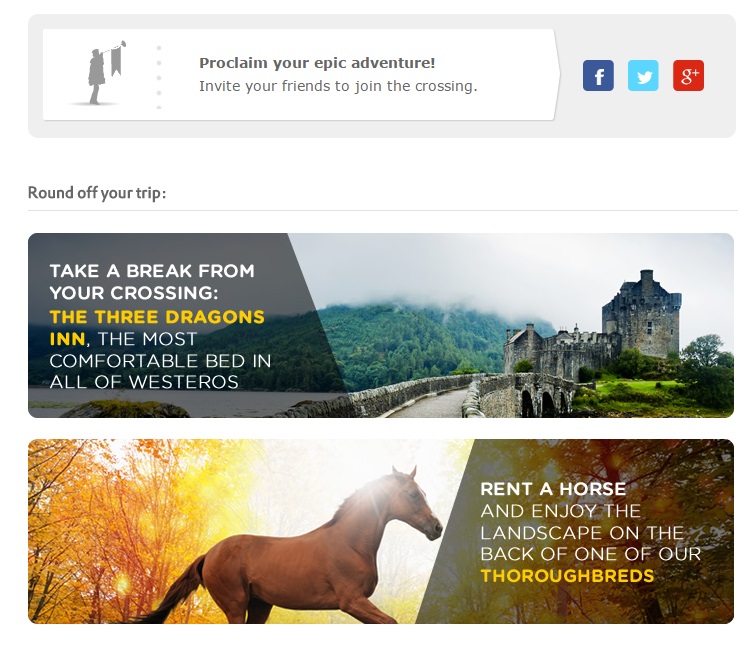 SimpliFlying Take: While regular flyers will already be aware of Vueling as a fun airline to fly with, this latest, finely-detailed initiative is a geeky effort that says: fly us because we're cool. Of course, by jumping on the Game of Thrones bandwagon, the airline has smartly ensured that it becomes the talk of the world, literally, since the campaign has been much talked about on social media. Not a bad way at all to reach millions who were probably unaware of you. Additionally, tying it with the booking engine ensures that those checking it out will also, invariably, be exposed to fares and destinations that Vueling flies to.