Airline Marketing Campaigns We Loved in 2016
Every month SimpliFlying produces a premium Airline Marketing Benchmark Report, where we go over the best campaigns of the previous month.
Here are some of our favourite airline marketing campaigns from 2016 that were featured in different reports:
Last Flight / Air France
In January, Air France decided to give its last Boeing 747 a memorable send-off in a series of final flights. As a result of this 30,000 people jammed its switchboard trying to get on board.
On January 27th, the last Air France 747 was joined by the 'Patrouille de France', the French Air Force Aerobatic Flight Display Team on a final flight, with the two flying side by side, an event that got news coverage worldwide.
---
Reach Across the Aisle / JetBlue
The 2016 US Presidential Election was one of the most rancorous of modern times.   To promote a spirit of compromise and dialogue, Jet Blue encouraged one planeload of passengers to "reach across the aisle."
The challenge was for all the passengers on a six hour Boston – Phoenix flight to unanimously decide on a destination. The passengers chose Costa Rica, with everyone winning a return flight there.
Others to run airline marketing campaigns around the US Elections included Aeromexico, which responded to Trump's call for a wall with an ad about walls and borders.   Meanwhile Royal Jordanian encouraged travellers to fly to the US "while you're still allowed to."
---
Stopover Buddy / Icelandair
To promote its stopover service for passengers flying via Iceland between Europe and North America, Icelandair launched its Stopover Buddy service. Get a tour of the country from an Icelandair employee, who could even be the CEO!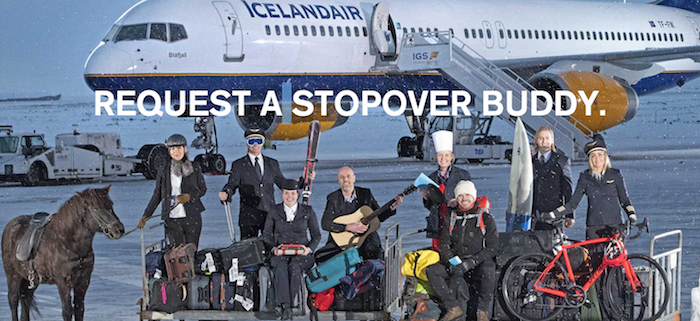 Finnair likewise ran a number of initiatives promoting Helsinki as an East/ West stopover, including a campaign specifically aimed at Chinese travellers.
In addition to creating a special business class menu, Chinese celebrity Chef Stephen Liu teamed up with counterpart Sasu Laukkonen where the two of them were filmed in the Finnish countryside collecting ingredients for a meal while on a stopover.
---
 Snap Travellers / WOW air
WOW air was one of the earliest airlines to embrace the social network Snapchat, recognising it's appeal among its target audience of millennials. In the Spring of 2016, WOW air ran a search for four "Snap Travellers" who would travel to and profile different airline destinations on Snapchat.
In another initiative aimed at millennials, WOW air recruited professional surfer Anastasia Ashley (who has 2+ million Facebook fans) to take part in a 24-hour challenge, where she surfed both a California and an Icelandic beach.
---
Alcatraz Escape Rooms / Norwegian
Norwegian has a long track record of creating immersive experiences that highlight new destinations. For example, last year the airline turned an Oslo Metro station into Times Square.
This June to launch its London Gatwick Airport – Oakland (San Francisco) flights, Norwegian created an 'Alcatraz' experience in a London shopping centre, where participants had to find their way out in exchange for winning free flights.
---
Reimagine / Etihad Airways
Starring Hollywood A-Lister Nicole Kidman, 'Reimagine' is a 360 degree five-minute immersive film shot on board an Airbus A380.
The film brings the experience of flying with Etihad to life via a storyline that sees Nicole Kidman in the different areas of the aircraft, including the private 'residence' suite.
While Nicole Kidman is working with Etihad, Jennifer Anniston has of course been the star of recent Emirates advertising campaigns.
---
Safety in Hollywood / Air New Zealand
Air New Zealand pretty much owns the concept of making innovative and fun safety videos and using them as marketing collateral.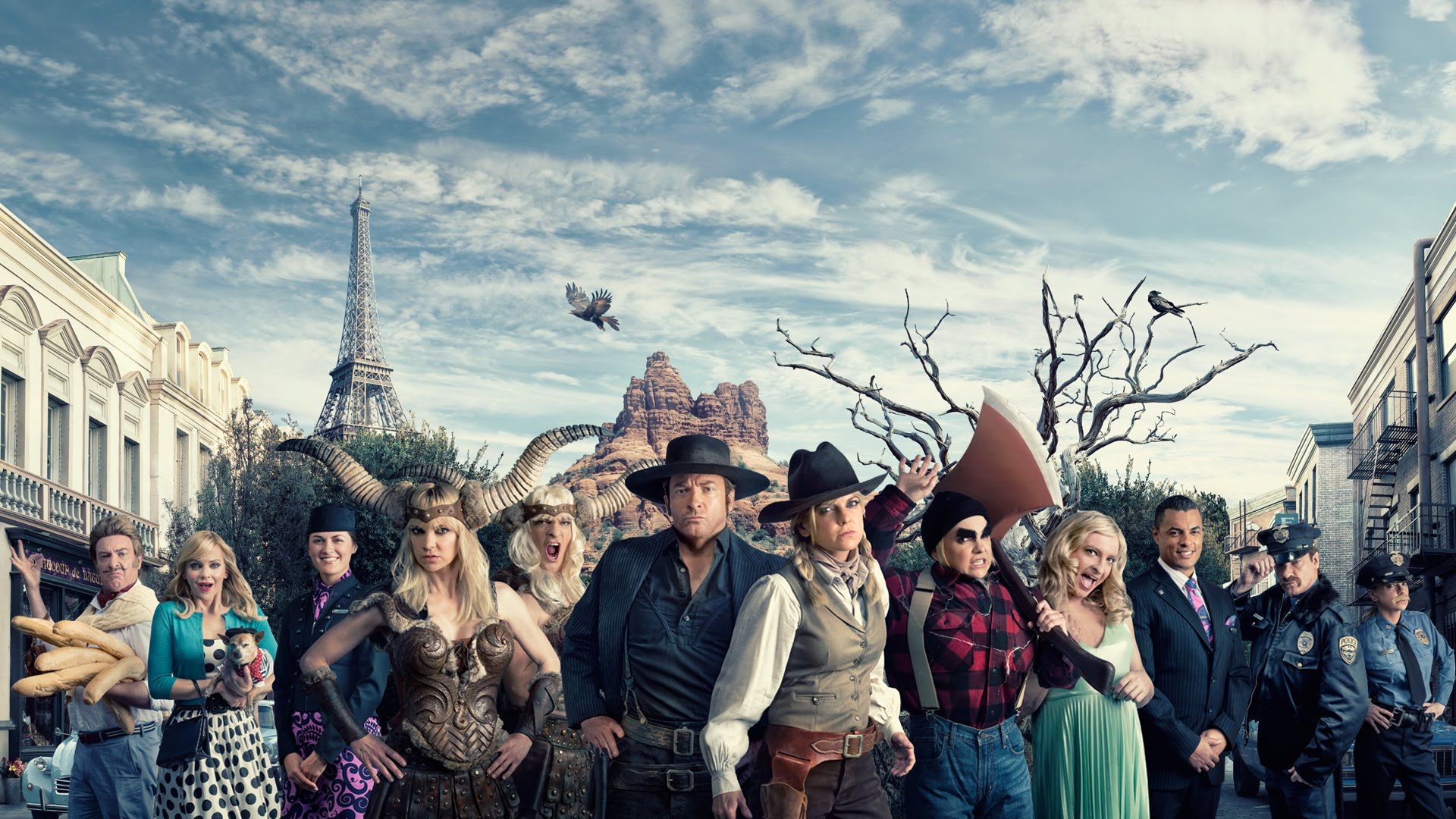 Its latest video, released in July, had Hollywood actress Anna Farris team up with New Zealand comedian and Flight of the Conchords star Rhys Darby.
In 'Safety in Hollywood', Farris and Darby use a series of different Hollywood movie genres from Horror to Cop Movies to impart vital safety information, with the help of two Air New Zealand flight attendants.
Air New Zealand has set the safety video bar very high, but Turkish Airlines was one carrier which reached it this year by teaming up with the "King of Illusions" and social media star Zach King in producing #magiconboard.
---
Why Not? / easyJet
In May, Ryanair boss Michael O'Leary made mischief by offering to fly Brits home at a discounted price in order to vote to 'remain' in the EU referendum. This resulted in anti-EU campaigners reporting Ryanair to the Police, which for Ryanair meant acres of free coverage.
With Britain narrowly voting to leave, a falling pound meant more expensive holidays. To encourage people to carry on flying to Europe, easyJet launched a major airline marketing campaign called 'Why Not.' This is led by an ad which shows one traveller embracing her travel dreams in a series of dream-like sequences, inside an easyJet hanger
In addition to TV and OOH advertising, the campaign has both digital and experiential elements, for example it created an "immersive theatre experience" that brought a taste of Holland to London's Shoreditch district.
---
No detail is too small / Singapore Airlines 
At the end of last year, Singapore Airlines worked with American designer Luca Iaconi-Stewart in using 3000 hand-cut pieces of paper to produce an incredibly detailed replica of an A380, right down to the seats.
This was followed in November up by a 'mini-cuisine' video featuring tiny utensils (smaller than toothpicks), tiny bits of meat and diced vegetables, and even a miniature stove and pans to prepare gourmet meals served on plates smaller than a child's hand.
The overall idea is to get across the concept that no detail is too small for Singapore Airlines.
---
Best of the Planets / S7
Russian airline S7 has been behind some truly innovative airline marketing campaigns such as last year's "Imagination Machine". In February, the airline also worked with LA Pop Group OK! Go in helping the band shoot a zero gravity video onboard an S7 aircraft.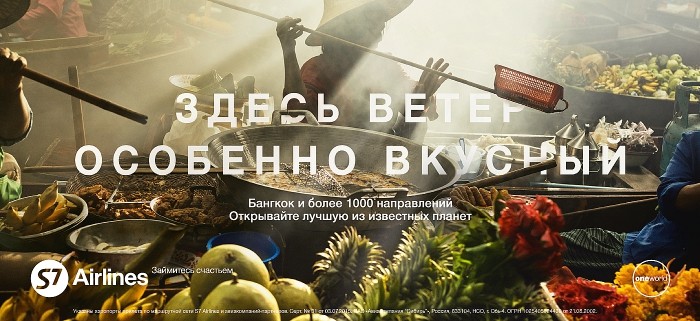 Best of the Planets is S7's latest integrated advertising campaign. A spine-tingling ad narrated by Cosmonaut Andrei Borisenko gets across how travel is a feast for the senses, with new and different tastes, sights and sounds.
Want to become a subscriber of our monthly Airline Marketing Benchmark report? Find out more and get in touch here!