Airline Social Media Outlook 2017 Reveals Airlines' Priorities & Budget Forecast for Social Media
The rise of dedicated teams and social customer service.
In 2017, social customer service will be the top focus for airlines. As a result, airlines have already started adopting a dedicated team structure to ensure efficient customer service delivery.
The Airline Social Media Outlook Report provides deep insights into airlines' use of social media to achieve business goals. Conducted for the seventh year running, the report is based on in-depth responses from extensive surveys conducted with airline practitioners.
This year we received survey responses from 140 executives from 90 airlines across the globe, including from Asia Pacific, Middle East, Europe, North America, South America and Africa.
Key Findings for Airline Social Media Outlook 2017
Dedicated team structure has become the most prevalent and also the most recommended form of organising social media teams, accounting for 50% of all social media teams surveyed. However, it also faces greater operational challenges than any other forms of organising.
Social customer service has become the top priority for airlines with consensus from 52% of senior management executives, compared to just 32% last year. Going into 2017, their main focus now is to integrate social media with operations to drive business goals better,
 58% of airline executives expect social media budgets  to go up . The major focus of budgetary increase is currently in advertising, although social media executives will prefer investing in better training.
Data analytics ranks very high in importance for 95% of  airline executives even though half of the teams surveyed suffer from a lack of dedicated professionals.
To help airline executives plan their social media budget and activities better for the coming year 2017, we have put together a comprehensive 32-page report, as well as an infographic – all sharing key findings from this survey research.
---
Download the Free Report
Click on button below or here to download report.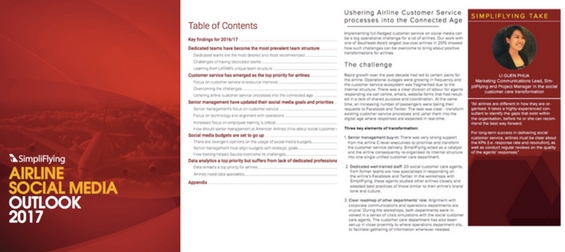 ---
Download the Free Infographic

For enquiries about Airline Social Media Outlook 2017, please contact Ravi Chauhan at ravi@simpliflying.com