A royal flight on Royal Brunei – a surprise awaited me from Dubai to London
Late last month, I was on a whirlwind round the world trip. To get from Toronto to Brunei, I spent 55 hours flying, to be 23 hours on the ground. The reason I was on the ground in Brunei was because I was invited to address the Sales, Marketing and Commercial leadership of Royal Brunei airlines on their annual summit. The topic was around creating an endearing brand, based on concepts and case studies from SOAR. The feedback for the presentation was great, though the focus of this article is the 55 hours spent in the air.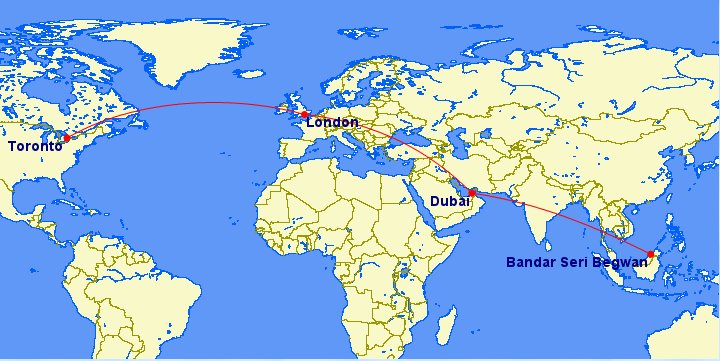 I flew from Toronto to London and connected on to Royal Brunei's flight from London to Bandar Seri Begawan via Dubai. That was a lot of hours spent in a new 787 cabin, on an airline most of the world isn't too familiar with. Flying Royal Brunei after many years was refreshing.
Royal moments on Royal Brunei
There were a couple of remarkable moments on my flights. Since it was a long flight, I wanted to charge my iPhone, but the charging didn't seem to work for some reason. As the seat next to mine was empty, I tried plugging into that outlet too, but it wasn't working. Disappointed, I continued working, hoping that my battery would last till I landed and reached the hotel. A few minutes later, I was surprised when one of the flight attendants kneeled next to me and softly asked if I would like to try using her iPhone charger instead! She then handed me her charger. I plugged it in and it worked. It was a nice gesture I thought. But perhaps a one off.
When we took off after our stop in Dubai, a new crew had taken over. This time, I merrily indulged in some movies while dinner was served. One of the items on the menu was a "potato and celeriac soup with brioche croutons", which I devoured as it was served. I gulped down the warm soup as it tasted good. When the flight attendant came to take away my plate, instead of automatically bringing the main course, he asked if I liked the soup. I said I loved it. To which he asked if I'd like another bowl. I gleefully agreed to his recommendation! It was certainly a memorable meal.
Proactive service that didn't cost much
In both these instances, I received proactive service that I've come to expect on carriers like Cathay Pacific or Singapore Airlines. The fact that a Royal Brunei flight attendant went above and beyond was impressive. The fact that it occurred on two different legs operated by a different set of crews showed that it wasn't a one off.
Indeed, when I asked the Royal Brunei CEO the secret behind their service standards, he told me that a significant effort has gone into training the crew over the last five years. In fact, the training is delivered by the same people who train the Singapore Girl! I was impressed.
Going above and beyond is not something that comes easily. Airlines that can deliver that consistently, build endearing brands. Royal Brunei is certainly on their way to do that. They are probably one of the more underrated airlines. Do try them out when you get a chance.