Electronics ban: How can airlines minimize the damage to their brands? #electronicsban #paxex
Air travel is about to get much worse for many of us. An electronics ban went into effect today, preventing passengers flying to the US from a number of airlines and airports based in the Middle East to carry large electronic devices in the cabin, except phones and medical devices. That means passengers need to check in laptops, iPads, cameras and other large devices. That's risky, because the fragile gadgets may be broken, or worse, stolen. The UK has followed suit and banned laptops from fewer countries, leaving out the major Gulf hubs of UAE and Qatar.
We will not debate the merits of the electronics ban, because frankly, we can't do anything about it. Instead, we will focus on how this ban will impact travelers and what airlines can do to minimize the impact on the brand.
I did a Live video stream on this topic on our daily SimpliFlying Live segment, so feel free to watch the 15 min video directly.

How will the electronics ban impact travelers?
The electronics ban is set to wreak havoc for many travelers. Especially because it targets Dubai, the largest international airport hub in the world and Turkish Airlines, an airline that flies to more countries than any other. How will they be impacted? Here are just some inconveniences:
Business travelers will be unable to work on long-haul flights to the US and UK from major Middle East hubs without their laptops.
Connecting travelers on Middle East carriers heading to the US will have to check in their expensive electronics and be at the mercy of (often outsourced) baggage handlers from Nairobi to Chennai breaking or nicking them.
Families traveling with kids will have fewer ways to keep them engaged on long haul flights
Elderly parents or others may not be able to connect with their loved ones as they may be used to using a laptop to Skype or connect with friends and relatives.
The electronic ban is a severe blow to already struggling airlines in the region. Turkish Airlines has dramatically cut capacity in the past year already. Emirates' bookings to the US fell 35% overnight after the initial travel ban by Trump earlier in the year. While the UK ban impacts travelers on both foreign and UK airlines from these destinations, the US ban is partial in excluding US-based airlines like Delta.
The electronics ban is bound to have a crippling impact as it directly impacts business travelers and connecting traffic through these large hubs. So, what should the airlines do?
How can airlines limit the electronics ban impact on the brand?
While writing SOAR, we use the 6X model as a framework to assess how airline brands are performing over time. One of the unique factors airlines need to deal with is Brand eXternalities. These are situations that are beyond the airlines' control that they need to deal with. These include everything from weather-related delays to a competitor going bust. The electronics ban is a brand externality that airlines must be resilient in dealing with.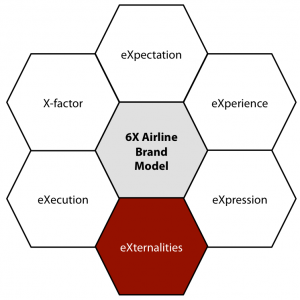 How to deal with the electronics ban?
Show empathy – nobody expected this electronics ban. The airlines are going to suffer. So are the passengers. The least frontline staff can do is to be human and show empathy. Tempers will flare. Queues will be long. Yet, airlines that come on top will be those that are kind while enforcing these rules. Remember when Singapore Airlines distributed chocolates to all the passengers on a flight that experienced turbulence? That's the impression airlines should look to leave. That they're trying. Hard.
Notify passengers proactively – Airlines should use systems like 15Below and get the message out to all passengers ahead of time so that they pack light or plan for checking in a bag if there were not going to. Lufthansa previously did so during their pilot strikes and ensured hardly anyone turned up at the airport on the day of the strike. Airlines impacted by the electronics ban should aim to reach their passengers via mobile, email, social media and even travel agents.
Be resilient – airlines need to think creatively about addressing the situation. Passengers will have a lot of time on their hands in-flight and in-transit at their hubs. Perhaps storytime can be held in the galley at the back for young kids so that parents can get a shut eye (Air New Zealand pioneered this). Perhaps duty-free shopping or the culinary experiences can be promoted at the transit airports to keep passengers busy.
The only silver lining coming out of the electronics ban is that this is great for bookworms and for duty-free shopping (and airlines with good IFEs). After all, what else is a person supposed to on a long haul flight without a laptop, iPad or Kindle? We live in the connected traveler economy these days, isn't it?
How would you deal with this electronics ban?  Any tips for airlines and travelers who don't have a choice but to deal with it?