[REPORT] Five Trends in Airline Marketing for 2017
"How can I kick things up a notch at my airline?" is often a question we get asked by heads of marketing at airlines.
The good news is that we keep a tight pulse on what goes on in the airline marketing world, researching over 600 aviation pages every 60 days. We then shortlist 10 most innovative campaigns per month to include in our Benchmark Reports.
Here are five key trends in airline marketing that executives should pay attention to in 2017. Each trend is accompanied by a detailed case study in our free state-of-the-industry report here.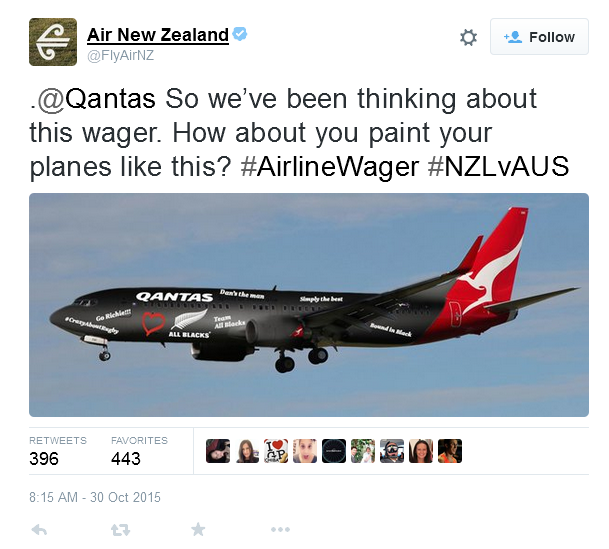 Trend 1: Friendly Match
Entertaining public showdowns between rival airlines
Everyone likes a good match (even better if it's funny!). The most recent and intriguing phenomenon is rival airlines challenging each other into bets publicly, often related to sports. This is an organic form of marketing that also spurs affinity among ardent sports fans and local customers and keeps the airline top-of-mind. Air New Zealand, Qantas and Aer Lingus are just some of the airlines topping this trend.
Trend 2: On-time Trend Jacking
Even airlines can have fun
One way to draw closer to customers is to take interest in what they are interested in and do so quickly within the window of relevance. These includes viral or social movements such as PokemonGo, the Mannequinn and even gossip headliners like the Brangelina split.
Trend 3: Chatbots
Artificial intelligence in customer service is picking up steam
Chatbots were the rage in 2016, with KLM being the first to take the plunge in May 2016 offering end-to-end day-of-travel services. Chatbots, done well, provides instantaneous help to passengers in need without additional burden in terms of manpower. Other airlines such as IcelandAir also quickly hopped on the bandwagon, offering booking features; the latest in this game is Aeromexico. While limited features are available with most airline chatbots due to the complexity, the prospects continue to be bright as deep learning advances.
Trend 4: Customer Care Marketing
Showing humor and care wins you customers, hands-down
We know social customer service has a great impact on the brand. This is a trend that existed long back and will have a resurgent year in 2017. Now we see travel brands are not just investing in customer service, but also getting creative in how they deliver it. Brands that deliver customer service right can use it as a key differentiator in airline marketing.

Trend 5: Own the Turf
Because rules keep changing
Remarkable airlines don't just ride on a trend; they start a trend or they own it. That creates for a standout brand. For example, Air New Zealand owns safety videos and continues to surprise everyone with ever more entertaining safety videos (with one of the latest being "Safety in Hollywood" featured in August 2016 issue). Another example is Westjet owns April's Fool and Christmas with videos that just tug at one's heartstrings. Latest member in owning her turf is Singapore Airlines.
Want the case studies? Download free airline marketing report here.