10,000th copy of SOAR raises $780 for charity at #CustomerEx2018
A total of $780 were raised for a local food bank by bidding on the 10,000th copy of SOAR, in an impromptu auction at the 2018 Airport Council International Customer Excellence Global Summit.
After delivering the opening keynote address, CEO of SimpliFlying and author of SOAR, Shashank Nigam was busy signing copies of his book for top airport executives attending the conference. Copies of SOAR had been bought by ACI World and HIAA for all the attendees. As the number of signed copies were approaching the milestone 10,000th copy, Shashank Nigam invited airport executives present at the conference to bid for it and donate the raised money to a charity.
"SOAR has inspired over 10,000 marketers in aviation and beyond. I had to do something special to mark the milestone – raising funds for a local charity through an auction seemed like the best option," said Shashank Nigam.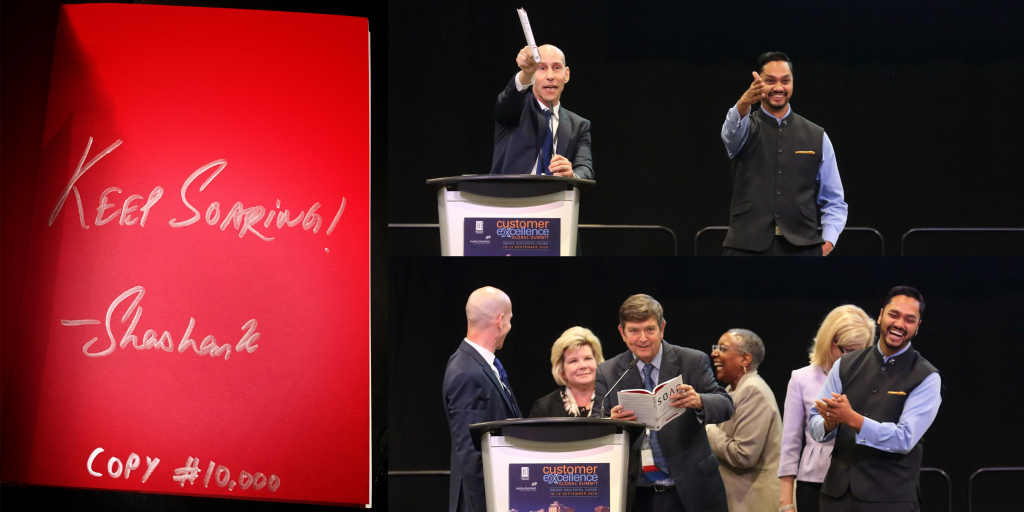 The decision of choosing the charity for the raised money was given to Joyce Carter, CEO of Halifax International Airport, who selected a food bank in Dartmouth.
"Halifax Stanfield was delighted to be a part of the impromptu auction of the 10,000th copy of Shashank's enlightening book, SOAR, at the ACI Customer Excellence Global Summit," said Joyce Carter, President & CEO of Halifax International Airport Authority. "As the host city of this inaugural international conference, the money raised through the auction will be donated to a charity of HIAA's choice – the Dartmouth North Community Food Centre, which has been our Signature Partner for the past three years. Through our signature partnership, HIAA provides both financial and human resources to the Centre to help address issues of food insecurity in our community."
To lead the impromptu auction, Brian Shapiro, president of Shapiro Communications, was invited. The bid began with just $50 for the special copy of SOAR before a bidding war between the CEOs of Edmonton International Airport and Cincinnati Airport started. Ultimately, the 10,000th and the 10,001st copies were sold to them for a total of $780, including a 1-1 match by both HIAA and ACI World.
"It's not surprising that the impromptu charity auction of Shashank's book garnered such interest," concluded Angela Gittens, Director General of ACI World."His thought-provoking presentation on exploring new ways of providing remarkable airport customer experiences provided the more than 400 delegates to ACI's Customer Excellence Global Summit with a lot to ponder and certainly energised discussion."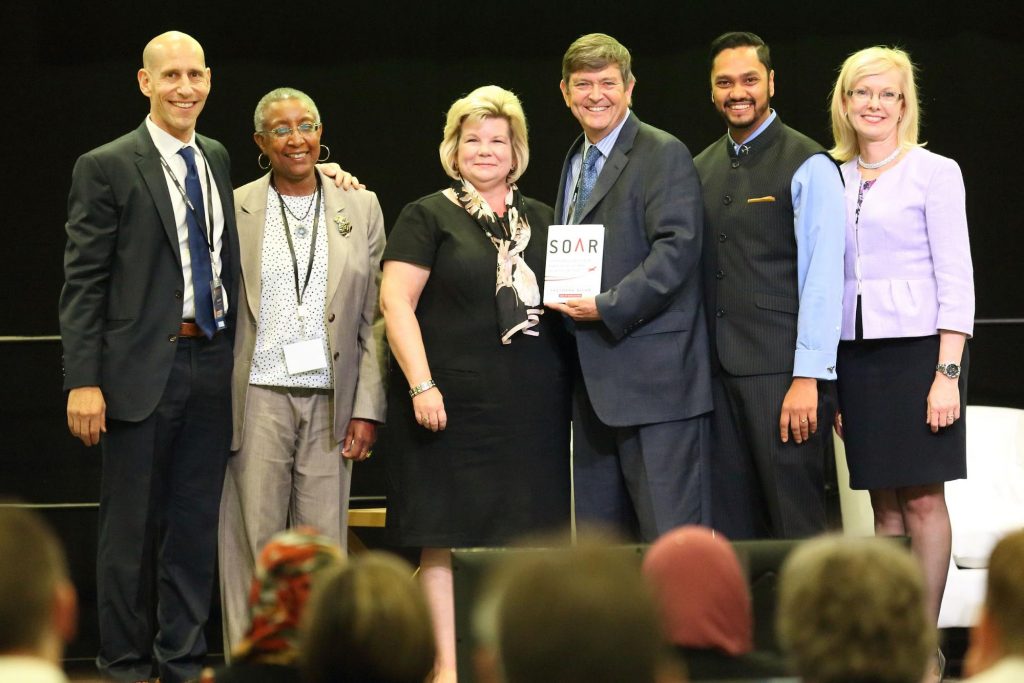 Special thanks for supporting the idea go to Angela Gittens, Brian Shapiro, Thomas Ruth of Edmonton International Airport, Candace McGraw of CVG and Joyce Carter from HIAA.
###
About SOAR
SOAR is a book that details how eight airlines have overcome a number of challenges to build endearing internal cultures and consistently delight customers through as many as 50 brand touch-points. Airlines, airports and other travel industry professionals are the primary target market for the 200+ page book, which aims to help its readers shake off old ways of thinking, adopt new attitudes and seize opportunities in brand marketing. You can get your copy of SOAR at www.simplisoar.com or on Amazon.