The suspicious online popularity of Air China's 'Land your dream'
Has Air China created one of the most successful airline YouTube videos of all time, for a video that doesn't use celebrities or have any kind of stand out creative hook?
Within a month of being uploaded on YouTube, the English, German and French versions of the new Air China ad "Land your dream" have cumulatively notched up well over 40 million views. The result is that the Chinese state-owned airline, and Star Alliance member now has a YouTube channel with a higher total view count than Delta, Qantas or Lufthansa – all of who have been uploading videos on YouTube for over a decade.
It could be that Air China threw a YouTube media budget of several million dollars at their ad to get these views. It could also be that not all of these views are 'real.' In this piece, we'll look at why we were so surprised when we first saw Air China's YouTube view count, and why it's so out of sync with other airline videos
Land your dream
Launched at the start of November for the French, German and UK markets, Land your dream is what German marketing magazine W&V says, is the Air China's first-ever large-scale international marketing campaign.
A two and a half minute ad features four people, each of who pursues their dream (via Air China of course). That includes an elderly Chinese gentleman running a marathon, a young Chinese woman who is leaving China to work in London's theatreland, a businessman looking to invest in China and a photographer climbing a Chinese mountain.
Though the creative is the same for each market, separate voiceovers have been produced for France, Germany and the UK. This is then being supported by a print campaign and social media support. A press release aimed at the UK market additionally talks about a 'Land your dream' competition where one person will win return business class tickets to China or round the world flights, nine winners will receive portable speakers, and 30 will get a suitcase.
Finally, Air China issued a 'survey said' style story to the UK press in early November claiming that China is now the number one "bucket list" destination for British travellers, beating Singapore, South Korea and Bali. As a result, this is a major, big budget campaign and very much the first of its kind for Air China. And there will have been pressure internally to show excellent results.
One of the most successful airline videos of all times?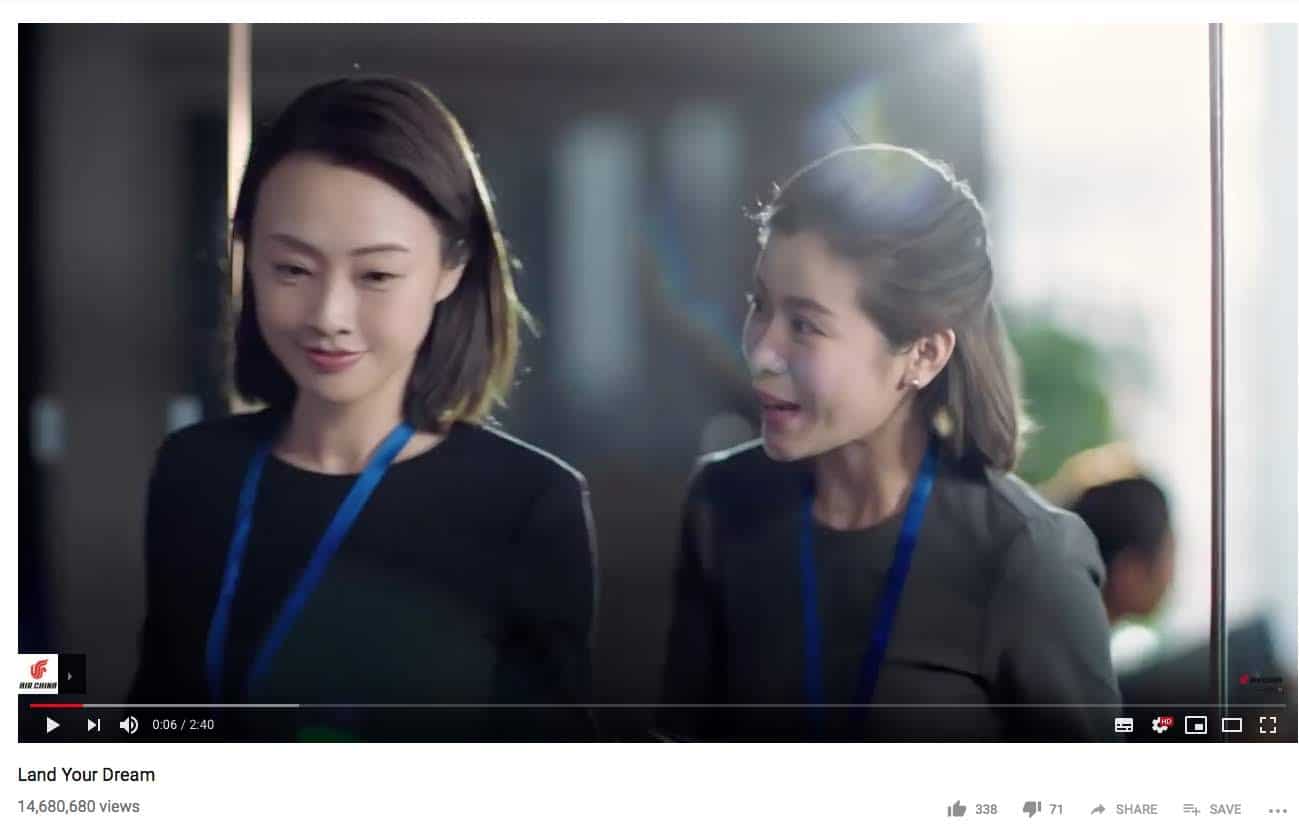 With that in mind, we were surprised when we looked at the view count for the English, German and French videos.  As of 30 November, the German video has 16.4 million, the English one 14.5 million and the French one 14.3 million views.
Compare that to other aviation brand videos launched over October and November. The recent Emirates ad, "Fly Better" (which we covered in November) had at time of writing two million views. Plausible, given Emirates' global reach, social media community, and large marketing budgets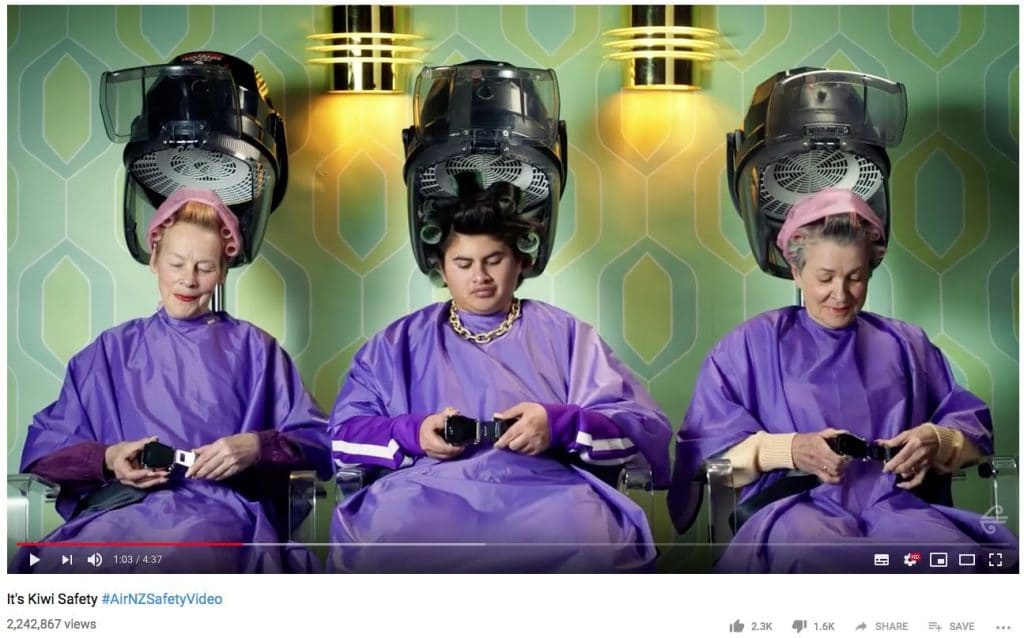 Air New Zealand's safety videos are of course legendary. They make news worldwide, and the latest one (also covered in a recent article), is no exception. "It's Kiwi Safety" has so far received 2.2 million views.
In fact, there is only one Air New Zealand safety video which tops the view count of Air China's French, German or English ads – 'The Most Epic Safety Video Ever', with almost 20 million views. However, that video was produced four years ago to coincide with a worldwide movie phenomenon, the release of "The Hobbit."
Finally, WestJet has over the past few years received worldwide acclaim for its creative and innovative "Christmas miracle" videos. The original Christmas miracle, created in 2013 has so far gained 48 million views. But that is over the course of a five year period. Air China has achieved this for its 'Land your dream' videos in one month.
As a result, if Air China's YouTube view count is 100% achieved organically and through YouTube advertising, then the airline has created a standout marketing success. That's surprising if so. "Land your dream" is watchable and has high production values, but there is nothing that would mark it out as a viral hit.
More YouTube views in total than Qantas, Lufthansa or Delta
Indeed, the whole Air China YouTube channel with almost 50 million views (source – ViralStat), now has more views in total than Lufthansa (42 million views), Delta (43 million views), and Qantas (40 million views) – three airlines who have been uploading videos onto YouTube for well over a decade. Finally, the engagement is low compared to the views. The English Air China video had just over 100 likes at the time of writing with 13 million views, compared to the Emirates video, which had 1000 likes and two million views.
Could Air China have thrown a lot of money on YouTube ads to legitimately get views? We're aware that some YouTube advertising has gone on, and that the short (30 sec) version of the ad is running as a pre-roll. Indeed, the 3.5 million views achieved for the 30-second English spot are we believe real, and driven by ads.
However, let's look again at the 40+ million views achieved for the longer two and a half minute videos. If we are generous and assume 10 cents a view (on the low end) with five million of the 35 million views being organic (in itself an outstanding achievement) that would still mean a media spend of $3.5 million purely spent on YouTube.
We have reached out to BCW, which handles Air China's PR internationally. Once we have a comment, we will add it in.
Faking it is easy
In fact, faking it is very easy on YouTube – and hard to detect. For example, a New York Times article from August profiled a Canadian-based entrepreneur Martin Vassilev, who sells YouTube views (as well as fake engagement on Instagram) on a website called 500views.  This is an issue we also explored in our Singapore Airline marketing lab, where we bought 25,000 views for a video we had created that day – to show airline marketers in attendance how easy it is to "cheat" – making such numbers arguably meaningless.
And that really is the core issue for us. Millions of views (or tens of millions of views in this case) are great as a vanity number, but what does it actually mean, and how does it benefit you.
As SimpliFlying CEO and founder Shashank Nigam said at the time – you need to go beyond that number and look at what value is being created:
"It is high time that traditional marketing metrics like look-to-book ratio take precedence over Views and Re-Tweets. The Fairmont Hotels marketing team tracks the funnel, using a pixel on their website.
"It knows exactly how many leads coming from social media campaign convert. Volaris, a Mexican ultra low-cost airline, attributes up to 70% of its website sales to ads on Facebook and Twitter. These should be coupled with brand-centric metrics like Net Promoter Score to determine how well the airline is connecting with the customer across touch-points."
"If every airline is measuring the same easy-to-get and easy-to-fake metrics, then it's a race to the bottom. In the words of Seth Godin, "when you measure the same metrics, you create the same outcomes."
[easy-tweet tweet=""So, if your airline is trying to stand out from competition, then measure something different. Measure what's relevant. Measure what drives business. Not egos." – Shashank Nigam"]
Watch below a SimpliFlying Live show episode #388 where Shashank Nigam shares his two cents on the topic.
Digging into Air China's suspiciously popular airline marketing video

Beyond metrics – Digging into Air China's suspiciously popular airline marketing video – Land the Dream.#SimpliLive #EP388Show notes: 1) Air China's YouTube channel – https://www.youtube.com/channel/UC9J3XElODq5K4b07CJ5OZqg2) The epidemic of fake metrics: https://simpliflying.com/2017/fake-airlines-social-media-metrics/3) Article on the suspiciously popular Air China's campaign: https://simpliflying.com/2018/air-china-suspiciously-popular-youtube-video/

Posted by SimpliFlying on Friday, November 30, 2018
What do you think about Air China's suspiciously high view count for their videos? Let us know in the comments below or drop us a line at contact@simpliflying.com.