Providing airline customer service through social media will take centre stage in 2019
For the past eight years, SimpliFlying has surveyed airline professionals globally to get their perspectives on the present and the future of social media's impact on the industry. We publish our findings based on the survey in our annual Social Media Outlook Report. Below you can read an excerpt from this year's report.
Having learnt how many people are involved in airline's social media efforts and how the teams are structured, we'll now dive a bit deeper to understand which departments are getting involved in running social media.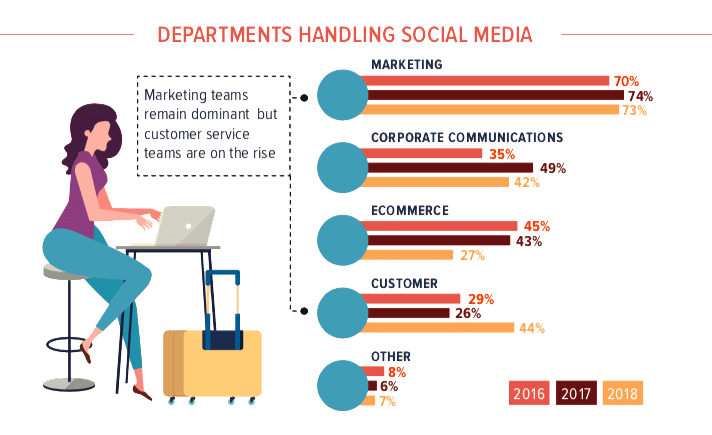 Download the full infographic here.

Unsurprisingly the field continues to be dominated by Marketing teams which, in most cases, have been in charge from the very beginning. Having said that, more departments are getting involved in day-to-day social media operations.
The most important change is the increased involvement of airline Customer Service teams, that is in line with what was mentioned earlier – the growth in social care operations. This is in contrast to the reduced involvement of Corporate Communications and eCommerce teams.
The latter observation is especially interesting because it shows how social media is maturing. The decreased involvement of Corporate Communications and eCommerce teams is likely the consequence of the transfer of these responsibilities to the Marketing team, which acts as the main coordinator of all airline-initiated communications.
What this means is that Marketing is in charge of any proactive outbound communications. The responses to these messages are likely the domain of Customer Service, who will respond to them and ideally keep Marketing and Operations updated with any relevant information.
Serving the customer
The gradual shift of focus towards customer service is also demonstrated in the chart below. While small teams of less than 5 people remain the majority, we see a decline in all categories, except one. Airline Customer Service teams of more than 25 people are set to grow three times next year! This reinforces the growing importance of providing good social customer service for airlines.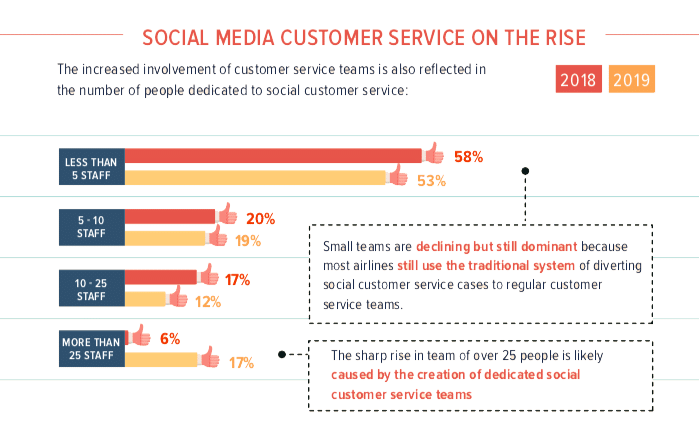 At the same time, the continued prevalence of smaller teams is likely attributable to airlines using a hybrid team structure. This is where the bulk of customer service interactions are externalized to the call centre or external agents.
Evidence for the shift in focus towards airline customer service is also found in that it was the most common amongst the newly added priorities for social media teams. In second place we found chatbots, a tool that is closely linked to customer service.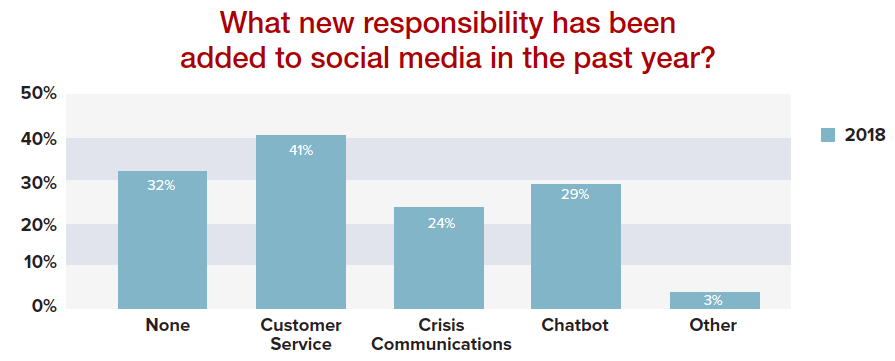 Interestingly, as customers move from traditional telephone-based customer service to social media, airlines are responding by shifting their resources. In this year's survey, 25% of airlines stated that they had already moved resources from call centres to social and a further 37% said they will do so in the future.
Airline brands that are regarded well by the customers understand that today, providing good customer service via social media has a direct impact on the brand. Nobody knows this better than Hong Kong Airlines. Recently, the airline accidentally posted a business class fare from Los Angeles to multiple cities in Asia for just $560. This was clearly an error fare. Previously, airlines have dealt with error fares in two ways – angry rebuttal or a hesitant acceptance. Not Hong Kong Airlines.

The airline tweeted within 48 hours of the error fare being published that they would honour the fares because it is the right thing to do. Because the airline had made a promise, they had to keep it. Following the announcement, the airline chatted with multiple customers on Twitter in a colloquial manner, how they had made a mistake and look forward to welcoming them.

Hong Kong Airlines' social listening tool detected the Twitter activity first. This was tackled by a dedicated social media team quickly. Finally, the manner in which they dealt with the issue publicly won them more hearts. What more could a fast growing airline ask for?
Find out other airline social media trends for 2019 in our free Social Media Outlook Report.