How the SAS Scandinavian Lounge in Oslo enhances #PaxEx – World's first multi-branded airport lounge
Editor's Note: Lounges are usually the first major airline-branded experience for business travelers at the airport. So why does the SAS Scandinavian lounge in Oslo have lots of partner brands? We had Marc Bång visit the lounge to find out.
A few days before Christmas last year, I found myself travelling to Oslo Airport to check out the new domestic lounge of Scandinavian Airlines. At SimpliFlying, we like to do things differently, so instead of doing a standard lounge review, I had arranged for Roger Wilsson, Product Development Manager at SAS, who is the project leader for the lounge, to come and meet me, so he could introduce me to the new lounge concept, first hand. And what an experience that was!
Why is this lounge different to others?
The lounge opened in September 2017 and has already made waves, due to its unique nature and partnership model. Most of the elements and experiences in the lounge have come to life on the premise of partnering with other brands. This means that SAS leveraged their brand to attract other brands, who'd also like to be noticed by one of Scandinavia's most valuable target groups – frequent travellers. In my quest to know more, I asked Roger a few questions:
MB: How does the SAS Lounge enhance the brands of the partners?
RW: The partners chose to be part of this for several reasons. It will vary from partner to partner, but to be present when a strong brand like SAS makes their "Next Gen Lounge", in one of their most valuable channels (the lounges), hosting 1400 people daily, representing one of Scandinavia's most valuable segment – then a lot of brands want to be part of it. I guess it is a combination of branding, call to action and drive for innovation that is appealing. I also believe a lot of brands out there have realised that the game of the future customer is not a game you win by not sharing and collaborating. It is a game you win if you co-operate with the right partners that are relevant to your customer offering. I believe we will see more partnerships in many industries soon, also within aviation.
MB: How does the lounge enhance the SAS brand? And what are the synergies?
RW: SAS needs to widen its perspectives, just like other brands. We want to find partners that are a good fit for us, both brand wise and commercially. But the most important reason for us, when choosing a partner is that the offering that we together will create, will enhance the customer experience. If the customer likes what we do together, then this will enhance the SAS brand. If we focus on the customer needs, we will head in the right direction. When a customer likes something, they will tell others, especially in today's social media-powered society.
SAS Lounge Facts
The lounge offers 300 seats, 9 bathrooms, 3 showers and 3 enclosed working spaces and 1000mbit Wi-Fi. Those are the boring facts. The fun parts of the lounge include a café with a qualified Barista, a lounge host, a massive "true traveler wall" digital screen, experience lighting all throughout, a gym, a wellness/massage service, a buffet and kitchen area, a Scandinavian style living room with a small fireplace simulator, an innovation hub including a 3D avatar scanner, and a daylight booster zone.
The SAS Lounge is a place of rest and replenishment, play and productivity, ideas and inspiration, lifestyle and healthy living.
With no further ado, let's look at what the lounge has to offer, which brands SAS have partnered with, and the backstory behind it all!
Experience Lighting – by Philips
SAS and Philips partnered to create a unique customer experience, with elegant lighting features that both work practically, look stunning and provide a soft and subtle light, the Scandinavian way.
The first thing I noticed upon my arrival was a large wall by the entrance, covered in small amber lights, slowly pulsating and changing position, trying to create the image of flickering lights when flying over a city at night. But it doesn't stop there. By the Café area, round mirrors on the walls have an eclipse like a ring of light surrounding them, the light by the food has been thoughtfully designed to display the food in an appetising way, and the three private working spaces features adjustable mood lighting. Philips is, therefore, a core partner and has contributed significantly to the overall look and feel of the lounge.
So how does Philips get noticed? Both parties aimed for a subtle branding strategy, so as opposed to displaying large logos in the lounge, Philips uses their own channels to bring their partnership with SAS to light (pun intended) and SAS likewise use theirs, such as Scandinavian Traveler. Light is a core characteristic of Scandinavian culture, which is why a lot of effort has been put into getting the lighting just right. Ever heard of the concept of "hygge"?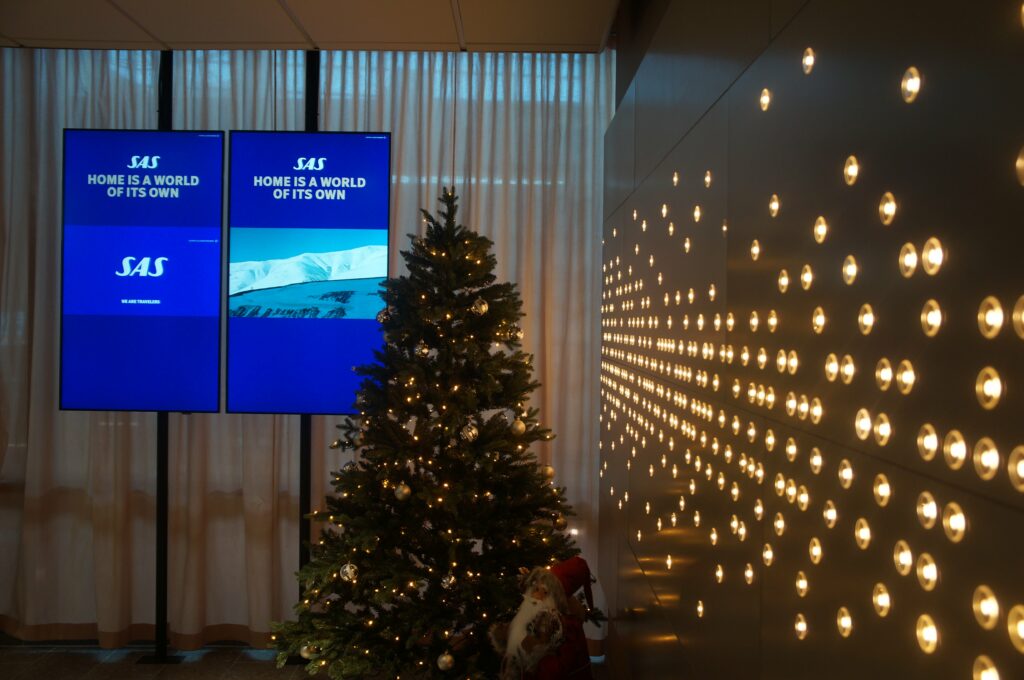 SAS Lounge host
As I entered the lounge, I was greeted by the lounge host. The role of the lounge host is to meet customers at eye level and provide service where needed. They are not restricted to service any area but simply roam around to make sure everyone is happy and that things are in order.
They can also simply chat with customers, and should proactively inform them of the features of the lounge, and try to enhance the overall experience. They can also help with any travel inquiry. According to Roger, the lounge host is a very important part of the lounge.
The True Traveler Wall – by To-be-more
It is hard to miss. On the right-hand side after entering the lounge there is a massive screen which extends around the corner. This wall displays an array of information to keep travellers updated, entertained, and intrigued. Around the corner, it displays what things to do in the lounge along with listing the names of the employees working on a given day, and to-be-more's logo. SAS has plans to make it even more interactive in the future.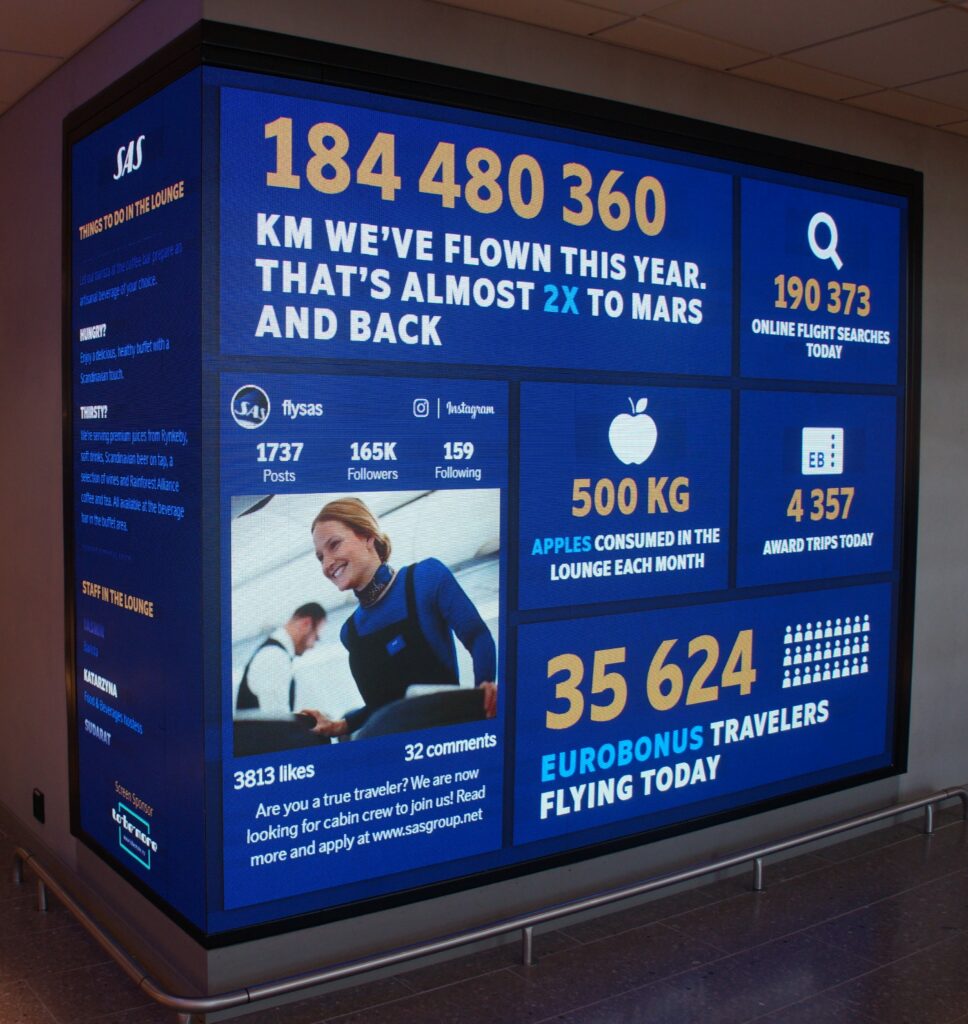 Barista/Café
The Scandinavian countries, Norway, Denmark and Sweden are some of the heaviest coffee drinkers in the world, which is why SAS chose to place a Barista at the entrance of the lounge, for everyone to enjoy. I learned from Roger, that based on customer feedback, this is one of the most valued touchpoints of the lounge. And for a good reason.
Behind the counter of the Café, you will find Yasmin, as seen in the picture below. She is one of the lounge's Baristas. With a warm and welcoming smile, she gladly serves customers with complimentary hot drinks, topping them off with a little coffee art. The Café is surrounded by tables and chairs in slick Scandinavian design, and of course, with plugs to keep devices juiced up. What's not to love?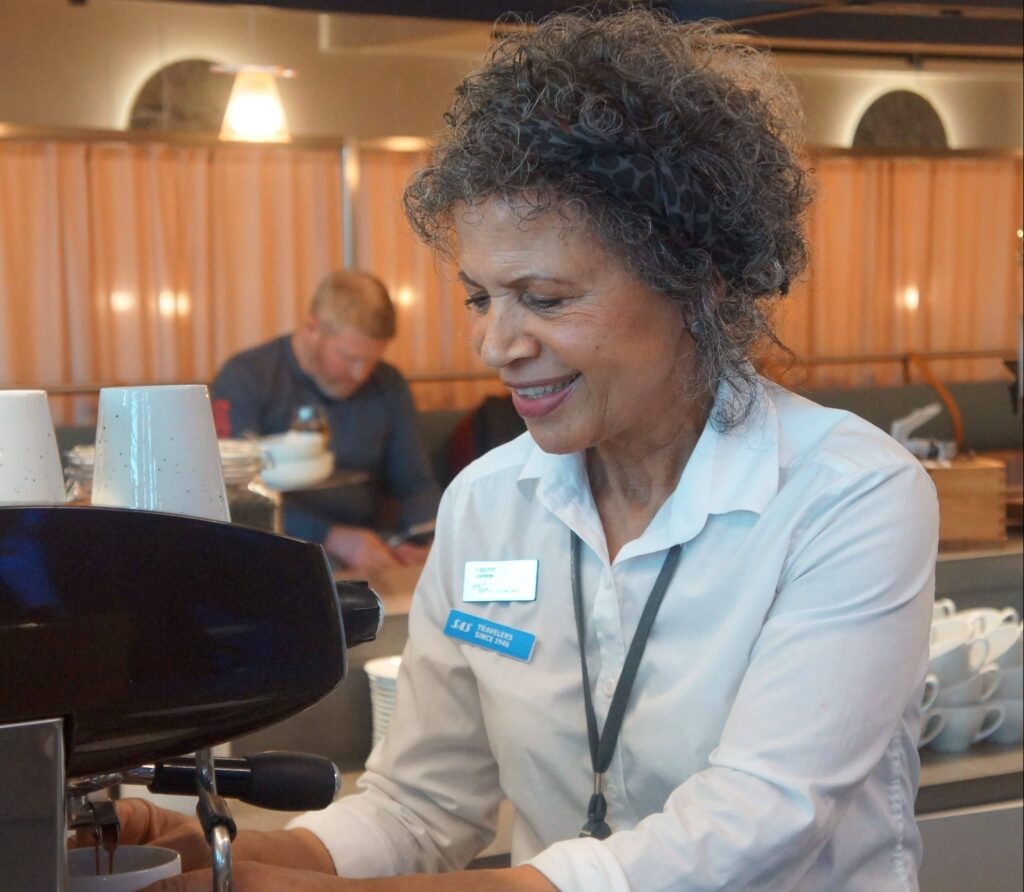 Kitchen and Buffet
The first thing I noticed when entering the kitchen and buffet area, was that it felt much more like home as opposed to a cafeteria or canteen. This even extended to the porcelain, being from the award-winning Norwegian design firm, Figgjo. All of this, instantly made me feel relaxed and comfortable, and put in the mood for eating!
Speaking of which, many say, the way to a Man's heart, is through his stomach. I am sure this applies to Women too. It certainly applies to Scandinavians. In recent years, New Nordic Food has become increasingly popular and has helped brand Scandinavia as a gastronomic leader. Keeping this in mind, I wanted to know what some of SAS considerations had been, regarding their food and beverage offering, to which Roger explained:
 "We wanted to try and enhance the food experience through more local Norwegian goods, to display the food in a new way with experience lightning and to focus on the learnings of what our customers think is the best food from other lounges. We have also introduced a wider selection than in the previous lounge".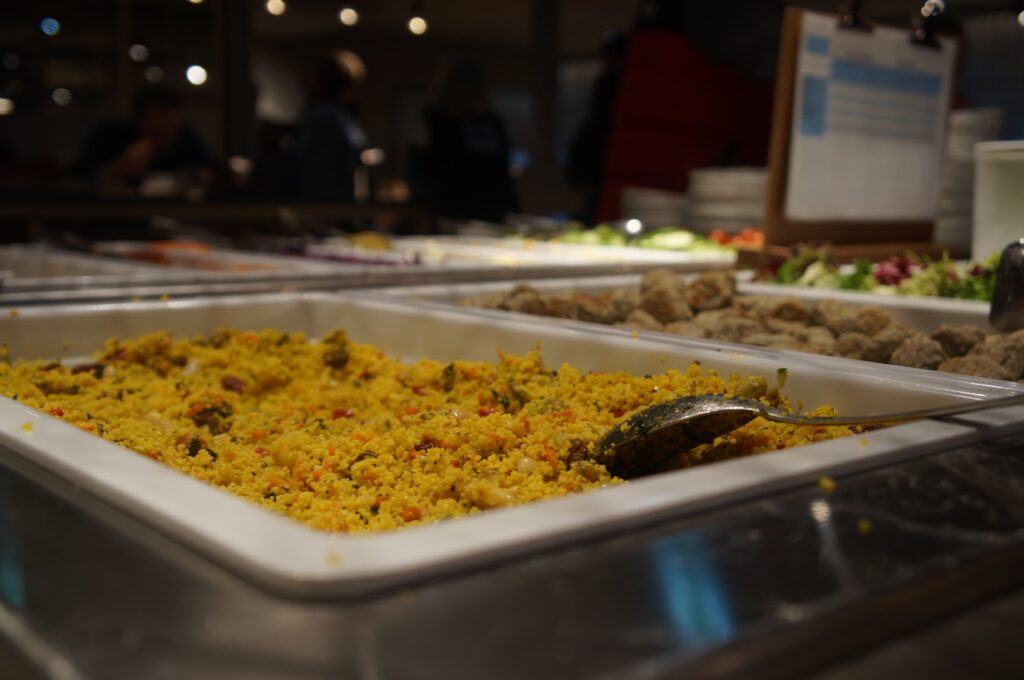 Despite SAS not partnering with anyone for their food offering, they did partner with Rynkeby, a Danish juice manufacturer, to provide a state of the art juice dispenser connected to an iPad, from which one can select between orange or apple juice. This is perhaps a small thing to highlight, but it shows how SAS has managed to leverage their brand, to bring in other brands, even for something as simple as providing customers with a cold glass of juice. I must admit, I quite enjoyed getting my orange juice from an iPad!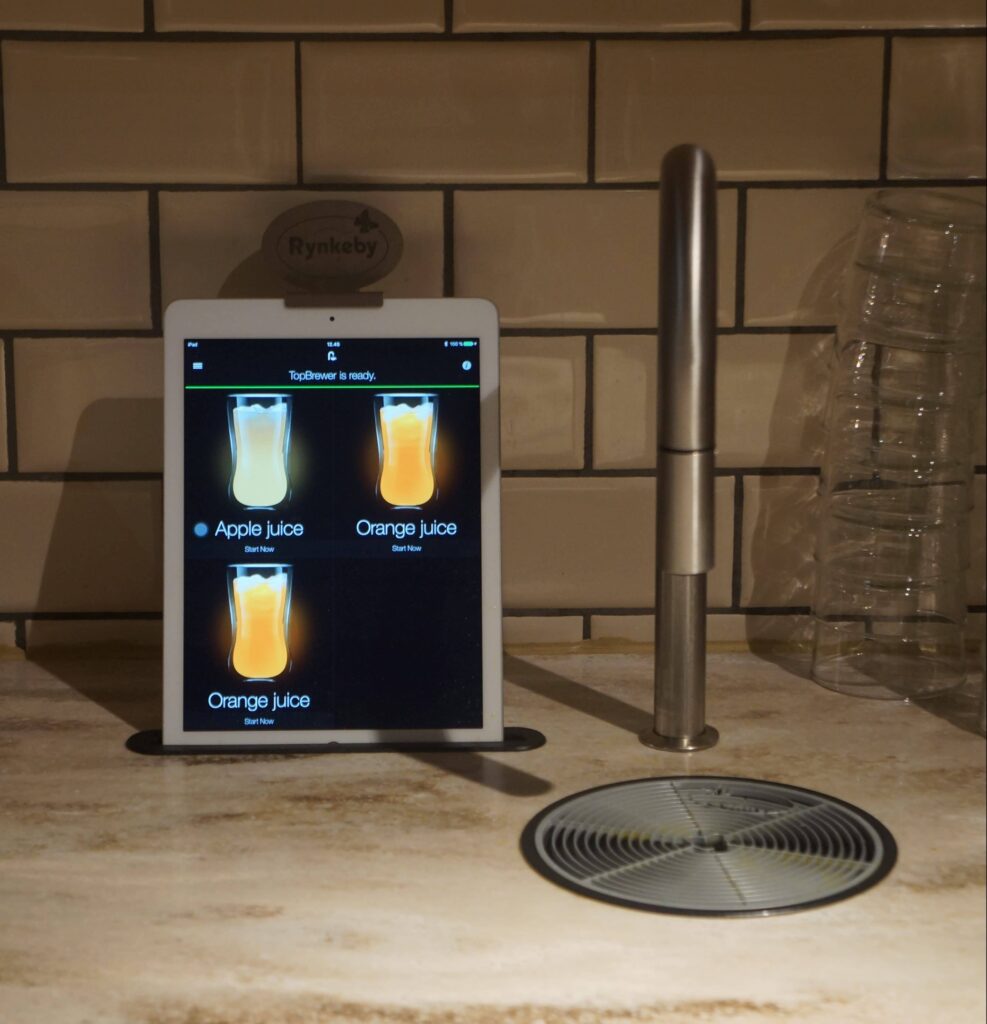 The Living Room
When I saw what is referred to as the "the Scandinavian living room" I could not help but to stare at the mesmerizing fireplace, which provides a soft light and a glittering sound, despite it not being the real.  As mentioned before, SAS' customers are curious, which even extends to the children as well. As I was trying to capture a picture of this, I noticed a young boy, waving his arm through the "flames", essentially, playing with fire. Safe to say, he was having a good time.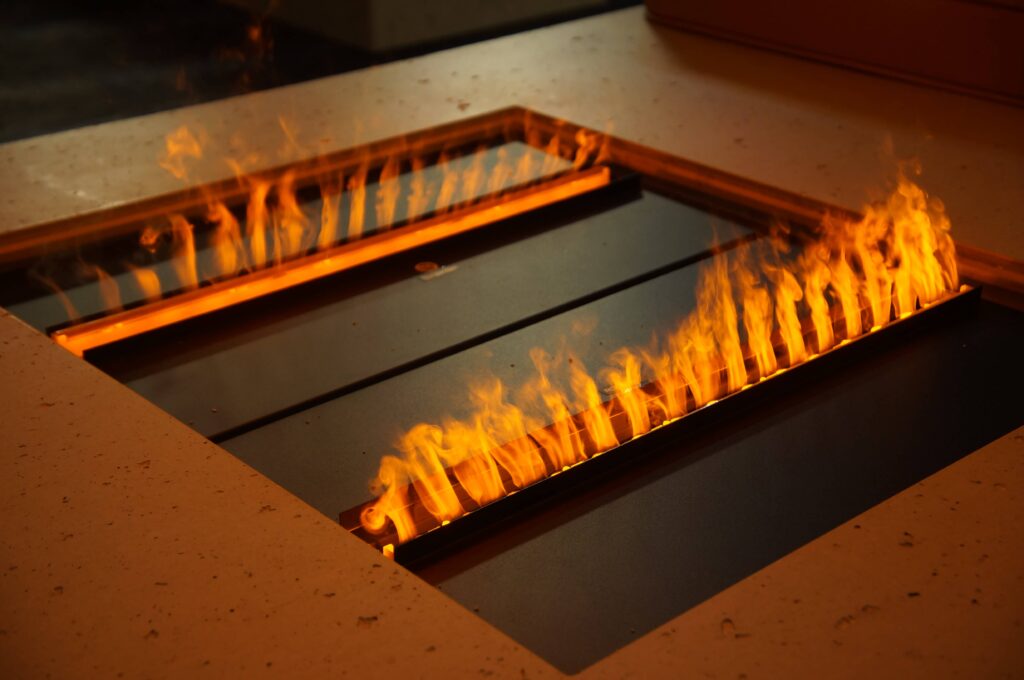 The rest of the room was filled with low-level seating and soft lighting, providing a cosy atmosphere. There is a total of 300 seats throughout the lounge with charging capabilities at nearly every seat. However, after learning from customers that they would like more charging possibilities, SAS decided to test out a new solution and introduced the marketing agency Concept Communication, which installed 12 portable chargers for customers to borrow, allowing them to charge anywhere, without relying on a power outlet. Neither the fireplace or the living room is based on a partnership.
Innovation Hub – by HP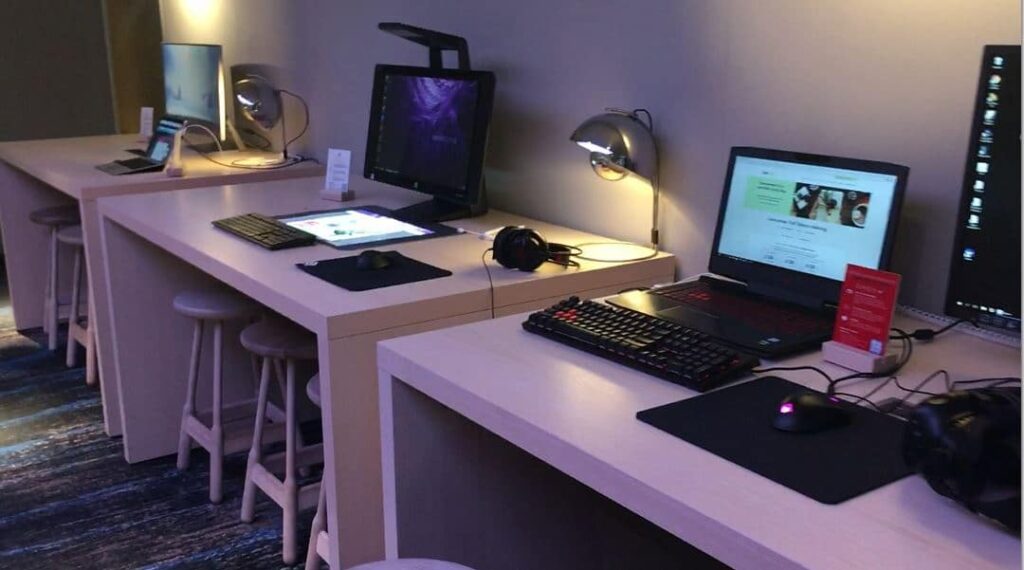 This area blew me away. Perhaps because I am curious, and I share the same interest in technology and innovation, as the core target group of SAS, the frequent travelers, who this lounge was built for. It had all of HPs' premium products and new innovations, including a VR-headset and an iiid.me 3D avatar scanner. It even had the exact laptop that I had been considering buying, but not yet had a chance to see in person, which left me with no choice, but to play around with it for a bit.
HP has truly gone all in, and created an area where all their top end products and newest innovations are available to see, touch and play with. They even have a member of staff present every day, to help customers with any questions they might have. I was quite curious to try out the 3D avatar scanner! After typing in my name and email, and stroking a pose in the scanner for just a few seconds, I now had my very first, 3D online avatar.
Shortly after I received an email, with my 3D avatar, from which I could choose to print a 3D selfie figure of myself in three different sizes, ranging from EUR45 – 139, or even have a custom-made suit, delivered to your doorstep, for EUR 400. If you just want to have some fun with it, and not feel like spending any money, you can simply send a digital postcard with your rotating 3D avatar and have a destination as your backdrop.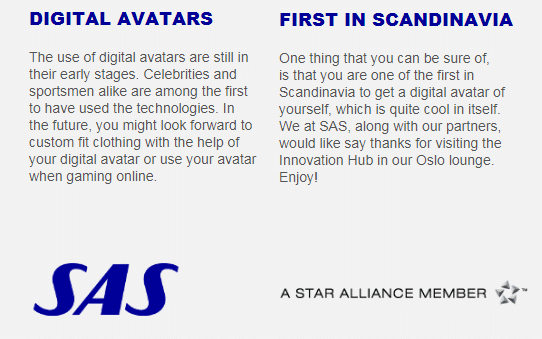 Daylight Booster Zone – by Philips
If you have ever lived in Scandinavia or another northern country during the Winter, you will know that the sun can be somewhat of a rare sight. Being Danish, I know this from personal experience. Light is vital to our wellbeing and happiness, and therapy lamps are often to be found in people's homes during this time. That is why Philips has created a special daylight booster zone, having installed a large wall with luminous textile panels, which mimics outdoor light.
After being exposed to the light for but a short time, it can leave you feeling refreshed and energized. The zone is hidden behind a large curtain and features a working table and 4 chairs.  While at first, it might seem very bright, the eyes gradually get used to the light, and it becomes a rather enjoyable experience. Goodbye winter depressions!
Health Club – by SATS
Perhaps one of the most outstanding features of the lounge is – The Gym. SAS has partnered with SATS, who have 160 training centres throughout Norway, Sweden and Finland, and created a well-equipped 70m2 gym, which also features a large touch screen from which you can choose different exercise routines. The gym has a great view over the terminal and is being used by more and more customers each day. The gym is free to use, and while passengers can show up without a pre-booking, booking a session via the SAS app is recommended, in case the gym is full.

Wellness – by Soleus
SAS and Soleus teamed up to create a small piece of heaven, to help frequent travelers escape an otherwise busy airport. In a room next to the gym, Soleus has set up shop, providing massage services ranging from 15-60 minutes, and costing between NOK 280 – 920 (EUR 28-95). They also sell small travel sized products and small gift bags. You will find Soleus staff at the lounge, every day of the week, from 11:00-19:00, but it is also possible to book a massage session outside of those hours. Kristina Lindström, who is one of two owners of Soleus, provided me with a 45-min back massage, which combined with a wall of therapeutic light by Philips and smooth zen-like music, placed my mind above the clouds.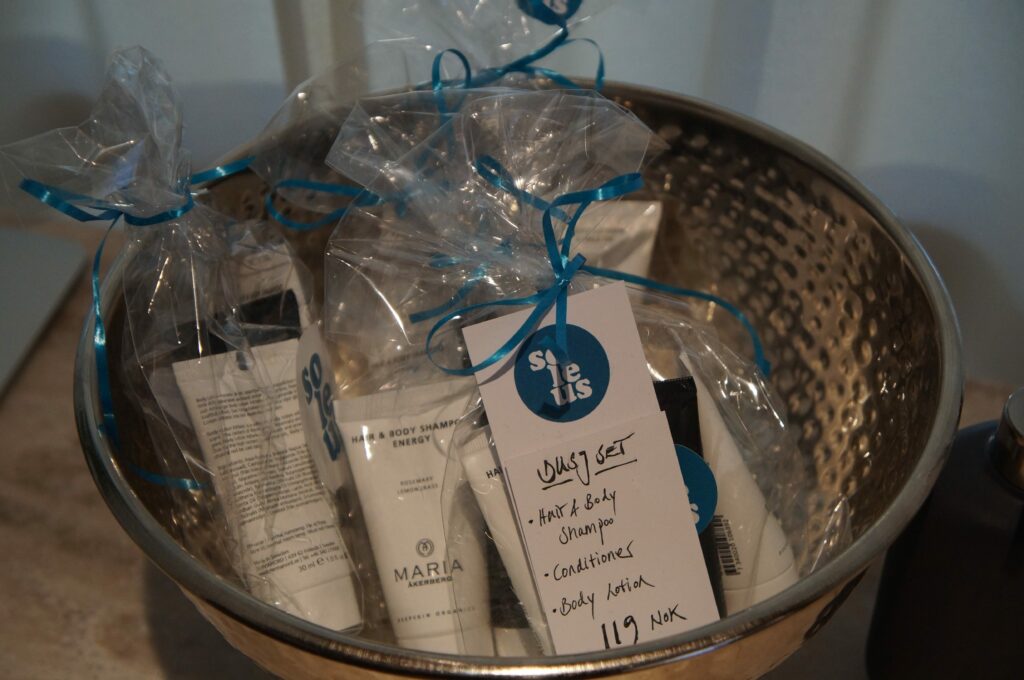 Showers
At this stage, I had nearly run out of a time. But I still managed to get a quick look at the showers. The gym is equipped with two smaller showers for those simply needing a quick rinse. In addition to these, the lounge has three spacious showers, each featuring a nice wide sink and a bench. SAS also partnered with Samsung to install a digital mirror, which currently are displaying SAS content, but both parties are looking to further develop its use to enhance the customer experience. Who knows, perhaps customers will soon be able to connect their own devices and play their favourite music while singing in the shower?
A dynamic lounge
Despite all the new features and experiences that customers are offered, SAS wants to keep the environment dynamic and current. Roger explains:
"Some features can leave, and some can be added, depending on what the customers want. We want to adapt and change quickly if something is not turning out as we hoped. It is a strength to dare to try new things and we intend to keep innovating and to trying out new ideas. This means that the offering in the lounge will be vibrant and change over time, as the product is developed in an agile way, even though it is a physical product."
What is unique to SAS about the lounge?
While the lounge has a range of new and exciting innovations and touchpoints, largely delivered through the many partnerships, there was one question left in my mind: What if any other airline partnered with the same brands in a similar way, would they get the same result? I asked Roger about this, and this was his response.
"We believe that our service attitude, our homey Scandinavian touch and not the least – our customers – makes the difference in the lounge. Being Scandinavian, we have built this lounge keeping in mind Scandinavian culture and design, which is evident in everything from 
the light setting to the curtains, the floor and porcelain, and the characteristics of the personnel. We also choose partners because of what we wanted to create in the lounge, not because of what they had. Not many other brands could pull this off if they wanted to copy us. However, I think we will see more partnerships in the lounges around the world in the future."
Why so much talk about a lounge?
Norway might only have around 5 million inhabitants, but due to the size and nature of the country, domestic aviation is a necessity. Being the market leader in Norway, SAS's Norwegian passengers represent a large portion of their frequent fliers, which makes this lounge a priority. With Oslo Airport doing a lot of renovations around the airport, and the old domestic lounge needing a boost, SAS saw their opportunity to do something different with the space.
SAS thought out of the box, by recognising the strength of the SAS brand, and thereby attracting both global and local brands, to partner up and create a unique space for SAS' frequent fliers.
These partnerships are vital to SAS, due to their passengers also identifying with them. This allows for a combined experience, where passengers are presented to brands, products and services they know and cherish from their personal lives, but which are all gathered under the SAS brand and travel experience, bringing together the best of both worlds.
The next time you find yourself in Oslo Airport, do yourself a favour, and check out this unique lounge! You won't regret it ■