SimpliFlying Airline Marketing & Digital Innovation Lab – highlights from London
Twenty airline marketers walked into a room, sat at a table and were asked to stand up again. It happened on the 4th of September in London and it was the start of the SimpliFlying Lab. They were amongst the best in the world and had come to share ideas and learn from each other.
The day started with a game called step to the line where we all realized that, even with different backgrounds and experiences, we were all very similar and that our industry is changing.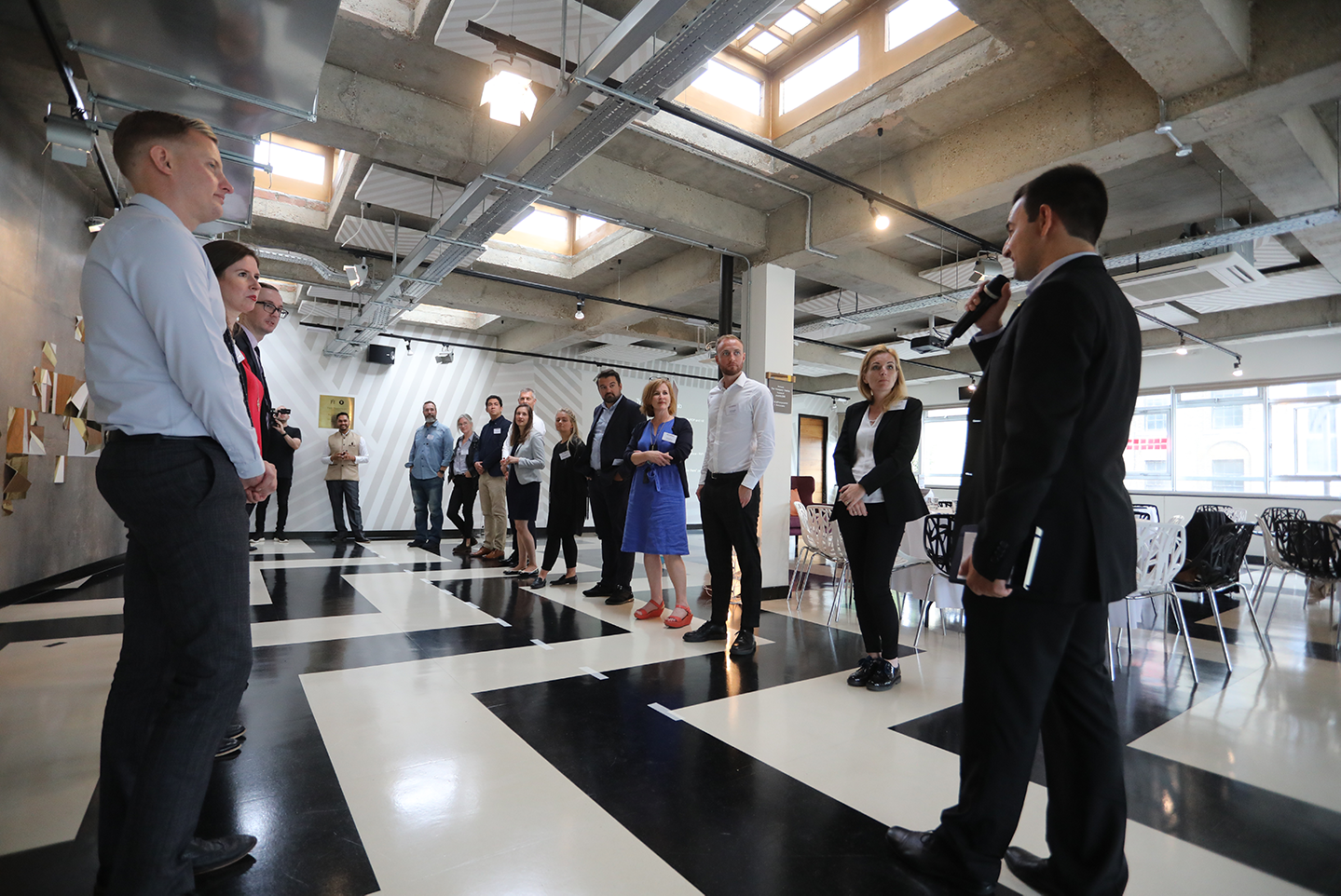 The channels we use to communicate are in trouble, activity on traditional networks like Facebook is declining, new platforms are emerging and the future is uncertain. Influencers, as Dirk from Visible pointed out, are also not always so influential – or real.
Destination Marketing
The discussion on influencers, how to use them and where to find them kick-started the conversation on our destination marketing roundtables. Aside from the influencers, two more themes came up in the discussion, the integration of the brand into destination marketing and the use of crews and passengers as ambassadors.
For the latter, some airlines suggested that passenger-generated content is a great tool to give a more authentic view of the destination and create content that is a bit different and less polished. However, they do require some extra work to filter and organize content as well as rewards to motivate them.
Crews proved to be a more controversial topic. For some airlines they were a content source descended from heaven, with no cost and good quality. Some even shared how they had pre-selected teams of flight crews that were active on social media before they joined the airline and continued after they were hired. Others had groups of "model" crews that were used for events and other marketing initiatives.
For several airlines, however, crews were a more difficult topic. Some, especially amongst the more traditional airlines,  mentioned that content created by airline staff was inherently distrusted by their audience and perceived as fake. Others, simply said that unions prevented crews from taking part in any activity that was not part of their contract and therefore they could not even think of using them.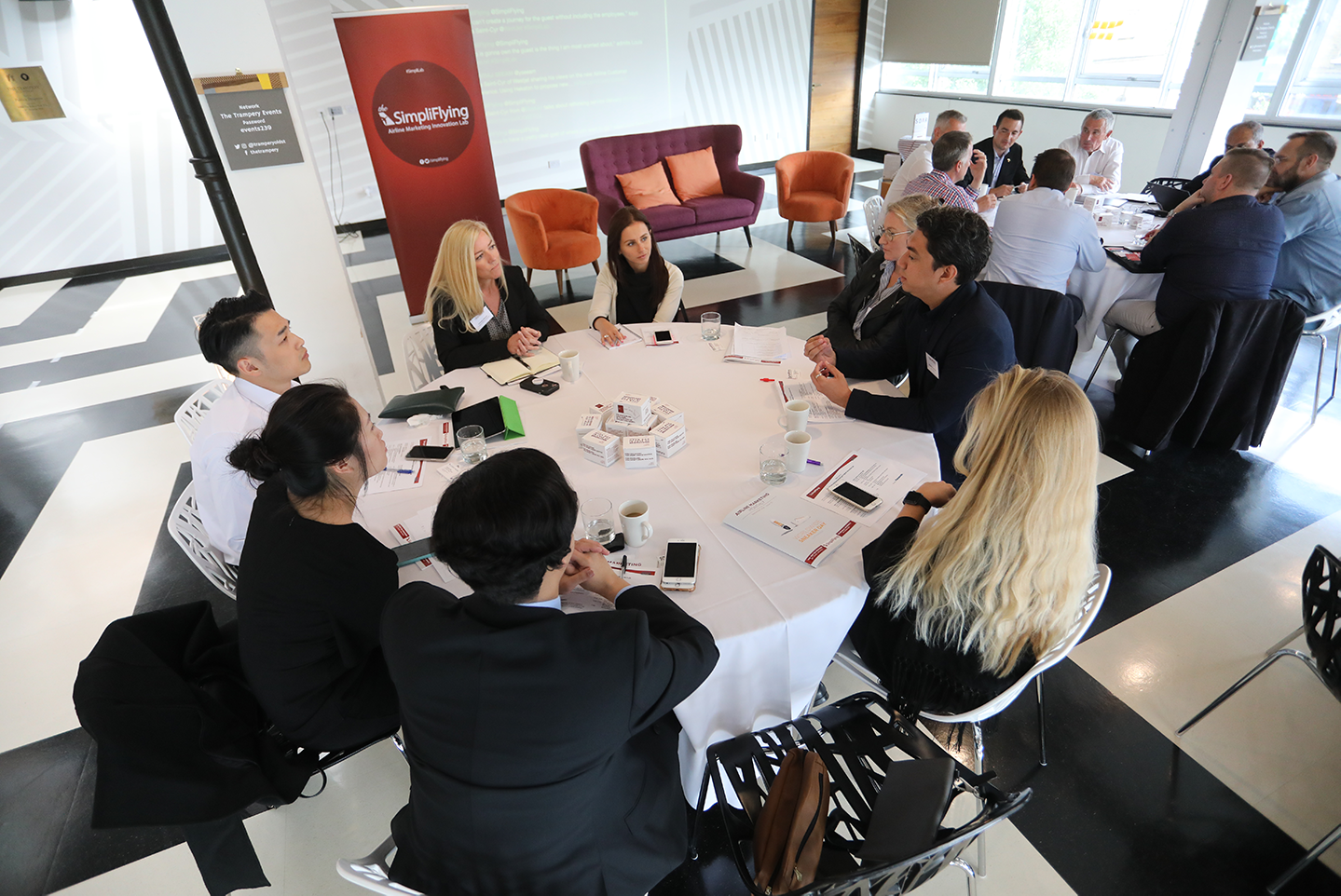 Crews were also seen by some as a tool to solve what appeared to be one of the biggest challenges for airlines: the need to integrate their brand into destination marketing. This issue was first touched on by one of the smartest, and most modest marketers in the industry, Youvraj Seeam of Air Mauritius who was interviewed by our CEO Shashank Nigam in a fireside chat.
The challenge, for airlines, is that they need to not only market their destinations but to market them in a way that will make people fly with them instead of their competitors. The solutions suggested in the roundtables varied considerably depending on the airline and its brand. Some airlines simply relied on their dominant position in the market or on price while others used their unique brand and culture as tools.
Digital Passenger Experience
After a little acting section that took place in an imaginary plane, our lab entered its second stage with a digital passenger experience section sponsored by our friends at Panasonic.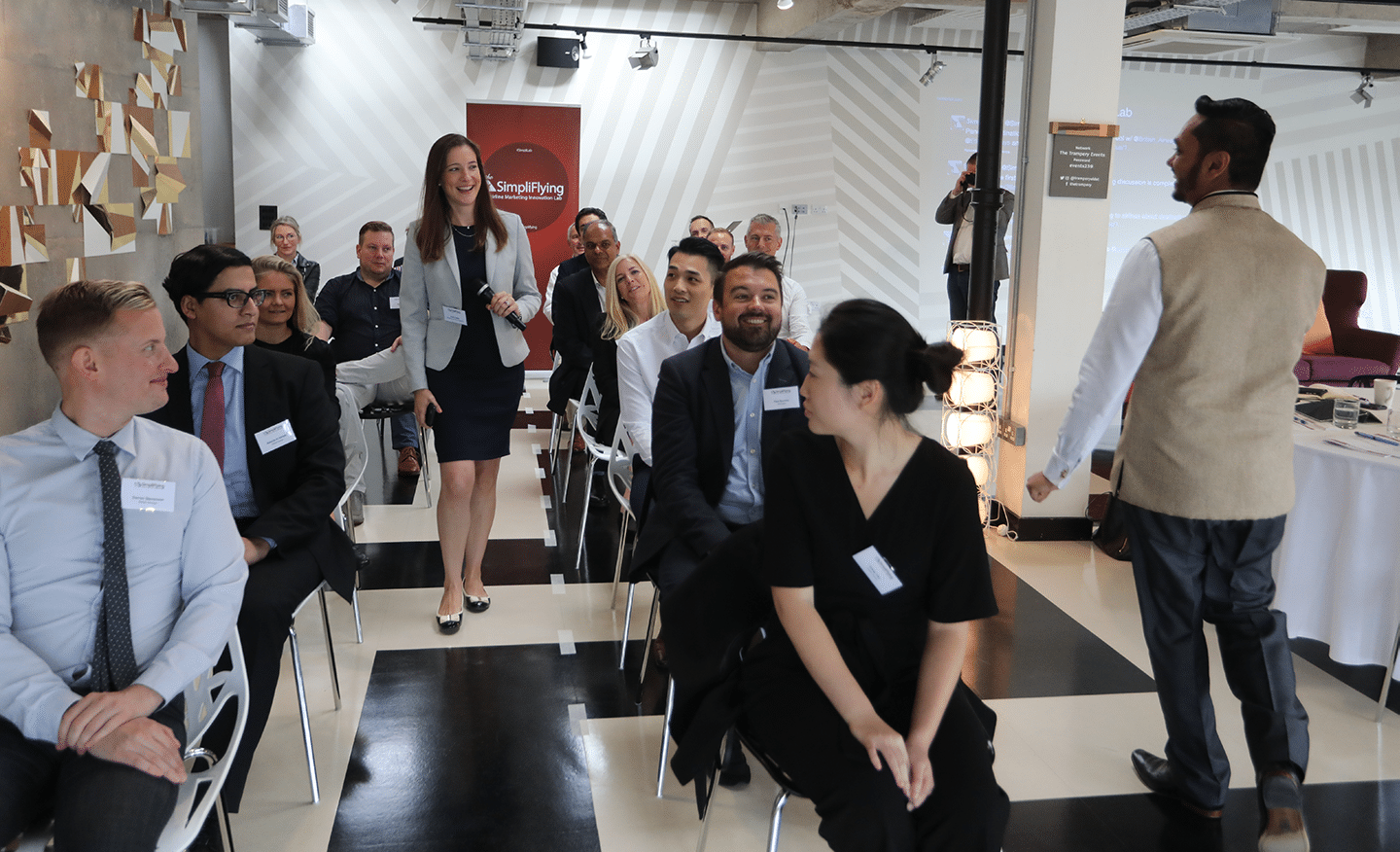 Here the conversation started off on a traditional path that mentioned IFE options, Wi-Fi, WIFE and a bunch of other acronyms but quickly diverted into two very interesting topics: the need to connect crews and the type of relationship passengers want.
The first topic emerged directly from the initial discussion about passengers and how they interact with devices within the aircraft. This led attendees to discuss the issue of disruptions and the problems that arise when passengers have more information than the airline's employees.
The general agreement was that, even if connecting passengers would be more attractive from a marketing campaign perspective, the connection of flight crews provided more strategic benefits and helped improve the airline's brand. This is because connectivity will allow crews to solve and prevent many of the passengers' problems, creating a better overall experience.
Some of the examples given included the ability to help passengers make arrangements in case of delays or the possibility of addressing complaints more directly. It was also suggested that connecting crews to things like CRM systems would allow them to have a better awareness and help create a better relationship with customers.
This point sparked an interesting debate that centred around what kind of relationship – if any – passengers wished to have with the airline. Here, some argued that for certain travellers being recognized and talked to often, would make them more loyal. Others, suggested instead that too much recognition would be perceived as an invasion of privacy and scare passengers away.
In the end, the general consensus was that the relationship information should be kept in the background and the knowledge/recognition of the person only be used when problems arise.
Customer service
The conversation about the relationship between airlines and their passengers helped us transition smoothly into the last section of the day: customer service. Here the conversation focused on practical issues, including new customer service channels, the challenge of dealing with different languages/cultures and how best to integrate bots.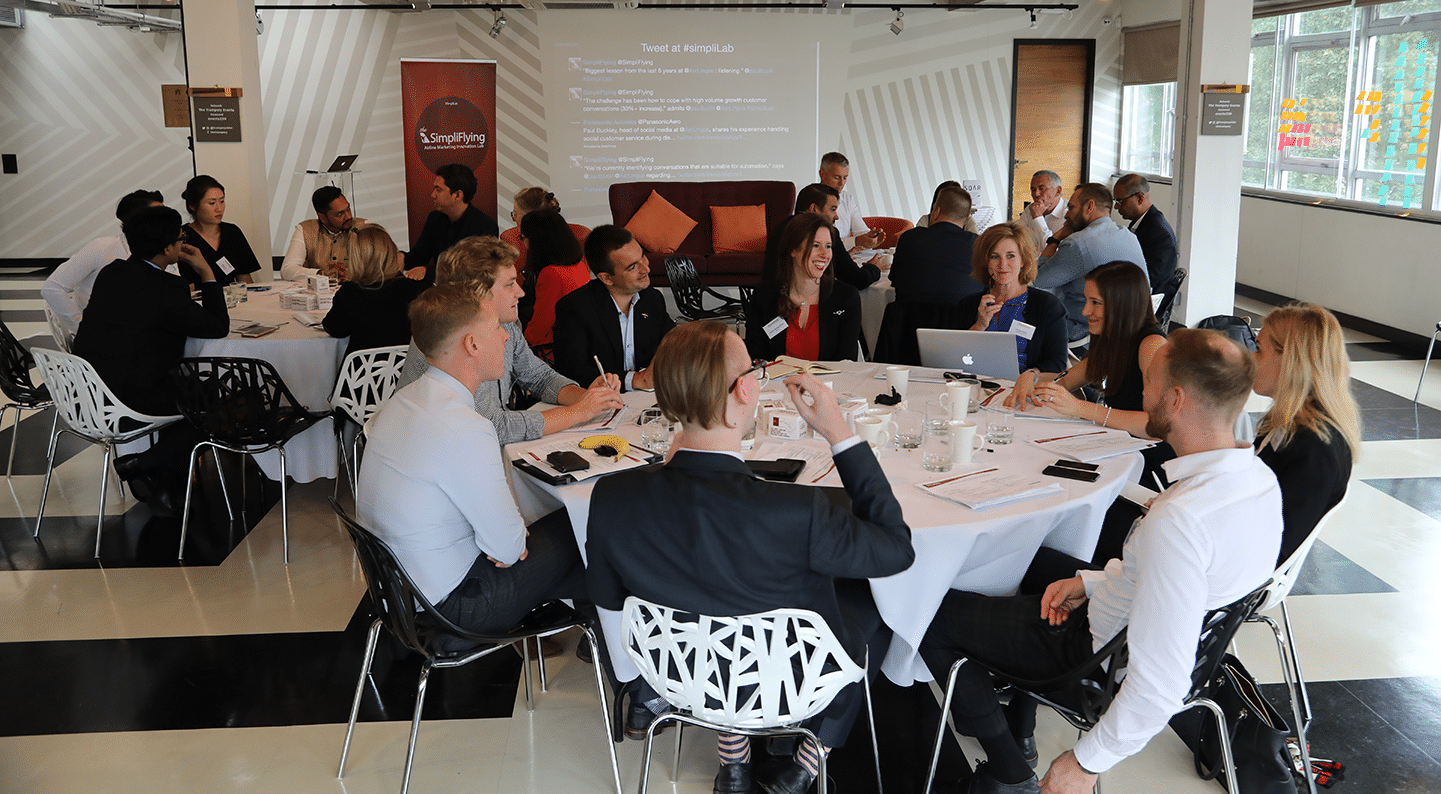 Of these the most interesting was the last one where we noticed that airlines, for the most part, didn't even question if bots should be used but tended to focus on how to use them. This is because the increasing volume of customer service interactions is putting pressure on the airlines' resources and hiring more staff is not an economically viable solution.
The results of the conversation echoed those from our Miami Lab where most airlines loved the solution found by KLM of having bots create draft replies that the human team would then finalize. For the moment, however, most of those that used bots still used simpler solutions that focused mostly on using bots as first responders that did a triage of messages, escalating to a human those that they couldn't answer.
Ping pong
An airline marketer walks into a bar… and starts playing ping pong. Not alone, of course, but with most of the attendees from the SimpliFlying Lab. In fact with almost everyone, except those that had to run away for meetings or calls.
This was a normal ending to one of our Labs. Normal because the Labs are not conferences, they are not boring industry events. They are experiences designed to help people connect and have fun. Designed to help people share and meet colleagues from other airlines who are facing their exact same problems and may have found a solution.
We created these events because we believe that speakers don't make an event, participants do. In fact, we don't even have speakers in the traditional sense of the word. Everyone, in one way or the other, is a speaker. Some do it up front if they have a special story to share, others in their roundtables or as ambassadors for their group in the panels and some even as volunteer actors.
In the end, it was a very long and fun day and we are glad everyone enjoyed it. If you were there with us we'd like to thank you for making this event a success. As always, if you need us, you can drop me a line at marco@simpliflying.com .