Subscribe to Airline Marketing Monthly, the only trade publication dedicated to aviation marketing
In such a fast-moving environment, how do you keep up with all developments in airline marketing?
It was summer 2010 when the LAN Airlines (now LATAM) Marketing Director called Shashank Nigam to ask, "Shashank, you and your team do a lot of research about the latest and greatest in airline marketing. Is there any way we can share this regularly with our team?" That led to the birth of the monthly airline marketing benchmark report.
In the last seven years, we have shared over 1,000 detailed airline marketing cases in 70 issues of the report, helping our subscribers stay abreast of the competition. Subscribers have included everyone from Boeing and Airbus to Qantas, Etihad and Aer Lingus.
This year as part of our 10th anniversary celebrations, we're re-launching it as the Airline Marketing Monthly, and we are giving you a complimentary full year subscription to the monthly magazine.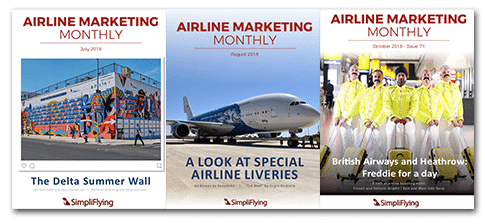 Airline Marketing Monthly:
The only trade publication dedicated specifically to aviation marketing.
Indispensable for airline marketing and communication professionals and creative agencies.
Released monthly to help you stay on top of the latest trends while keeping an eye on the competition.
Do you want to see a previous edition? Click here.
The November edition of the magazine will be released this Thursday (October 4) so subscribe now to be one of the first to receive it! Subscribe here.